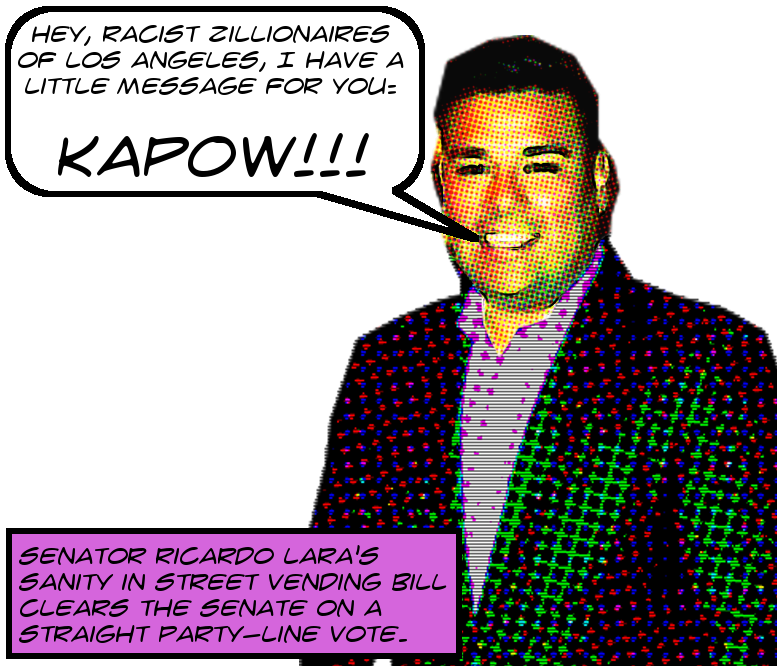 I usually leave this kind of reporting to the professionals at the Times, but as of right now they haven't published anything, and this is important, so I'm just dropping this short note on you. As you know, we've been tracking Senator Ricardo Lara's hugely important SB-946, which would prohibit cities across California from stifling legal street vending with oppressive zillionaire-friendly regulations. For background, see this fine article on the bill in the Times by the incomparable Emily Alpert Reyes.
Well, yesterday, this bill passed the full Senate on a 22-10 straight party line vote. The opposition amongst Los Angeles zillionaires and their BIDdie minions is building, but has not yet reached the feverish peak that we can surely expect. The bill is not in the clear yet, as it still must pass the Assembly, and it's not a given that the governor will sign, but nevertheless, this is a huge step. You can find your Assemblymember here and urge him or her to support this essential legislation. See here for sample letters of support to crib from.


Image of Ricardo Lara is ©2018 MichaelKohlhaas.Org and is a modified version this image here.