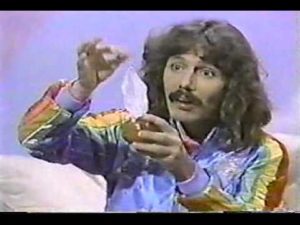 DISCLAIMER: I'm not a lawyer. But I'm friends with some lawyers. More than zero of them did not laugh out loud at the idea you're about to read. That's all I got.
Business improvement districts in California are made possible by the Property & Business Improvement District Law of 1994.1 It's worth reading, or at least skimming through, because there's gold in them thar hills! For instance, consider Section 36670(a)(1), which states:

36670.(a) Any district established or extended pursuant to the provisions of this part … may be disestablished by resolution by the city council in either of the following circumstances:
(1) If the city council finds there has been misappropriation of funds, malfeasance, or a violation of law in connection with the management of the district, it shall notice a hearing on disestablishment.

Do you see the potential in that statement? The fact that it's a tool for laying waste the BIDs of Los Angeles like so many Philistines? It's a little hard to understand statutes, but here's a clue: when they say "shall" they mean "must," not "can." Now turn the page to find out why this little statute, if not more powerful than Doug Henning and his sparkly rainbow suspenders as pictured above, is possibly as effective a BID repellent but much, much more emotionally satisfying than mere poofsly-woofsly magical annihilation.

My colleagues and I have pointed out before that BIDs in Los Angeles are white supremacists. They're heirs of a long tradition of white supremacy in Los Angeles. They maintain and reproduce a century long tradition of white supremacism, and, as a bunch of privileged white supremacists, they cannot help but break the law. They violate the Brown Act on a regular basis.2 They violate the California Public Records Act on a regular basis.3 They commit years-long serial civil rights violations. They violate the ethics laws of the City of Los Angeles.4 They couldn't follow the law if they tried, because privilege has burnt out their moral senses, assuming they had moral senses to begin with.
The method is essentially the broken windows theory for white collar BID crime. Pay attention to the BIDs. They will break the law. Turn them in for every possible law they break just like they do to homeless people who they're targeting for forced relocation. We're targeting the BIDs for forced relocation.
Eventually some agency somewhere will see through their magic-zillionaire-pixie-dust5 and make an official determination that they've broken the law. This will make it hard for the City Council not to find that there has been "…a violation of law in connection with the management of the district."6 Then they will have to "…notice a hearing on disestablishment." Repeat if necessary.
BIDs are elected by means of a weirdly distorted weight-by-property-value system that violates majority rule and leaves an awful lot of property owners feeling disaffected with the BID.7 The members of the City Council, on the other hand, are elected by majority rule. Their political instincts will force them to listen to the majority, not the zillionaire few. Disestablishment of the BID, while not certain, is at least possible.8 Even if this doesn't get rid of the BID, repeated disestablishment hearings will put pressure on everyone. It might actually work. Let's find out!

Image of Doug Henning poofing BIDs out of existence is licensed for noncommercial reuse according to the Google, and I got it from here.