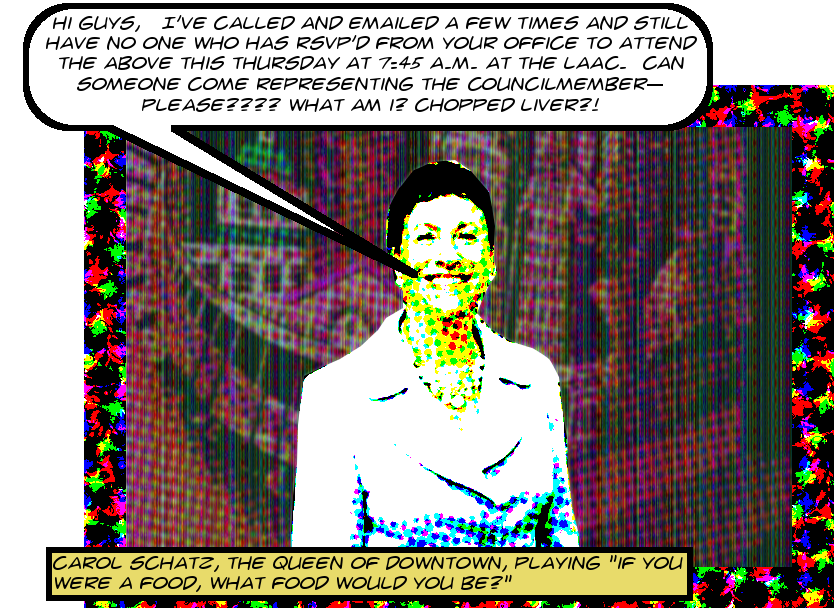 This is just a short note to announce two massive sets of emails that I've obtained over the last couple weeks. There's so much material here that it's taken an unusual amount of time to get it processed and published. I will be writing about this material over the next few weeks. There's so much, and it's so rich, that it's going to take me a while to get it all sorted out, so I thought it'd be best to make it available to you right away:
Downtown Santa Monica BID — Emails between the City of Santa Monica and the Downtown Santa Monica BID from January 1 through September 8, 2017.
Downtown Center BID — Assorted emails from the Downtown Center BID, mostly from 2017.
Like I said, there's so much here that it will take a while to get it sorted through. Meanwhile, though, turn the page for some interesting stuff you can begin to look for on your own.

First, EMLs as well as PDFs are available at the links above. If you want to take the time to make these usable you'll be able to search much more effectively and also obtain the attachments directly from the emails.1 You can do this by installing Thunderbird or a similar client and then importing all the EMLs. Feel free to drop me a line if you have questions on how to do this.
From the Downtown Center BID material I learned that opposition to the Skid Row Neighborhood Council formation effort was even more widespread and wicked than previously suspected, which is saying a lot. Search on the phrase "Skid Row Neighborhood Council" in that set for some amazing revelations.2 Or wait till I write about them.
From the Downtown Santa Monica BID material I learned that Kerry Morrison's role in BID opposition to AB-1479 was more intense than I knew. Also I discovered that the City of Santa Monica requires its BID board members to fill out Form 700 financial disclosures, which the City of Los Angeles most emphatically does not do.3 Also Santa Monica treats its BIDs as City agencies, which has any number of unexplored consequences.
These are only a few of dozens of interesting subjects illuminated by this historic record release. If you find anything that seems important that I didn't mention here, please email me.

Image of Carol Schatz is ©2017 MichaelKohlhaas.Org and is a transformative modification of this little slab of performative mendacity right here.

Although I did extract all attachments and upload those as well, there's no way to do this and keep the association with the individual emails to which the attachments were attached.
Among the most trivial of which, but still interesting, is that Estela Lopez, Rena Leddy, and Blair Besten participated in the anti-SRNC email list using personal email addresses, probably to evade discovery via CPRA. It didn't work, friends!