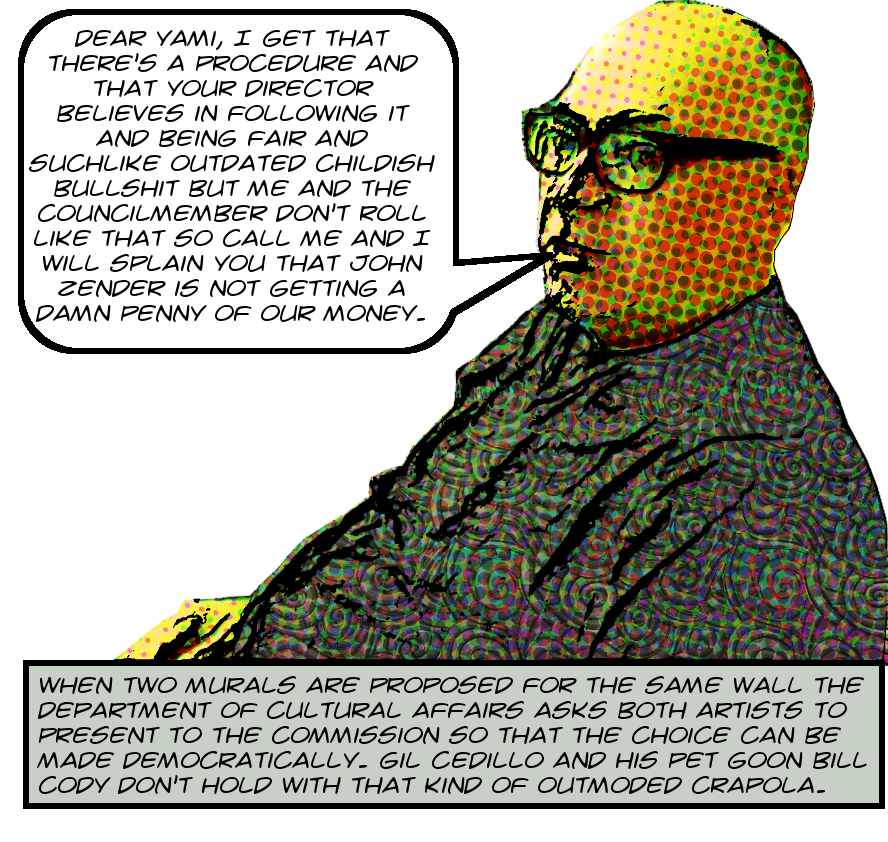 Last week I wrote about how CD1 staffer Bill Cody used his position with the City to revenge himself against Highland Park community art activists Brenda Perez and Yaya Castillo by trying to get City funding pulled from a mural because a compatriot of theirs, muralist John Zender, was involved in the project. That happened in June 2018, and the backstory is well-summarized in that post, so I won't repeat it here. The very short version is that Bill Cody was pushing a mural by Frank Romero of Los Four at least in part to silence community agitation at the destruction of a mural by Zender at the behest of the reprehensible Highland Park Business Improvement District.
Well, it turns out that in April 2018, when Cody was beginning the process of organizing Frank Romero's new pro-Olympics mural, there was also a project by Zender proposed for the same City-owned wall. It turns out that the Cultural Affairs Commission, which must approve murals on City property,1 has a process in place to resolve just this kind of situation. Which they would have to have, of course, because the City property belongs to everyone. If more than one artist wants to put a mural somewhere there has to be a fair method of choosing.
Accordingly, Yami Duarte of the Department of Cultural Affairs told Bill Cody that all murals on City property must be approved by the CAC and that the DCA "Director is apprised that there may be another mural proposal for the same location by artist Mr. John Zender Estrada, and recommends that both projects be presented side by side to the Commission." By the way, I don't think that it has been previously reported that Zender had plans for a mural where Romero's mural was going to be painted. The story is told in this brief email conversation, of which there is a complete transcription after the break.2
But, as we've seen, Cody really had it in for Zender, so he wasn't having that. And he wasn't owning his not having it either, as he attributed his unwillingness to follow the rules and let the CAC decide which mural ought to be placed on the wall to Gil Cedillo.3 Thus spake Bill Cody: "I do not think the Councilmember will want to do it that way and I think we should have a conversation about this." Of course, the vengeful Cody doesn't want to do anything any way that might result in some democratically empowered body such as the CAC choosing something other than what he had planned, which is keeping Zender's work off walls in Highland Park. And of course he invokes Cedillo, the source of his power.
Cody evidently had his way with the mural, although the details are still unknown. For whatever reason Romero's mural didn't come up before the CAC until its January 9, 2019 meeting. Take a look at the agenda for yourself and notice that there's nothing at all about Zender on there. And that's the story. Sure, it's more low key than all that lurid nonsense about Cody punishing constituents for attacking his office on Facebook, but it's just as corrosive of democratic principles. So turn the page for a transcription and also to take a look at how the Department of Cultural Affairs thinks it's somehow appropriate to redact the name and email address of City staffer Rebeca Guerrero.4 I asked them why, but they declined to respond.
Continue reading In April 2017 Cedillo Minion Bill Cody Told Yami Duarte Of The Department Of Cultural Affairs About CD1's Plans For That Frank Romero Mural — And She Told Cody That There Were Also Plans For A Mural By Zender On The Same Wall — And The Procedure In That Case Was To Present Both Murals To The Cultural Affairs Commission At A Public Hearing — And He Told Duarte That Cedillo Wouldn't Want To Do It That Way — It Seems That Rules And Procedures Are For Other People In Cedillo's And Cody's CD1 — Especially If They Interfere With Cody's Mad Thirst For Vengeance →