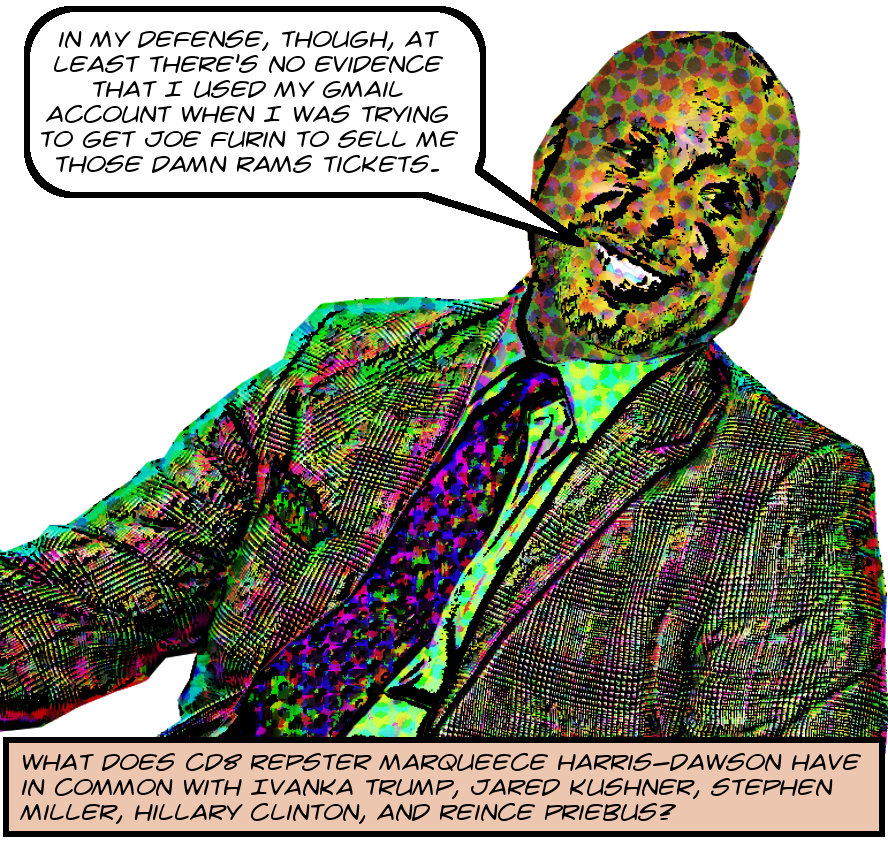 Council District 8 representative Marqueece Harris-Dawson has a private Gmail account at mharrisdawson@gmail.com that he uses to conduct official business. In this practice he is, sadly, not at all alone. Earlier investigations have revealed that at least four other City Councilmembers and one high-ranking LAPD officer use private email addresses in this way:
★ Mitch O'Farrell
★ David Ryu
★ Gil Cedillo
★ Greig Smith
★ Cory Palka
I learned about this from this June 2016 email conversation between Harris-Dawson's chief of staff Solomon Rivera, his senior field deputy for Baldwin Hills and surrounding areas Dina Andrews,1 and Harris-Dawson himself at the Gmail address. This email, by the way, is part of a small but juicy set I got today from Rivera. You can browse the whole thing here on Archive.Org.
The subject matter of this particular email isn't that interesting.2 It has to do with former actor Bennett Liss trying to get Harris-Dawson to be interviewed for a documentary directed by Liss's son about how to cure homelessness by selling the backs of freeway signs for advertising.3 But what is of the utmost interest, of course, is that Andrews doesn't use an lacity.org email address to communicate with Harris-Dawson. Instead she uses his Gmail address.
The use of private email addresses by public officials is a shameful and secretive practice, and ought to be, if it isn't already, illegal. Fortunately the 2017 California Supreme Court opinion in City of San Jose v. Superior Court held that such emails were public records, no matter what kind of account they're in or device they're on,4 but in order to apply that holding it's necessary to find the accounts in the first place. I have found a bunch of them, but it's painful and time-consuming work.
Bunches of creepy Trumpian fascists are rightly and regularly criticized in the national press for exactly the same practice, and yet, at least so far, this is a complete nonstory in Los Angeles.5 And this is far from the only interesting item in this set. Just for instance, there's a conversation between Rivera and Joe Furin, general manager of the Coliseum, and Sherry Caldwell, the Coliseum's director of ticketing, trying to arrange for a pair of Rams tickets for Harris-Dawson to purchase at $255 each. Oh, and after all the talk, Harris-Dawson doesn't even end up wanting the tickets!
Continue reading Council District 8 Rep Marqueece Harris-Dawson Has A Private Gmail Account That He Uses To Conduct City Business — And His Chief Of Staff Solomon Rivera Uses City Resources To Arrange For Harris-Dawson To Purchase Rams Tickets — Straight From Joe Furin — The General Manager Of The Coliseum — And A Bunch Of Other Interesting Emails From CD8! →