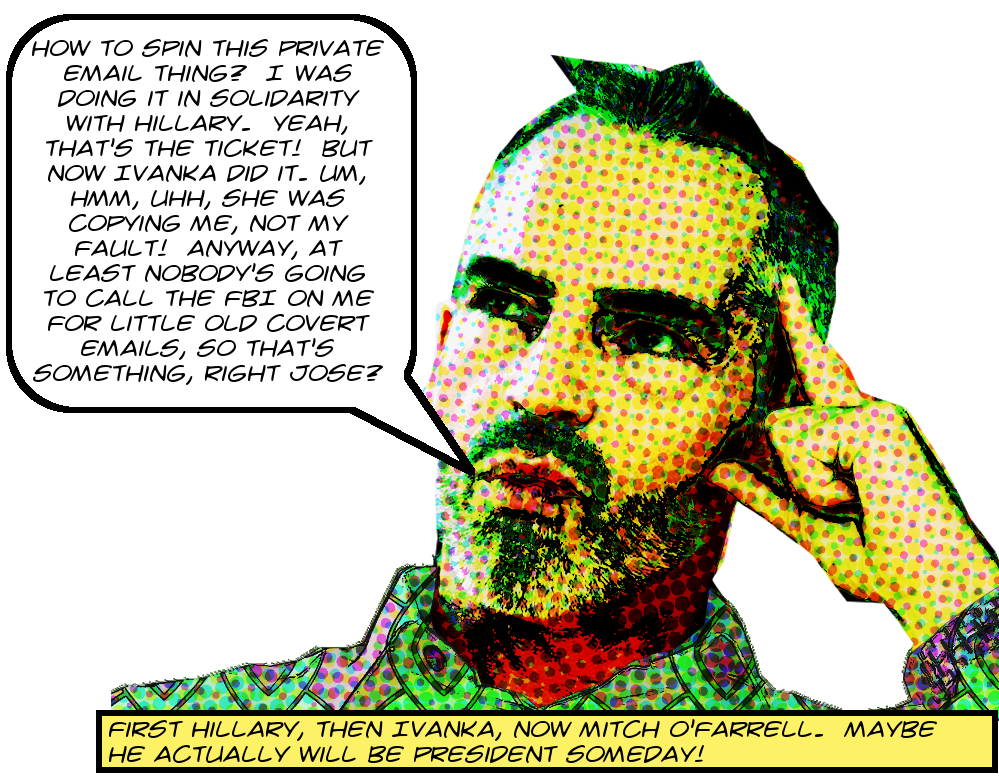 In the last few years a number of public officials have been criticized extensively1 for using privately controlled email accounts to conduct public business. Hillary Clinton was famously investigated by the FBI for this. And just yesterday it was revealed that Ivanka Trump has done the same thing. Thus we were fascinated to learn recently that CD13's own Mitch O'Farrell also uses a privately owned Gmail account, mitchof13@gmail.com, to conduct City business and, doubtless, to evade scrutiny.
This was discovered recently by our friends at the Hollywood Sunshine Coalition, who passed us the material on which this post is based. And this revelation settles a big mystery. As you know, I personally have obtained many thousands of pages of emails from CD13 on any number of subjects, and there are never any at all from O'Farrell himself. Previously I had thought that either Dan Halden, who handled most of my requests, was purposely omitting emails from his boss or else that O'Farrell was communicating in ways that didn't leave traces, like phone calls. Now it seems likely that he has been evading scrutiny by using this secret email address.
The HSC has been making public records act requests for emails from this account. There are two ways to approach this. The first, and so far the only successful, way is to find correspondents who are subject to the CPRA and ask them for emails involving O'Farrell's secret email address. This led to request number 18-2976 on the City's newish CPRA platform, which is called Nextrequest.2 For some reason the City has made the request page available for public view but not the records provided. They turned over 21 highly duplicative PDF pages of emails between O'Farrell and various officers and, interestingly, some members of the Hollywood Studio District Neighborhood Council. You can read these 21 pages here. Apparently the HSC has other such requests pending.
But the HSC's other strategy has turned to be much more interesting, even though it hasn't gotten them any actual records yet. It's based on last year's absolutely monumental California Supreme Court opinion in City of San Jose v. Superior Court, which found that the emails and text messages of public officials are subject to the CPRA even if they are held in private accounts.
Based on this principle, on November 7 the HSC sent this CPRA request to CD13, asking for all emails held in the account from July 1, 2013 through the present.3 And yesterday, probably unsurprisingly, O'Farrell's chief of staff, Jeanne Min, replied with the usual mush-mouthed nonsense, the TL;DR of which is "fuck you no records." The HSC responded pretty scathingly, and then responded again for good measure. They've promised to keep me in the loop with respect to further developments. After the break you can find transcriptions of most of these emails along with some technical discussion of the CPRA issues implicated.
Meanwhile I'm told by those who ought to know that the HSC will not drop this request and that they are prepared to litigate if necessary. We'll see what happens, I guess. Whatever happens, it's clear that the public interest is very much against allowing Mitch O'Farrell to get away with maintaining this secret side channel for communicating with his favored few and with secreting emails away from public scrutiny and the City's record retention policies.
Continue reading Mitch O'Farrell Has A Private Gmail Account Through Which He Conducts City Business — And His Chief Of Staff, Jeanne Min, Refuses To Release All Emails From This Account — Insists That There Is More Public Interest In Withholding Them — But No One Actually Believes That — Probably Not Even Her →