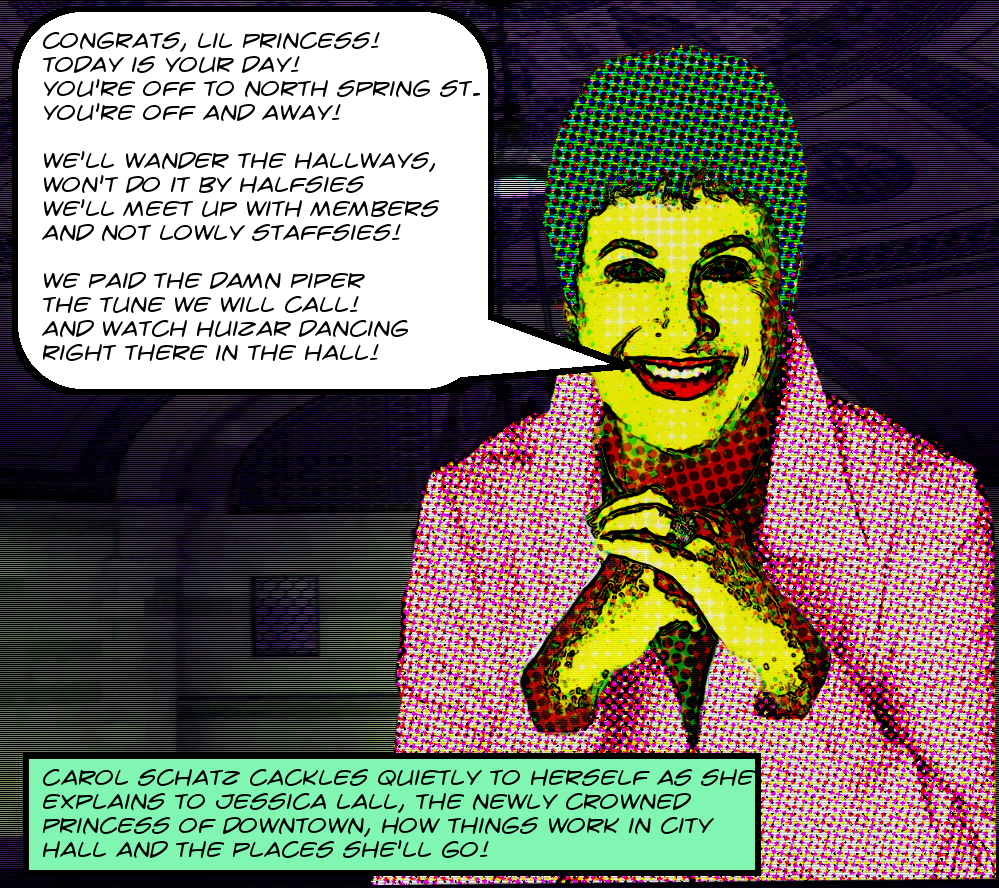 Yesterday I loosed mere anarchy on the world in the form of about 3500 emails between the Downtown Center BID and the seething stew of evil goop known to the world as the Central City Association. The release came in two parts, the unredacted and also the redacted.
Now, I know that not everyone in the world is obsessed with these BIDdies as I am, so let me just remind you all that in September 2016, Queen of Downtown and Zillion Dollar Woman Carol Schatz retired from her lofty post as supreme commanderette of the CCALA. She subsequently anointed the former big bad bossietta of the South Park BID, Jessica Lall, as Princess of Downtown and Schatz's successorette at CCALA, effective January 3, 2017.
With this background in mind it turns out that this little gem from February 6, 2017, is not, by far, the least interesting item in the new release. In short, what happened is that on January 13, 2017, just ten days after she assumed the throne, Jessica Lall made an appointment to go to City Hall on February 9, 2017 with Carol Schatz, presumably to get shown the ropes and be introduced personally to the tame Councilpets by the master Counciltamer herself.
Of course, February 9, 2017 was a Thursday, which revealed Jessica Lall to be the inexperienced ignoramus that everyone Downtown mostly knew that she was.1 Carol Schatz, though, as much as this faux pas might have made her wish she'd elevated anybody but Ms. Jessica Lall to the crown, gritted her teeth and decided to teach her error-prone little protégé a lesson. Fortunately for us and for history, she did this via an email.
Now, if you are, as I am, a normal human being, those last sentences may well be completely unintelligible to you. Turn the page for transcriptions of everything along with the details of why you should never go to City Hall on a Thursday and how Carol Schatz schooled the newly-minted Princess in the inscrutable folkways of those who are paid to influence!
Continue reading Lobbyists Are Made, Not Born — How Carol Schatz, The Zillion Dollar Queen Of Downtown, Is Raising Up Her Newly Anointed Little Princess Jessica Lall In The Methods And Practices Of The Influence-Peddling Trade →