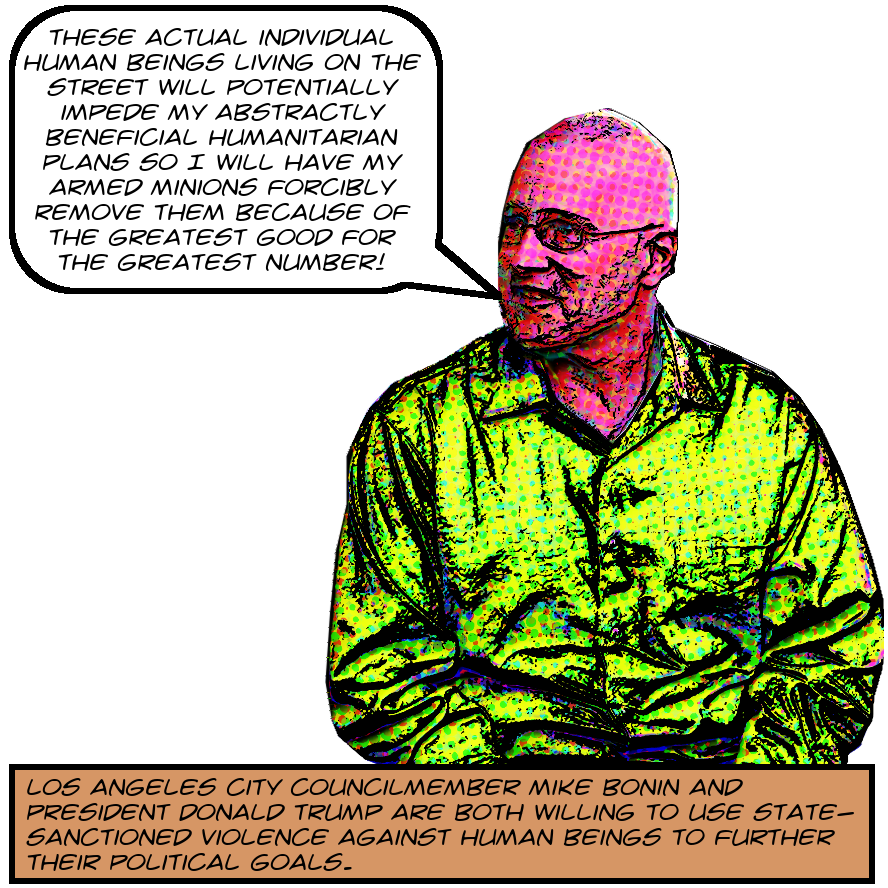 In this troubled time, perhaps to be known to future history as the early days of fully formed American fascism, sane people have legitimate reasons to worry about the President of the United States adding homeless human beings to the already too-long list of people he's willing to intern in camps, torture, and kill in order to further his political purposes.1
Meanwhile our local politicians keep up their characteristically hypocritical performance of opposition to Trump and empathy towards the unhoused2 while continuing to call down sweeps on their encampments, displacing them, endangering them, occasionally killing them. Endangering, sacrificing, just as Donald Trump does, the lives of actual human beings for no better reason than to please their bloodthirsty constituents, who demand visible action in lieu of actual solutions.
Of course, that's not how these politicians frame their activities. They go on and on and on about how police-attended encampment sweeps are necessary to help homeless residents, to disincentivize them from living on the street and encourage them to accept shelter, et cetera. But that's not a reason the City of Los Angeles has sweeps, not at all. And whatever all the reasons might be, political expedience is certainly one of them.
Just for instance, take a look at this December 2017 email from Taylor Bazley, formerly on CD11 repster Mike Bonin's staff, to LAPD senior lead Adrian Maxwell, asking him to "focus resources" a homeless encampment on Hampton Avenue in Venice. Bazley was communicating Bonin's concerns which had nothing to do with helping the inhabitants in any way at all. No, Bazley's stated reason for focusing resources on this "particularly disadvantageous" encampment were that:

… across the street is the primary homeless serving organization for the SPA (St. Joseph Center) – people will think that the encampment is due to the organization and the Councilmember is concerned that this will make projects we all want to move forward, more difficult with an already skeptical neighborhood.

Continue reading Donald Trump Is Poised To Forcibly Relocate Homeless Human Beings – Move Them Into Concentration Camps To Please His Bloodthirsty Constituents – Meanwhile A Newly Obtained Email Shows That Mike Bonin Does The Same Sort Of Thing – Arranging For An Encampment Sweep Across The Street From The St. Joseph Center On Hampton Avenue For No Better Reason Than To Placate Housedwelling Psychopaths – He's Willing To Sic The LAPD On The Unhoused For No Better Reason Than That It Suits His Political Goals – Keep This In Mind The Next Time Bonin Flips Out And Compares Advocates For The Rights Of Homeless Human Beings To Donald Trump →