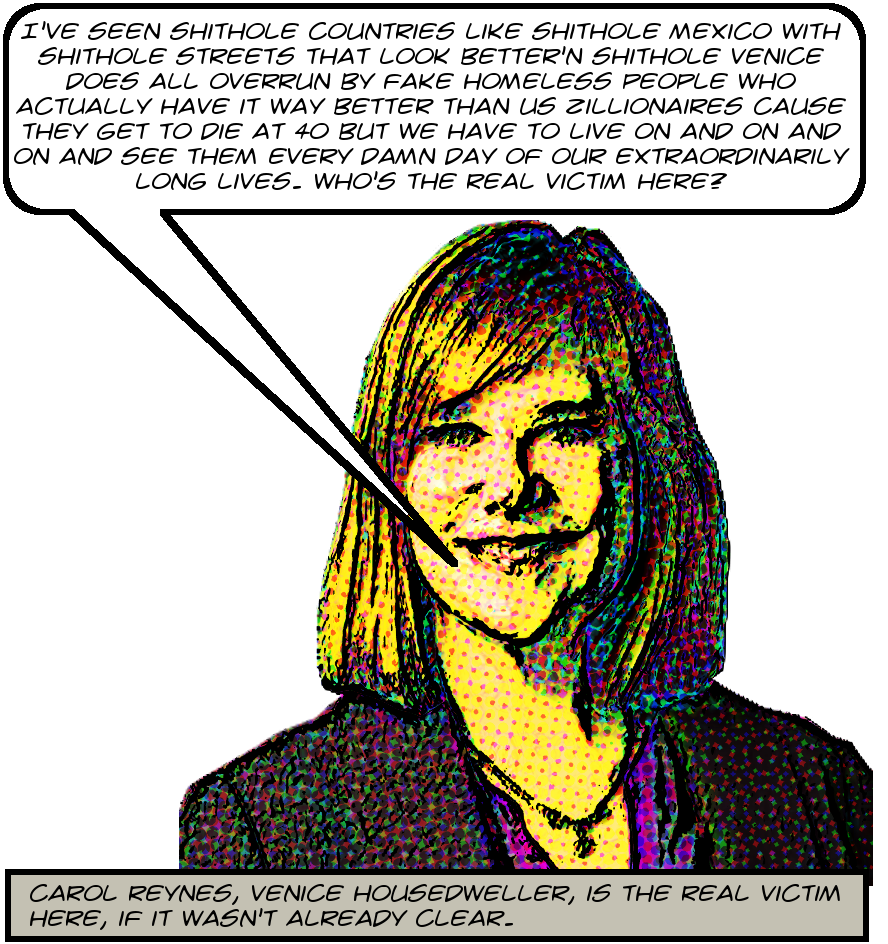 Maybe you've seen all those mass-manufactured reactionary anti-homeless self-pitying NIMBY yard signs in Venice lately, the garbage-brained slogans on which I won't dignify by repeating here. And maybe you've heard of some of the shadowy little unincorporated associations responsible for them, like e.g. Venice Totalitarianism Unleashed or Venice Snakeholders Ass Sociation or Humane-Kill Homeless Shelters Now! and so on. And one of these creepy little Kool-Aid drinking societies is known as Venice United.
And this particular gang of fauxhemian housedwelling facists has some kind of Google Group which seems to be top secret although maybe I'm just not searching for it right. And one thing they do in their creepy little secret society is send really angry and really crazy emails to one another. And for whatever reason they send copies of them to City officials.1 And that makes them subject to the California Public Records Act.
And that loveliest law is how I obtained this set of absolutely astonishing emails, already described in sufficiently lurid terms in the title, which, in case you're wondering, is why I have called you all here today. And my freaking goodness, they're literally batshit insane.2 Even when compared with some of the known masters of the genre, e.g. Anthony Kilhoffer, genocidal anti-homeless psychopath and certified Grammy-winning genius. Or that twisted gang of grinning killers over in Hollywood who want to starve the homeless into oblivion.
Or Carlos Torres, who thinks this blog ought to be shut down until I learn how to be nice to him and his homeless-hating friends. Or this other gang of rage-driven physically violent Hollywood housedwellers consisting of Ferris Freaking Wehbe3 and a bunch of his closest vigilante4 asshole buddies. Even when compared to the Venice planter-placers there's no question who the magic mirror thinks is the craziest of them all, it's these folks, and it's. Not. Even. Close.
And please read the whole spool, because I'm not going to be able to transcribe them all. See evidently famous makeup artist Nikoletta Skarlatos screaming at Venice in all caps to RISE UP AND MIKE BONIN BEWARE! And heavily-armed ice-cream peddler Klaus Moeller and his housedweller dog whistles about Mad Max on the streets of Venice!
And other such freakish lurkers in the emotional ruins of the formerly paradisiacal former slum-by-the-sea! Like for instance LAPD Senior Lead Officer Kristan Delatori listening to these mouth-slaverers, taking them seriously, telling them that she never gives homeless human beings permission to be on sidewalks. Scandalous.
Also, due to exceptionally idiotic redactions, I really can't transcribe the recipient lists, and those are really freaking crazy in themselves, including like every reporter in the world. But there are definitely some transcriptions below, mostly of the choicest, most kookiest stuff, so read on!

---
From: Klaus Moeller
Date: Feb 5, 2019, at 3:10 PM
May I add that RV live-in parking is out of control. I just took this photo trying to find a parking spot to grab lunch on Abbott Kinney. Every spot is taken up by RV's. How is this fair to the local restaurant owners and shop owners who pay high rent and taxes – but losing half of their business because RV's take up pretty much every parking space (with food trucks taking up the rest) and homeless sitting and urinating on the boardwalk. Abbott Kinney used to be such a fun street to amble down, shop a little and get a bite to eat. Now it is becoming a scene from Mad Max – and all this is happening so fast.
We have had two bikes stolen and all our patio furniture. Even with camera footage, nothing will/can be done about it.
I had a transient on the Boardwalk run after me brandishing a skateboard and shouting that he will smash my skull in because I took a photo of him taking a stolen bike apart. In broad daylight. In front of all the tourists who will now go home and tell their friends NOT to visit Venice.
All this is killing our neighborhoods. We are not safe, tourists will not return and businesses are suffering.
All so some corrupt people can stuff their pockets. Building $400K housing units and serving expensive meals. Go buy out of business motels for $30K a room and use their parking areas for RV parking. Don't destroy Venice.
---
---
From: Nikoletta Skarlatos
To: [Crazy long list of recipients]
Re: GOOD MORNING MIKE BONIN . COMING OVER TO PICK UP THIS FECAL MATTER? To and From Kristien Delatori. Also Video of City Destruction of my sidewalk. Expect full renovation ASAP
Date: Tue, Feb 5, 2019 at 3:55 PM
TO THE LAPD AND OFFICER DELATORI
3:36 pm feb 5. One tall Caucasian man with beard in black blue and white checkered shirt one black man one white man sitting with a beard sidewalk completely blocked across the street from my house in front of public storage. nobody can walk by people just dumped three bags of garbage which we cleaned up with public storage, you need to come right away and clean up this sidewalk. This is against the law you need to get over here Mike Bonin and clean up your street. We are holding you accountable don't think that because I've been gone that we are not on top of this and you beware.
PUBLIC STORAGE: PLEASE POLICE YOUR SIDEWALKS. THEY MAY NOT LEGALLY BE BLOCKED EEVR AND NOTHING MAY BE ATTACHED TO YOUR PROPERTY. THIS IS THE LAW. YOU ARE THE WEALTHIEST OF ALL OF YUR ESTABLISHMENTS AT YOUR LOCATION WHAT HAPPENED TO YOUR 24 HOUR SECURITY GUARD?
ALL OF YOU HAVE TO RISE UP AND GET BONIN OUT OF OFFICE.
IT ALMOST SUCCEEDED WHEN HIS ROAD PLAN KILLED A GIRL IN PLAYA AND THE CITY HAD TO PAY $16 MILLION DOLLARS WHICH COULD HAVE GONE TO HELP THE REAL HOMELESS.
ACT NOW.
RISE UP.
GET RID OF HIM.
HE HAS KILLE BUSINESSES AROUND HIS AND HUSBAND"S HOUSE ( MARRIED BY GARCETTI) IN MAR VISTA BLOCKED EMERGENCY PATIENTS TO BRATMAN JUST GO AND ASK THE BUSINESS OWNERS THERE
CORRUPT.
POSEUR
COWARD.
POLITICAL HACK OF THE FIRST AND WORST ORDER.
GARCETTI LACKEY.
FROM THIS ENTIRE VENICE COMMUNITY
THANKS KLAUS.
NOW PLEASE HELP US GET EVERYONE TO FLOOD THE LAPD AND THE CITY COUNCIL EVERY MINUTE BY PHONE, EMAI VIDEO , LOCAL AND NATIONAL NEWS, AND THEN WELL RALLY WITH ALL OF THE NEWS STATIONS.
---
---
From: Carol Reynes <Carol.Reynes@win-results.com>
To: [Crazy long list of recipients]
Date: Tuesday, February 5, 2019 at 2:00 PM
I have seen streets in Mexico in the '80's in better shape than what Venice looks like every day 35 years later.
Yesterday afternoon my husband left a fleece jacket in our front yard for 30 SECONDS while he walked over to our garage. He turned around to see his jacket gone and a self-identified homeless guy wearing a backpack walking down the street. My husband told him he wanted his jacket back and the homeless
guy told my husband he was going stab him. Seriously! We live on a cul-de-sac street with 9 homes in the very northeast corner of Venice ■■■■■■■■■ block from both Mar Vista and Santa Monica. Until a few months ago, no one ever found their way into our small enclave.
Garcetti and Bonin, the problem is spreading and it is time to declare a state of emergency and consider erecting tents like the military does and get these people off the street. There needs to be a bevy of service workers doing intake and figuring out who are truly down-on-their-luck homeless, who are chronically homeless due to physical challenges etc., who is mentally ill, who Is addicted to drugs, and who are just here because you allow them to be, and then treat each person's case appropriately. Act like Venice is Pacific Palisades or Brentwood. What would you do if this were happening there?
Best regards,
Carol Reynes
23 year Venice resident
---
---
From: veniceunited-internal@googlegroups.com on Behalf Of Travis Binen
To: [Crazy long list of recipients]
Sent: Tuesday, February 5, 2019 11:26 AM
The solution is so easy. Build shelters, homes and bridge homes where land needs to be developed.
In Lancaster and the Santa Monica mountains, we have land owners who want to build today. Build homes and shelters where land is inexpensive, where land owners want to build, where it won't attract more people to drop out and live in Venice and away from hardworking people who pay rent, mortgage and taxes.
We have people ready to build today! And we could repeal the Jones Settlement in a month.
Instead we have people dropping out of society to sleep on the sidewalks, do drugs, shitting and pissing on our front door steps. We have transients and druggies and some of them are assaulting people and breaking into our homes.
It's not fair to us and it's not fair to the truly down and out who are actually trying to get jobs and get back into society.
It's also not fair to the young kid who is lured into the life of homelessness with free food and services in Venice. His path has now been made harder because of the lure of camping out in Venice, made easy by our elected officials.
---
---
From: Nikoletta Skarlatos
To: [Crazy long list of recipients]
FROM US SEE BELOW VIDEO AND SEND DESCRIPTIVE EMAIL OF HOW AND WHEN MY STREET CURB WILL BE FIXED AND DRY CLEANER ALLEY GATE SHUT BY 6PM LIKE PUBLIC STORAGE. IT IS THE LAW.
WE HAVE BEEN DEALING WITH THIS NIGHTMARE SINCE BILL DIED AND BONIN TOOK OVER. TRAVESTY.
AND HOW IS GEORGE IVANOVICS? ARE YOU VISITING HIM ALL THE TME BONIN AND GARCETTI?
Hi Officer that is not what they're saying in their aggressive I cannot go through this I'm going through this for since 1985 this is my home this is where 1 live this has got to stop I want Officer Perez here twice a day like always I want these people off my street. They are blocking the sidewalk it is against the law 1 can't walk down the sidewalk a Vietnam vet cannot walk down the sidewalk my blind neighbor can walk down the sidewalk and all they do is throw 7 it back at me and tell me that you said it's fine and tough shit for me. I can't rent my Front house. And why is the gate still open that face is our alley from the dry cleaner when the drycleaner is closed at 7 PM that's unwanted traffic and drug trafficking you said you were going to handle this it's been almost a year. I want answers I want to know that you and the city Council have a dress to the dry cleaner and that gate is going to be permanently shut at 7 PM I don't understand why this is been going on after Billrosendahl■■■■■■■■■ I don't understand why we have to live through this and the stress I don't understand any of it and I've always supported you the police you guys need to rise up and support me and us and handle the dry cleaner and handle across the street at public storage and they need to have a security guard it's enough already. 1 would like concrete answers and timelines emailed to me unfortunately words are just disappearing into thin air and I have trusted you and 1 have trusted your word hut 1 am not trusting it at this moment.
Thank you as always in advance . Best, Nikoletta
---
---
From: Kristan Delatori
To: Nikoletta Skarlatos
Hello Nicoletta, thank you for the text message I am back at work today and I will check on 4th as I do on every working day that I'm here. Please know that I never give anybody any permission to be on any particular sidewalk and if anything I strongly discourage people from being on 4th Avenue.
---
---

Image of Carol Reynes, the shithole queen, is ©2019 MichaelKohlhaas.Org and if you're gonna look at her LinkedIn pix I don't see how I'm sposed-a stop you.