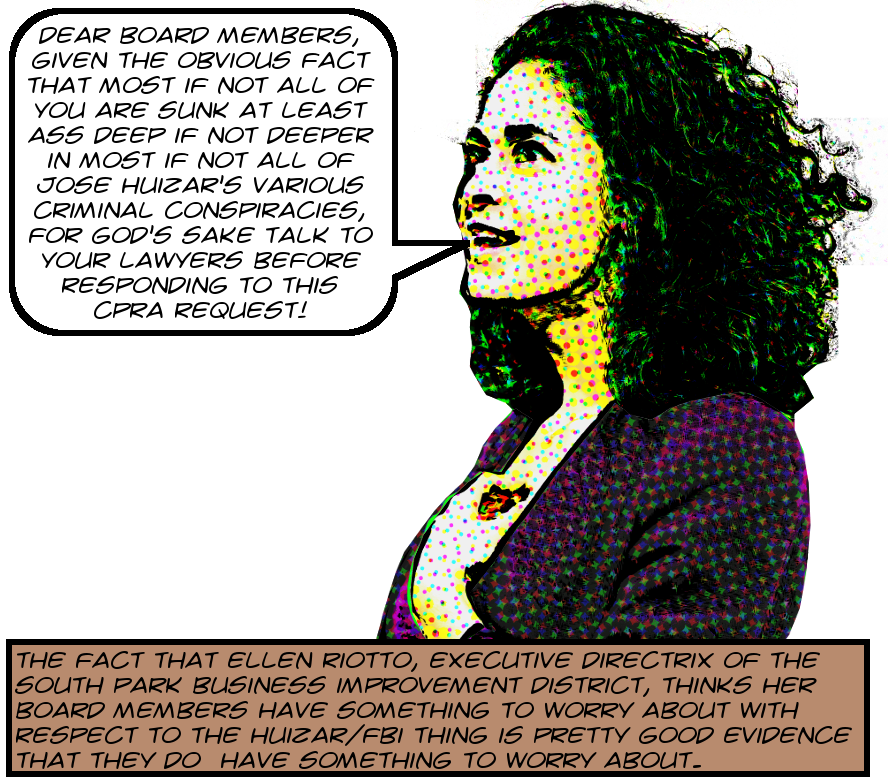 Back in January of this year PACER wizard Seamus Hughes, in a stunning application of the inscrutable sorcery which he alone has mastered, discovered that in February 2017 the FBI had searched one of José Huizar's personal email accounts, josehuizar@sbcglobal.net, and seized more than 1,400 records. And I immediately thought of my dear friends at the South Park BID, where they're building all those really really really tall buildings of the very sort that basically require a criminal conspiracy to get built at all.
And so I fired off a little CPRA request to the BIDdies asking them for, amongst other things, their communications with that email account of Huizar's. And it turned out that none of them would admit to having any, which, of course, is not surprising given the fact that the BID's lawyer, Carol Ann Humiston, basically advised the Boardies that there would be no consequence to them for lying. But nevertheless the request was not without results, just not direct results.
For, you see, in response to a whole different request, the BID sent over a little slap in the face, which is to say this email from BID Executive Director Ellen Salome Riotto advising the BID Boardies on responding to the earlier request. Basically she told them that because the FBI is investigating their buddy Huizar they should talk to their damn lawyers before sending over any records, which to this legal amateur looks a whole freaking heck of a damn lot like consciousness of guilt. But she can speak for herself better than I could speak for her:


Date: Fri, 01 Feb 2019 15:50:14 -0700
Subject: Re: SPBID Public Records Requested
From: Ellen Riotto <ellen@southpark.la>
To: Lulu Woldemariam <lulu@southpark.la>
CC: Robin Bieker <robin@biekerco.com>,
Daniel Taban <daniel@jadeent.com>,
Robert Buente <bbuente@1010dev.org>,
Channing Henry <channing@almadevelopment.com>,
Terri Toennies <terri@laautoshow.com>,
Terry Rubinroit <rubinroit@aol.com>,
James Pugh <JPugh@sheppardmullin.com>,
Richard Wu <rich@dtlafamilies.com>,
Paul Keller <pkeller@mackurban.com>,
"Caster, Patrick – CHMC" <Patrick.Caster@dignityhealth.org>,
Faye Washington <faye.washington@ywcagla.org>,
Lee Zeidman <lzeidman@staplescenter.com>,
"tom.shrout@avvantt.com" <tom.shrout@avvantt.com>,
Del Morais <dmorais@mackregroup.com>,
May Chen Tham <mc.tham@ywcagla.org>
All,
Given the larger context of current investigations, please be sure to consult with your firms' counsel before sharing any un-redacted emails/documents with the BID. I'm going to work with our lawyer to see what can be done about getting more time to reply to these requests. Stay tuned.
Ellen
Ellen Riotto
Executive Director
South Park BID
1150-B S Hope St, Los Angeles, CA 90015
o. 213-663-1112
24/7: 866-560-9346
Sent from my iPhone


Image of Ellen Salome Riotto is ©2019 MichaelKohlhaas.Org and is based offa this lil slab of public domainity!