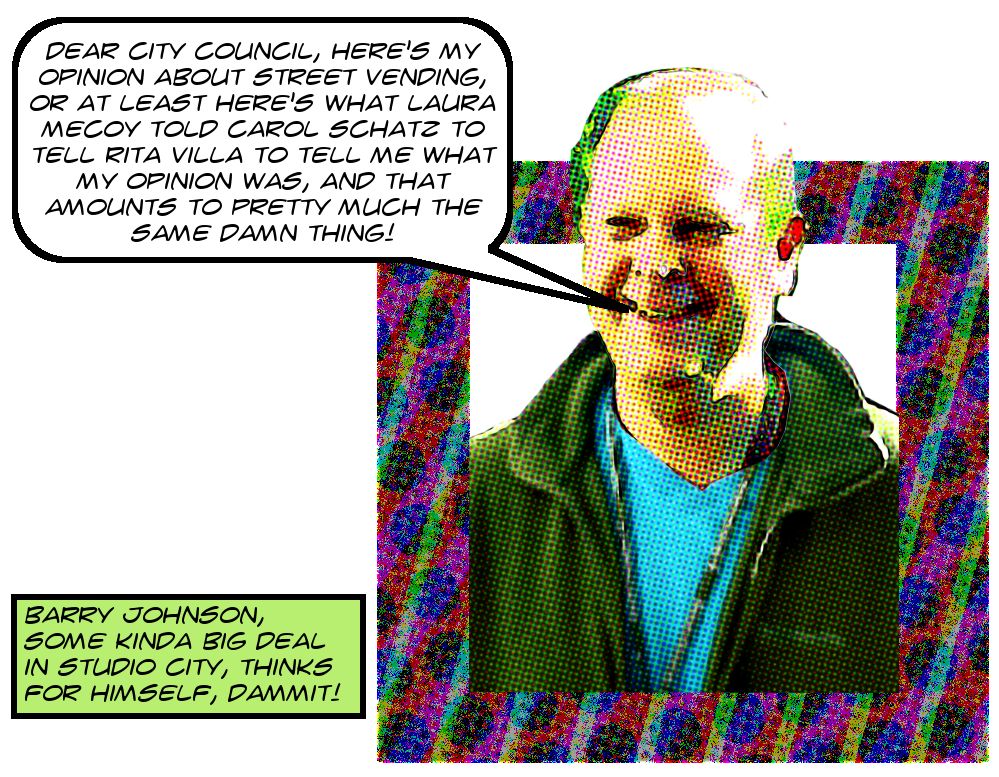 At least since 2015 a vast coalition of business improvement districts along with the Schatzian nightmare horror show known as the Central City Association have been fighting, clawing, hissing, and paying lots and lots and lots of money to counter any inclination our pusillanimous City Council might have towards creating even minimal legal space for street vendors to ply their life-affirming trade in the City of Los Angeles.
As part of this conspiracy, and even though the CCA essentially does nothing but lobby the City of Los Angeles, the BIDdies and their minions and allies hired a bunch of outside lobbyists to help fight their weirdo battle. One of these ringers was Laura Mecoy, who hooked them up with the LA Times editorial board and then had some trouble getting paid by the BIDdies for her work.
And all of a sudden, here's Laura Mecoy again! Very recently I received a copy of this fascinating email chain, and here's what it reveals!1 It seems that on December 8, 2016, Rita Villa of the Studio City Neighborhood Council got in touch with Carol Schatz about an upcoming hearing of a Council committee at which street vending would be discussed.2 They were evidently trying to coordinate on who was going to attend the meeting to make sure the fascist viewpoint was heard.
Villa mentioned that our old friend Mr. John Walker of the Studio City BID couldn't make it, and some other names about were bandied. Eventually Rita Villa arranged for Barry Johnson to attend, and Carol Schatz asked lobbyists Laura Mecoy and Fred Muir to write some talking points for Barry Johnson, which Laura Mecoy cheerfully did!
And there's nothing at all interesting in the talking points.3 It's the same old "one-size-does-not-fit-all we-respectfully-request-opt-in-please" jive-ass crapola that we're used to out of these people. The interest in this episode is entirely in the effort that Carol Schatz and her hired lobbyists are putting into shaping the narrative coming out of the mouth of someone who's putatively speaking for a neighborhood council.

And not just speaking for a neighborhood council, but speaking for them via an official channel of communication, which is to say, through a Community Impact Statement. As the Department of Neighborhood Empowerment says about these:4
A Community Impact Statement is an official statement or position adopted by a Neighborhood Council on issues pending before the City's decision makers. The Community Impact Statement process was created specifically for Neighborhood Councils so they can publicly express their support, opposition, or suggestions about any matter pending before the City Council, its committees, or City commissions. A Community Impact Statement (CIS) is an official statement used to express the position of a Neighborhood Council (NC) as a whole, and is not to be used to express personal opinions.

Notice one thing that DONE doesn't say about CISs? They don't say that they're written by a bunch of highly-paid Downtown lobbyists. Also, CISs give their presenters some special powers. As you'll hear if you listen to the audio of Barry Johnson's comment, he's given five minutes instead of the one minute everyone else gets, precisely because he is speaking for a neighborhood council.5 Is this a new strategy for zillionaires to get extra time to propound the talking points constructed by their bought-and-paid-for narratologists?
It's not quite as shady as the fact that they6 paid forty freaking five thousand dollars to skoosh the Skid Row Neighborhood Council, although it's certainly shady e-damn-nough. Also, this development compounds the felt urgency of the Ethics Commission's still-pending proposal to include neighborhood councils among those City agencies which attempts to influence trigger lobbying oversight.7
And that's just about enough editorializing. Let's move on to the contents of the emails! First of all, on December 8, 2016, thus spake Rita Villa:

From: Rita Villa mailto:rita@rcvcpa.com
Sent: Thursday, December 08, 2016 4:18 PM
To: Carol Schatz <cschatz@downtownla.com>
Subject: BID contacts
Hi Carol:
I think the framework referred to must be what was in the day before thanksgiving letter from Busciano. If there is something else please send it.
I have spoken to John Walker, Executive Director of the Studio City BID and he will be out of town and so will their President. However, I sent him lots of background material on this issue and John has contacted our council office and made them aware of our concerns.
I have also spoken to Lisa Schechter of the Hollywood Media District (BID) and she will try to attend the hearing on Monday.8 She will be in touch with Marie Rumsey so that she will be at the right spot on Monday.
I am still working on trying to get someone from the SCNC9 there to speak. I will keep you informed.
Warmest regards,
Rita

And Carol Schatz, who's nothing if not the opposite of a bridge-burner, and who habitually stays up very late at night working hard at the opposite of bridge burning, wrote back after 10 p.m. to say, succinctly:

On Dec 8, 2016, at 10:11 PM, Carol Schatz <cschatz@downtownla.com> wrote:
Thank you Rita. Your support is greatly appreciated. Best, Carol
Carol E. Schatz
President & CEO
Downtown Center Business Improvement District

And the very next day, before 6 a.m., because clearly zillionaires, although like vampires in many, many ways, one of these ways is apparently that they never freaking sleep, Rita Villa wrote back to Ms. Carol Schatz:

From: Rita Villa mailto:rita@rcvcpa.com
Sent: Friday, December 09, 2016 5:57 AM
To: Carol Schatz <cschatz@downtownla.com>
Subject: Re: BID contacts
BARRY JOHNSON will be there representing the SCNC on Monday. I have drafted a letter for our president to sign that will authorize him to speak on behalf of the scnc. I will let you know when it is issued. I have sent him our November letter but if there are any specific points you want him to make send them to me.
Rita Villa

This is the first appearance of the hero of the piece, Mr. Barry Johnson. And notice that on December 9, 2016 Rita Villa was telling Carol Schatz that she had drafted a letter for the president's signature authorizing Mr. Barry J. to speak on behalf of the SCNC. But of course, she can't do that unilaterally. It takes an action of the NC.
And an action of the NC must happen in a public meeting after having been agendized and posted for 72 hours, or even 24 if it's a special meeting. Did that happen between December 9, 2016 at 5:57 a.m. and December 12, 2016, when Barry Johnson did in fact speak before the Public Works Committee and represent himself as having been authorized to speak on behalf of the SCNC?
Well, it seems unlikely. In comparison to many neighborhood councils, the SCNC is organized enough to post both its Board and its committee agendas online. You can see the 2016 Board agendas here, and likewise the 2016 government affairs committee agendas,10 and there just isn't a meeting between December 9, 2016 and December 12, 2016. What appears most likely, then, is that Barry Johnson was not in fact authorized by this putative letter, even if it existed, to speak on behalf of the SCNC.
Anyway, very soon thereafter, but at a more normal time for people to show up in the office, Carol Schatz forwarded Rita Villa's letter on to some very special friends. Special friend one was Ms. Laura Mecoy and special friend two was Mr. Fred Muir. Both of them highly paid influencers, lobbyists, wizards of narrativity, call them what you will. And thus, with importance set to high, spake Ms. Carol Schatz:

From: Carol Schatz [mailto:cschatz@downtownla.com] Sent: Friday, December 9, 2016 8:50 AM
To: laura@mecoy.net; 'Fred Muir' <fred@fredmuir.com>
Subject: FW: BID contacts
Importance: High
What do you think his points should be? He will be representing the Studio City Neighborhood Council
Carol E. Schatz
President & CEO
Downtown Center Business Improvement District

And Laura Mecoy, a mere 42 minutes later, fires back a bog-standard slab of puckey, and there ends the email chain as we know it today:

Subject: RE: RE: BID contacts
From: laura@mecoy.net
Date: 12/09/2016 09:32 AM
To: "'Carol Schatz" 1 <cschatz@downtownla.com>, '"Fred Muir'" <fred@fredmuir.com>
Dear Carol and Fred:
Something along these lines?
• We support decriminalization and many of the proposed regulations.
• Our goal is a sidewalk vending policy that works.
• One size won't fit all: Neighborhoods should have the choice as to how much, if any, sidewalk vending they want.
• Once the neighborhoods have made that decision, the City must be able to enforce it. Without enforcement, the residents won't really have a choice on sidewalk vending.
Laura Mecoy
President, Mecoy Communications
P: 310.546.5860 |C: 310.529.7717
laura@mecov.net | www.mecoy.net

If there was subsequently more communication, well, I don't have it.11 But here's the afterstory. First of all, Barry Johnson did attend the meeting on December 12, 2016. For partial proof, here is the speaker card he filled out. Note that he did in fact represent himself as an official emissary of the SCNC even though it's doubtful that he was, as explained above.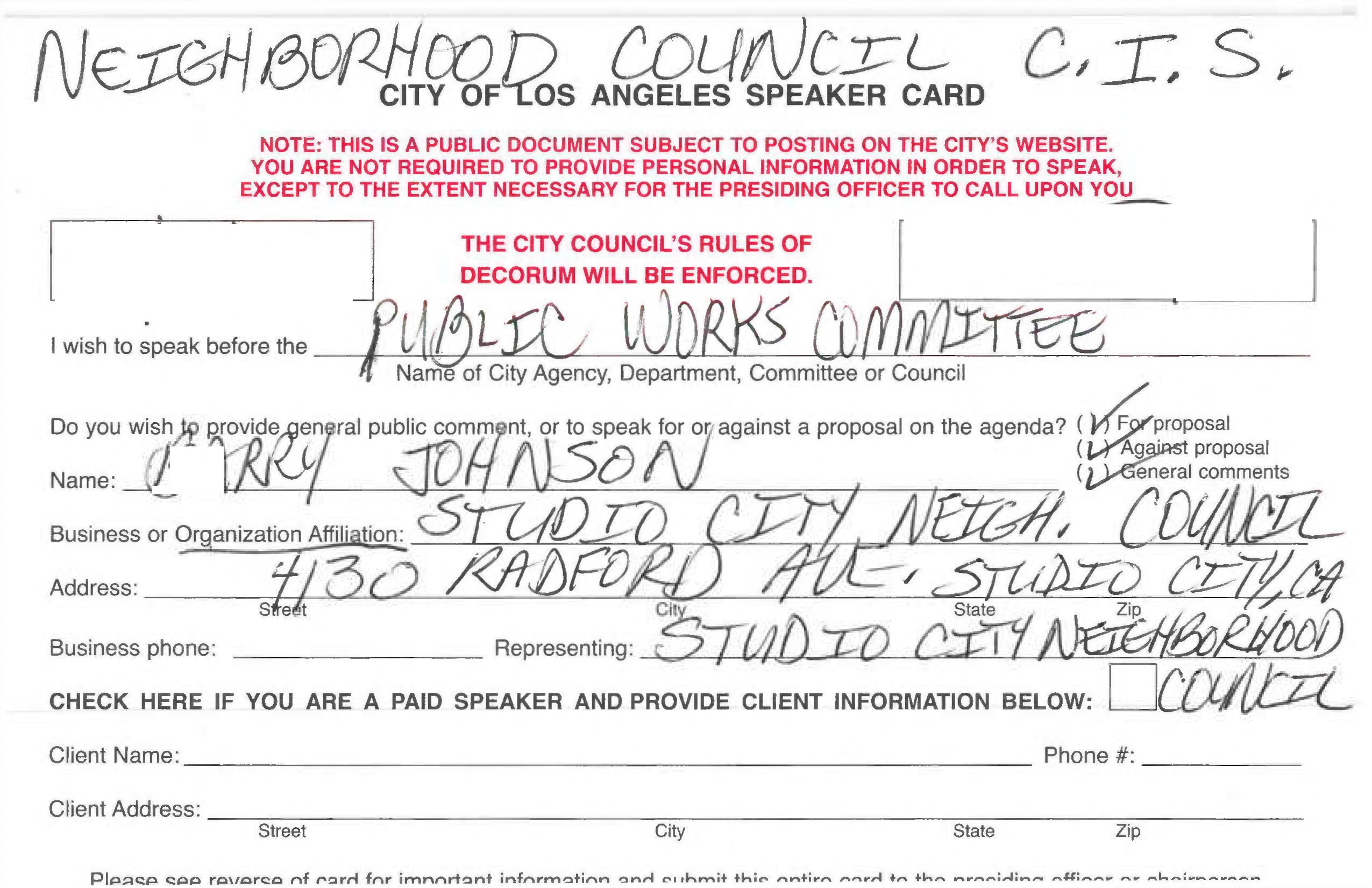 And not only that, but you can actually listen to his comment at the meeting! Interestingly, he didn't use Laura Mecoy's talking points at all, presumably because they weren't fascistic enough for his depraved tastes. The guy actually went far, far beyond pretty much any commenter I've noted in more than three years of attending to the steady stream of angry steaming privileged uninformed crapola that pours out of these people like diarrhea from a cholera victim. Just for instance, he wants vendors banned from BIDs unless 90% of the property owners AND 90% of the businesses agree. Despicable. I'll close with a transcription of Mr. Barry Johnson's (un?)authorized remarks:

Thank You. Barry Johnson representing Studio City Neighborhood Council and you do have our community impact statement and I would like to also thank the committee for the concept of one size doesn't fit all. It did seem to serve us well in the mural ordinance and we hope it will do so with this ordinance as well. And I wanted to thank you for the November 22nd letter, which spells out a lot of our concerns that we initially had with this ordinance but we still have concerns that sidewalk vending should be limited to areas of the city that elect to have such activity in their area. The city should establish an opt-in to a special vending district rather than an opt-out process for each area of the city where sidewalk vending will take place. Also regarding enforcement and penalties there needs to be a sufficient budget allocated to the enforcement of penalties. Sidewalk vending permit fees we would hope would support proper enforcement of this ordinance. And the only areas of the city where sidewalk vending should be allowed to take place should be within vending districts established under an opt-in program. And regarding Business Improvement Districts we would ask that no street vending should be allowed in a BID district unless 90% of the businesses as well as 90% of the property owners approve a special business vending district within their BID. And finally regarding the automatic and comprehensive review we would hope that there would be an automatic review process but also an annual renewal process for each vendor issued a sidewalk vending permit. Thank you.


Image of Barry Johnson is ©2018 MichaelKohlhaas.Org. It is a modified version of this picture of Barry Johnson.