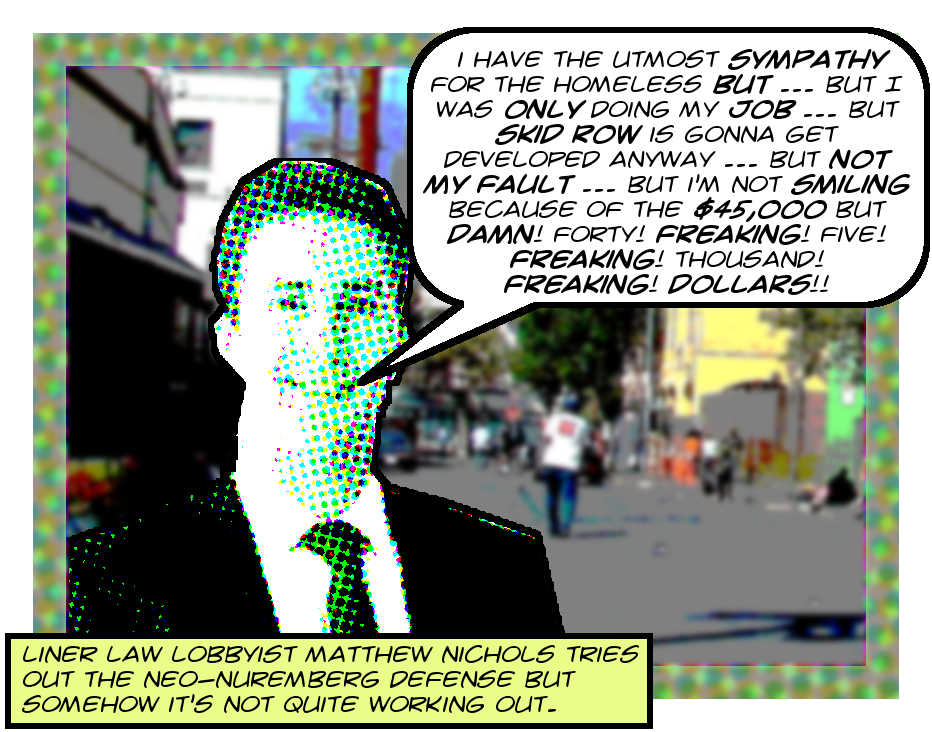 Background: You can read my previous stories on the Skid Row Neighborhood Council formation effort and also see Jason McGahan's article in the Weekly and Gale Holland's article in the Times for more mainstream perspectives.
You may recall that shady downtown municipal lobbying firm Liner LLP was hired by the even shadier anonymous Delaware incorporated United Downtown LA to lobby against the Skid Row Neighborhood Council formation effort and that I turned them in to the City Ethics Commission for failing to amend their disclosure forms to disclose United Downtown as a client as required by LAMC §48.07.


Well, yesterday was the filing deadline for Second Quarter disclosures, and Liner filed theirs on time. It's required by law for lobbying firms like Liner to disclose their clients and also how much money they got paid by each client. This time they actually did list United DTLA1 and it turns out that they were paid a stunning total of $45,010.40 to lobby against the SRNC. And this is just for Q2.2 It's likely, or at least possible, that when the Ethics Commission gets around to investigating my complaint they'll find that Liner was paid even more in Q1.
Oh, and check out the address that they put on the form for United Downtown. That's Liner's address. Full-service anonymization going on. That this much money was spent to stop a neighborhood council suggests that the NC system is really badly broken somehow.

And lobbying firms like Liner aren't the only ones that are required to register. Individual lobbyists also must file. And Matthew Nichols did file a disclosure report and he did in fact list United Downtown as a client. These forms also require disclosure of which City agencies were lobbied, and it's fairly interesting to see Matthew Nichols's list:
The City Attorney
The City Council
City Planning
The first two aren't entirely unexpected, but the third is a little strange. What does City Planning have to do with neighborhood council formation? And there's a surprising omission as well. Both Rockard Delgadillo and Matthew Nichols lobbied the Bureau of Neighborhood Commissioners as well, and this agency isn't listed on Nichols's disclosure, which it ought to be.3
Also Rockard Delgadillo still hasn't registered as a lobbyist.4 And in a final surprise, it turns out that Liner had a hitherto unsuspected third lobbyist working against the SRNC whose name is making its first appearance in my investigation. This is Noel Hyun, and you can see from his disclosure form that he too lobbied against the SRNC. Los Angeles is a City that regularly sets and breaks records for the sleaziness of its municipal politics, but this heartbreaking underhanded poisonous snakey destruction of the SRNC is on a whole other level. I'm sure there will be more to come, and you'll read about it here!5

The image of Matthew Nichols which decorates this post is ©2017 MichaelKohlhaas.Org and was assembled using this picture of Skid Row and this picture of Matthew Nichols.