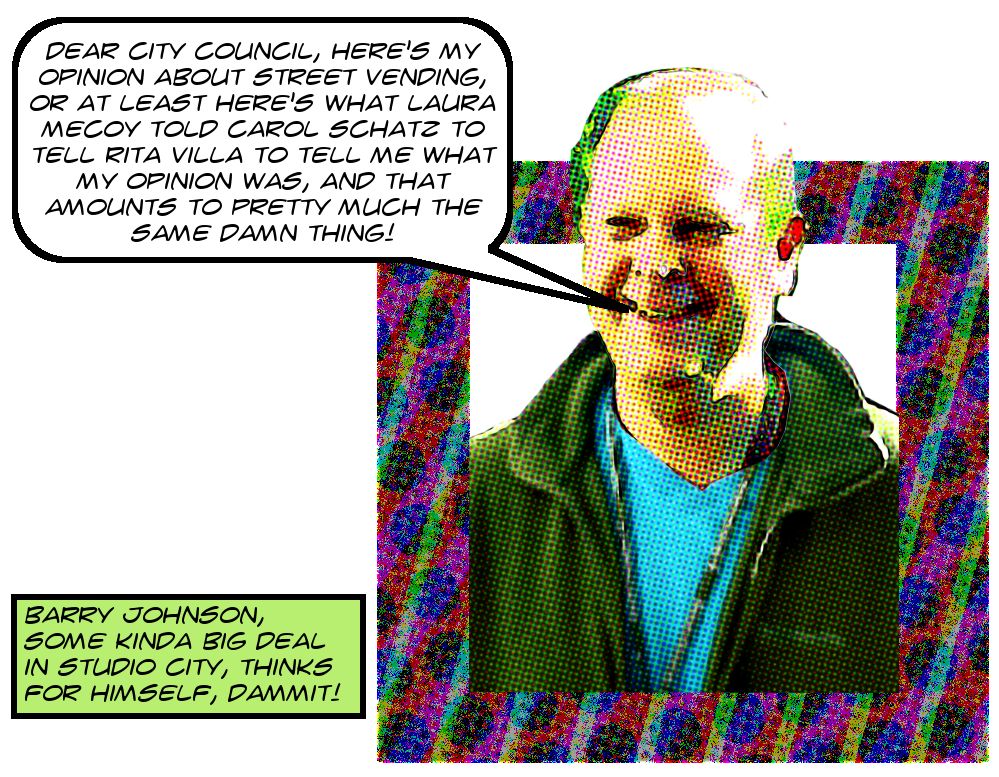 At least since 2015 a vast coalition of business improvement districts along with the Schatzian nightmare horror show known as the Central City Association have been fighting, clawing, hissing, and paying lots and lots and lots of money to counter any inclination our pusillanimous City Council might have towards creating even minimal legal space for street vendors to ply their life-affirming trade in the City of Los Angeles.
As part of this conspiracy, and even though the CCA essentially does nothing but lobby the City of Los Angeles, the BIDdies and their minions and allies hired a bunch of outside lobbyists to help fight their weirdo battle. One of these ringers was Laura Mecoy, who hooked them up with the LA Times editorial board and then had some trouble getting paid by the BIDdies for her work.
And all of a sudden, here's Laura Mecoy again! Very recently I received a copy of this fascinating email chain, and here's what it reveals!1 It seems that on December 8, 2016, Rita Villa of the Studio City Neighborhood Council got in touch with Carol Schatz about an upcoming hearing of a Council committee at which street vending would be discussed.2 They were evidently trying to coordinate on who was going to attend the meeting to make sure the fascist viewpoint was heard.
Villa mentioned that our old friend Mr. John Walker of the Studio City BID couldn't make it, and some other names about were bandied. Eventually Rita Villa arranged for Barry Johnson to attend, and Carol Schatz asked lobbyists Laura Mecoy and Fred Muir to write some talking points for Barry Johnson, which Laura Mecoy cheerfully did!
And there's nothing at all interesting in the talking points.3 It's the same old "one-size-does-not-fit-all we-respectfully-request-opt-in-please" jive-ass crapola that we're used to out of these people. The interest in this episode is entirely in the effort that Carol Schatz and her hired lobbyists are putting into shaping the narrative coming out of the mouth of someone who's putatively speaking for a neighborhood council.
Continue reading In December 2016 Carol Schatz Arranged For Lobbyist Laura Mecoy To Ghostwrite Anti Street Vending Talking Points For Studio City Neighborhood Council Representative Barry Johnson, Who Was Appearing Before The Public Works Committee To Give A CIS — Although Potentially Illegally — Demonstrating Infiltration Of Neighborhood Councils By The Zillionaire Power Elite And Their Lobbyists And Minions To A Hitherto Unsuspected Degree →