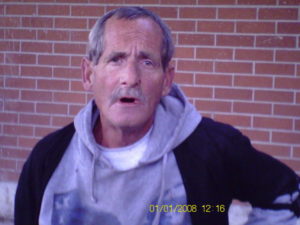 I'm searching through the 2015
BID Patrol daily logs
and also the 2015
arrest reports
as part of a major project I'm working on,
1
and I just keep coming across more surreal and upsetting (albeit tangential) episodes. For instance,
on June 25, 2015
BID Patrol gunmen Dennis Watkins (badge #104) and Steven Sewell (badge #111), whose pictures
Kerry Morrison is willing to lie and to break the law
in order to keep secret,
2
told the following story:
3

RADIO CALL: 6923 HOLLYWOOD BLVD. 415 MAN IN FRONT OF THE "METRO". UPON ARRIVAL NUMEROUS PEOPLE WERE POINTING TO THE SUBJECT. THE SUBJECT IS "C***** B****' A M / W / 40-45 YRS. HE IS A TRANSIENT AND CAUSES PROBLEMS WERE EVER HE MAY BE. HE HAS PERIODS OF TIME WHERE HE WILL USE THE MOST VULGAR LANGUAGE TOWARD ANYONE IN EAR SHOT. HE PULLS A CHILD TYPE WAGON WITH ALL OF HIS POSSESSIONS. THERE IS NO REASONING OR CALMING THIS INDIVIDUAL DOWN. OFFICERS HAVE TO TAKE A FIRM POSTURE AND DIRECT HIM AWAY FROM PEOPLE. OFFICERS WILL ESCORT HIM TO A SIDE STREET OR OTHER LESS TRAVELED LOCATION. HE IS SWEARING AT THE OFFICERS DURING ALL OF THIS. IT IS UNKNOWN IF HE IS UNDER A DOCTORS CARE. IT IS AMAZING THAT HE HAS NOT BEEN ASSAULTED BY OTHER CITIZENS. HE IS SLIGHT OF BUILD AND NOT A PHYSICAL THREAT.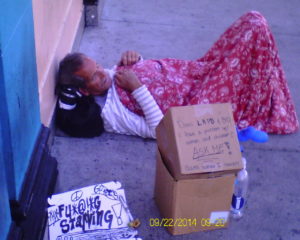 The guy is swearing, but he's not dangerous. So they forcibly escort him off the main public streets and away to the side streets
"OR OTHER LESS TRAVELED LOCATION."
. This is against the law. In fact, it's probably kidnapping given that they're wearing guns. He swears at them, and rightly so, because they're big fucking felonious bullies, and they note that as a symptom of his mental illness. And as we've seen, it's not just idle chit-chat when the BID Patrol starts mumbling about people's mental states. The BID Patrol and their masters, the Hollywood Property Owners Alliance, will
assist in getting people conserved by courts
if it suits their agenda.
4
And then they admit that the guy's not a physical threat. Of course he's not. If he were, they'd arrest him rather than merely moving him out of sight of the tourists.

Image of CB is a public record.