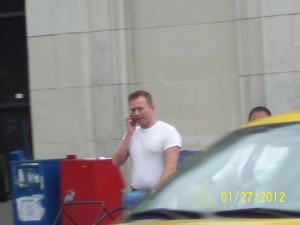 In October 2015
we wrote about
a number of cases where the
Andrews International Hollywood BID Patrol
collected intelligence information on its perceived enemies, mostly residents of Hollywood who opposed them in some manner. Among these instances of BID Patrol spying there was a mysterious case involving a man named Eric, pictured to the right.
Our faithful correspondent
has recently obtained a number of emails from the LAPD, which he's preparing for publication and plans to make available quite soon. We jumped the queue on
this email
,
1
though, because it explains a number of lacunae in our previous post.
It's from Kerry Morrison to LAPD officer Mark Dibell about Eric, written in September 2014, 33 months after the January 2012 surveillance photographs of the man were taken by the BID Patrol. The subject line is "A matter for Vice." TL;DR is that Eric "…had a routine of harassing and filming the BID patrol…" and so Kerry Morrison and A/I tracked his movements, photographed him, and almost three years later, wrote to the LAPD on behalf of his new landlord, Kelly Vickers of Eastown Apartments, reporting past, evidently unsupported, allegations of "sexual misconduct…and drug use" among other things. The subject line suggests that Kerry is trying to get this guy in trouble with the Vice squad as a service to one of the property owners in the BID.
How does anyone think this is OK? How does the BID carry on a three year vendetta against this guy for filming their security guards? Sure, Kerry claims it's because of "sexual misconduct…and drug use," but really, if the guy was provably up to those things why all the emails and subterfuge? Why not just call the actual cops and make an actual police report like actual non-creepy-zillionaires have to do in such circumstances? It's pretty unlikely anyway that one can move into a fancy douchebag-serving apartment paradise like Eastown without a criminal background check, so the "allegations" remain only allegations. And even if he was or is guilty of "sexual misconduct…and drug use," how is investigating that the business of the BID Patrol? They're freaking security guards, not spies, not detectives.
The City of Los Angeles is famous for using BIDs to implement policies which it itself has been forced to eschew, but this kind of spying, which the contemporary LAPD has explicitly disavowed, reveals this dynamic to be playing out on an entirely unsuspected level. Read the whole thing here or after the break.


Good evening, Lt. Dibell,
I am introducing you, via this email, to Kelly Vickers. She is the Regional VP for the property management company that is handling Eastown (Sares-Regis) – the new apartment development at Hollywood & Argyle. They started leasing their units about two months ago.
She would like to speak with you about a problem tenant who has taken up residence at Eastown. His name is Eric [last name redacted by MK.org] and he is well-known to the BID and others in Hollywood.
By way of background (and I'm looping Steve into this, as he has most of the history) Eric used to live at the Jefferson, the complex at the NE corner of Highland and Hollywood when it first opened. He had a routine of harassing and filming the BID patrol, and had a video camera trained on our office, etc. We can live with that, but he was a huge thorn in the side of the management company for the Jefferson. We heard from the property manager at that time that there were allegations of sexual misconduct in his unit and drug use. This was around 2012.
He left for awhile, [sic] and recently re-appeared. It appears he has moved into Eastown. I will let Ms. Vickers describe to you what they have encountered with his residency there; some things best addressed by LAPD.
Her email is above, and her cell phone is [redacted by LAPD]
Thanks so much for your help on this Mark.
Kerry

We haven't redacted many of the records we've posted, but we redacted Eric's last name from this email. The redacted cell phone number later in the email was done by the LAPD.
The image of Eric on the street is a public record, obtained from the HPOA and the A/I BID Patrol under the CPRA.