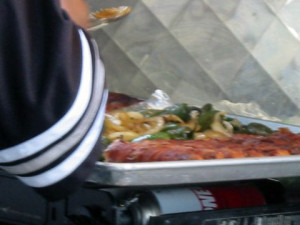 Yesterday both defendants in the
Street Vendors v. City of LA and Fashion District BID
lawsuit filed requests in Federal Court to extend their time to respond to the
initial complaint
.
The City of LA, in this pleading, asked for an extension of fewer than 30 days, which evidently is granted automatically. With this motion the City is due to respond by January 19, 2016.
On the other hand, the Fashion District BID, in this pleading, with the concurrence (stipulation) of the plaintiffs, asked for more than 30 days to respond. Evidently this requires the approval of the court, so they have to give reasons:


3. The parties have agreed to attempt to resolve this matter, preferably with a neutral magistrate judge, judge, or mediator, before the necessity of filing a Motion to Dismiss or other formal responsive pleading is required;
4. The plaintiffs and the LA FD BID hereby stipulate, subject to Court approval, to extend the time for the LA FD BID to file a responsive pleading, until January 25, 2016, in order to give the parties an opportunity to try to resolve the matter.

To implement this request, the FDBID also proposed this order to Judge O'Connell granting their request.

Image of street vendor in Los Angeles is by NekaPearl, released under the CC BY-NC 2.0, and is available from creator's Flickr Stream.