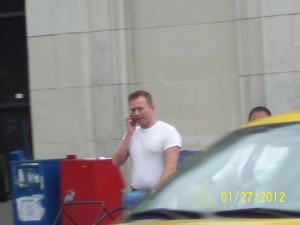 In October 2015
we wrote about
a number of cases where the
Andrews International Hollywood BID Patrol
collected intelligence information on its perceived enemies, mostly residents of Hollywood who opposed them in some manner. Among these instances of BID Patrol spying there was a mysterious case involving a man named Eric, pictured to the right.
Our faithful correspondent
has recently obtained a number of emails from the LAPD, which he's preparing for publication and plans to make available quite soon. We jumped the queue on
this email
,
1
though, because it explains a number of lacunae in our previous post.
It's from Kerry Morrison to LAPD officer Mark Dibell about Eric, written in September 2014, 33 months after the January 2012 surveillance photographs of the man were taken by the BID Patrol. The subject line is "A matter for Vice." TL;DR is that Eric "…had a routine of harassing and filming the BID patrol…" and so Kerry Morrison and A/I tracked his movements, photographed him, and almost three years later, wrote to the LAPD on behalf of his new landlord, Kelly Vickers of Eastown Apartments, reporting past, evidently unsupported, allegations of "sexual misconduct…and drug use" among other things. The subject line suggests that Kerry is trying to get this guy in trouble with the Vice squad as a service to one of the property owners in the BID.
How does anyone think this is OK? How does the BID carry on a three year vendetta against this guy for filming their security guards? Sure, Kerry claims it's because of "sexual misconduct…and drug use," but really, if the guy was provably up to those things why all the emails and subterfuge? Why not just call the actual cops and make an actual police report like actual non-creepy-zillionaires have to do in such circumstances? It's pretty unlikely anyway that one can move into a fancy douchebag-serving apartment paradise like Eastown without a criminal background check, so the "allegations" remain only allegations. And even if he was or is guilty of "sexual misconduct…and drug use," how is investigating that the business of the BID Patrol? They're freaking security guards, not spies, not detectives.
The City of Los Angeles is famous for using BIDs to implement policies which it itself has been forced to eschew, but this kind of spying, which the contemporary LAPD has explicitly disavowed, reveals this dynamic to be playing out on an entirely unsuspected level. Read the whole thing here or after the break.
Continue reading Scope of BID Patrol Surveillance, Counterintelligence Far Broader than Previously Thought: Email to LAPD Demonstrates Long-Term Tracking, Unsupported Allegations of Sexual Misconduct, Drug Use Against BID Opponent →