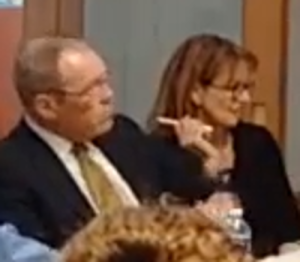 Recall that last month the Hollywood Property Owners Alliance
spent a good 40 minutes yammering on
about a misbegotten plan of Peter Zarcone's and Bill Farrar's to have their armed minions, the BID Patrol, stay out way past everyone's bed-time in order to put the old kibosh on the
herds of outta-control dark-skinned people
who, at least in the BIDsies' fantastically fretful obsessive delusional view of things, occupy the Boulevard on weekend nights. Well,
Zarcone got transferred, Steve Seyler backed off the plan
, and Kerry Morrison told the Central Hollywood Coalition on March 8:
"Yeah…it's not happening."
A good friend of this blog
wrote to Mitch O'Farrell
asking him not to pay for this nonsense, and we found out just a couple days ago that as early as February 22,
O'Farrell staffers Rodriguez and Halden had concerns about the plan that they took to their boss
. We can't say for sure (yet) what drove the dispositive stake through the heart of Bill Farrar's vampire baby, but whatever it was, evidently no one explained the full extent of the deadness to John Tronson.
Watch and listen here to his report at yesterday's meeting of the HPOA Board of Directors, as, while telling the Board that the funding from O'Farrell doesn't seem to be coming through, he slips into unhinged fantasies about how much money they might get and how many guns on the street it might pay for. Details after the break, friends!
Continue reading Evidently No One Told John Tronson that the Late-Night BID Patrol is "Not Happening"; At Yesterday's HPOA Meeting He Fantasized About Funding Levels While Kerry Morrison Kept Schtum →