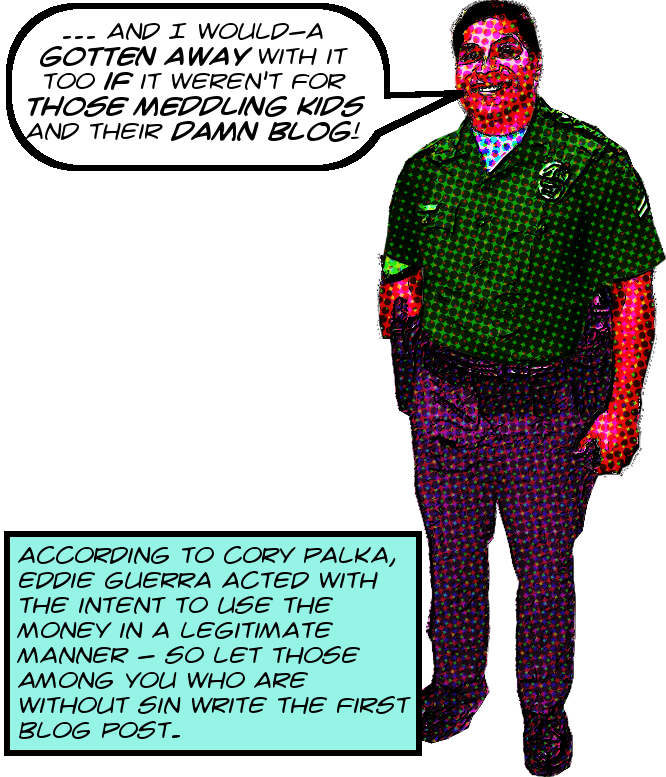 In the Fall of 2016 LAPD officer Eddie Guerra asked the Hollywood Media District BID to give him $400 ostensibly for some charity. He asked by return email right after they thanked him for getting rid of some homeless people at their express request. Context matters, and this struck me as particularly shady, so I did three things. First, I turned Officer Guerra into the Ethics Commission for violating LAMC 49.5.5(a), which forbids misusing public power for private gain. Second, I wrote a blog post about the incident. And third, I made a request to the LAPD for more records.
And because the LAPD is slow as paint when it comes to filling CPRA requests they didn't get back to me until two years later on December 31, 2018,1 when they sent me this little spool of puckey in response. And, as is often the case with released records, most of them are completely worthless or else I already had them. But, as is also often the case with released records, some of this material was really essential!
Just, for instance, take a look at this series of emails between Hollywood mega-muckety Cory Palka, friend of white supremacists and of scientologists, and his superior officers, including now-chief Michel Moore, wherein Palka sends links and gives credit to this very blog (!) for breaking the story of Guerra's misfeasance and they end up recommending a 1.28, which is evidently some kind of LAPD complaint form. Michel Moore, the current chief of police, agreed and then said that "corrective action/training/counseling is warranted."
Oh, snap, amirite?! Now that I know he reads this blog and sends links to future chiefs of police, well, next goal, get @CoryPalka to follow me on Twitter! And amazingly enough, Cowboy Cory Palka is revealed by these emails to use the private email address cpalka@me.com to conduct City business, which puts him in the august company of Mitch O'Farrell, David Ryu, Gil Cedillo, and (spoiler alert) Paul Koretz!2 You will definitely be hearing more about this, but not necessarily soon.
Anyway, turn the page for transcriptions of all the emails including, of course, Cory Palka's suprisingly lucid summary of the situation and shout-out to your very own MK.Org!
Continue reading Eddie Guerra Update Finally! — He's The Cop Who Took A Personal Check In 2016 For $400 From The Media District BID Ostensibly For Some Charity — And Then I Wrote About It In January 2017 — And Filed A Complaint With The Ethics Commission — Who Didn't Do Anything As Usual — But Cory Palka Read That Blog Post! — And Told Now-Chief Michel Moore! — And Guerra Was Moderately Busted! — And I Just Found This Out Because It Took The LAPD Two Freaking Years To Fulfill My CPRA Request — And A Special Surprise! — Cory Palka Uses A Private Email Address To Conduct City Business! →