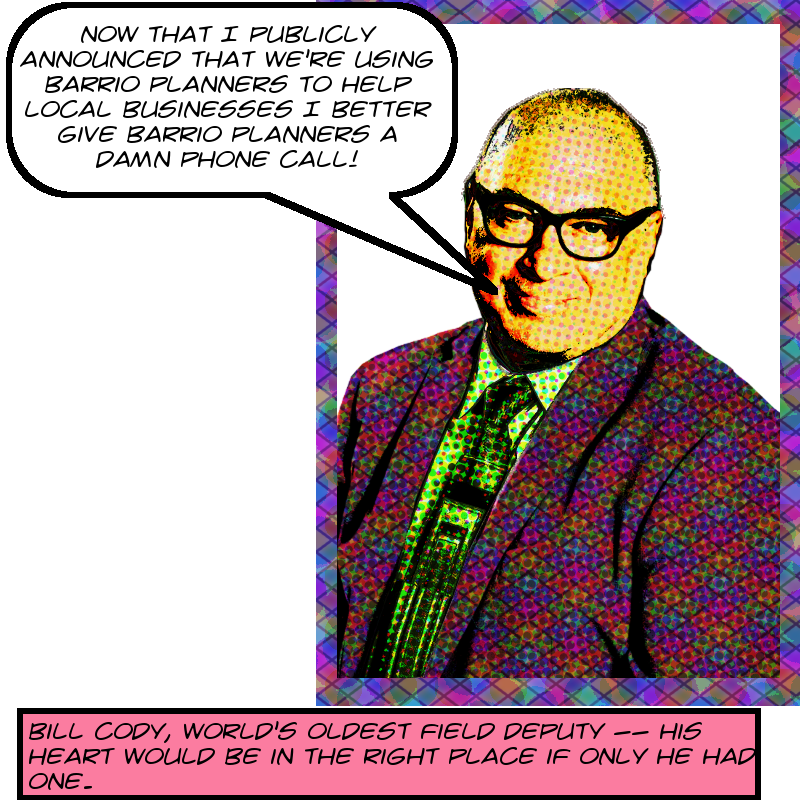 Anyone who's paying attention to Los Angeles politics recently knows about the hipster apocalypse presently unfolding in Highland Park. I had occasion yesterday morning to walk south on Figueroa Street this morning from Avenue 61 to Avenue 501 and it's basically like hipster Jim Crow, with businesses duplicated on every block and divided starkly along racial lines. A hipster tonsorial salon2 next to a Latino barber, hipster clothing next to work shoes or ropas segundas, hipster cold-press juice bars next to stands selling jugos naturales, and so on.
Weirdest of all is the situation with coffee places. Over and over and over again one sees a hipster coffee place full of tattooed young white people right next to a panaderia full of brown people. Both places serve coffee and baked goods and yet somehow there's evidently no way that one place can satisfy both crowds. It makes absolutely no sense to me, probably not to any sane people.3 These coffee places, three or four to the block, are a stark and clear symbol of the holocaust that so-called legacy businesses along Figueroa Street are undergoing and which those along York Boulevard have already undergone baby gone.
And because hipster-serving establishments charge prices that are many times the prices the older businesses can sustain, they can afford rents high enough to drive the older places out of business. And the landlords are thrilled by this, of course, because they pocket the extra money with extra outlay of neither capital nor labor on their part. It's a zillionaire's wet dream.4 And it's also not a mystery. It's well-covered in the press. Rents go up and very soon after the vultures start feathering their nests.
And because it's not a mystery, and because it's a subject of deep import to many constituents in CD1, it's entirely fitting and proper that residents would share their concern with their Council staffers and entirely fitting and proper that said Council staffers would respond. And we have already seen that something like this happened with the world's oldest field deputy, Bill Cody, the crankiest and most bellicose flunky ever to rep Gil Cedillo or, for that matter, any other Councilmember in the entire damn history of Los Angeles.
At the May 15 meeting of the North Figueroa Association, which is the property owners' association for the infamous Highland Park BID, he was questioned pretty intensely by Jesse Rosas about this very issue and responded in a rather mealy-mouthed fashion by claiming that his boss, Gil Cedillo, was taking care of it by hiring some kind of a firm, known as Barrio Planners, that presumably knows how to take care of such things:

And I'm always worried about that. Oh, one more thing. We have Barrio Planners, who's been helping a lot of the local businesses to try to find placement for some of the ones who, um, … a couple of properties have changed situations and … I have been working with all those businesses, I [unintelligible] them together with Barrio Planners, they'll work on that issue, we pay them to do that. So, we're very, very concerned about that and we've been working tirelessly on that issue.

And since that day, more than five months ago at this point, my compatriots and I have been trying to figure out exactly what the heck Bill Freaking Cody was talking about. And because the CPRA mill grinds slowly we didn't get much action for quite a while, but because the CPRA mill does grind, CD1 finally handed over some emails. You can read all of them here on Archive.Org, and turn the page for selections that reveal that despite the good game talked by Bill Cody, the Council District's intervention via Barrio Planners on behalf of these threatened businesses seems to have been quite minimal and therefore the subject of wild overhyping by Bill Cody when e.g. he claims that they have "been working tirelessly on that issue."
Continue reading As Previously Reported — On May 15, 2018 Bill Cody, The World's Oldest Field Deputy, Told Jesse Rosas And The Highland Park Business Improvement District That Gil Cedillo Had Hired Barrio Planners To Help Displaced Small Businesses — But Newly Obtained Emails Reveal That On May 20, 2018 Bill Cody Emailed Barrio Planners And Asked Them To Help The Businesses — Bill Cody, We Wouldn't Want To Accuse You Of Having Lied On May 15, Friend — Probably It Seemed True While You Were Saying It — And Then You Kinda Made It Be True Later — So It's Kinda OK I Guess →