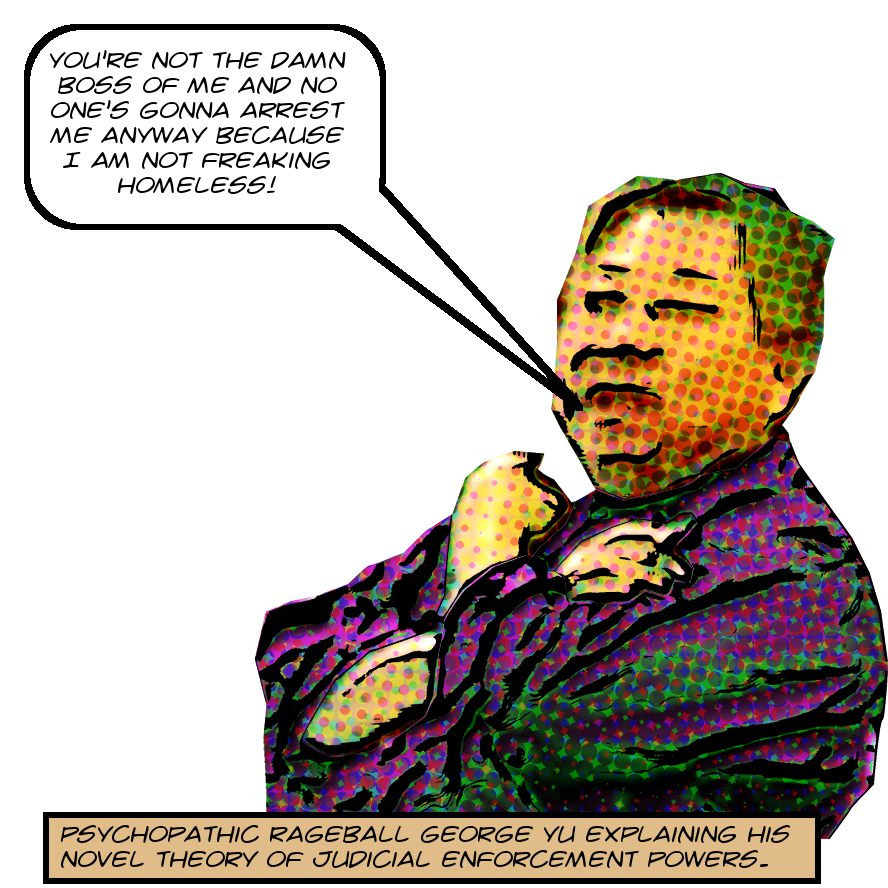 Here's a summary of where we are in our public records suit against the Chinatown Business Improvement District. We filed it in August 2018 because the BID ignored our requests for records. The BID never participated at all and in July 2019 we prevailed over them and Judge Mitchell Beckloff subsequently ordered the BID to produce the records.
They continued to ignore the whole situation so last week our attorneys filed a motion asking the judge to hold them in contempt of court for refusing to comply with his order. They didn't show up for the hearing on that either, which was on Friday morning, so the judge ordered them to show up on December 27, 2019 at 9:30 AM1 and explain themselves. The charge is contempt of court, which is defined in the California Code of Civil Procedure at §1209 to include "Disobedience of any lawful judgment, order, or process of the court."
And the same Code, now at §1218, allows the judge to punish the contempt with fines of up to $1,000 and up to five days of jail time. Also the judge is allowed by §1212 to have people arrested and brought before the court to answer for contempt charges. So if the BID doesn't show up for this proceeding things might get really, really interesting! Read on for a transcription of the judge's order.


SUPERIOR COURT OF CALIFORNIA, COUNTY OF LOS ANGELES
Civil Division
Central District, Stanley Mosk Courthouse, Department 86
BS174784
KATHERINE MCNENNY ET AL VS LOS ANGELES CHINATOWN BUSINESS CO
Judge: Honorable Mitchell L. Beckloff
Judicial Assistant: F. Becerra
Courtroom Assistant: C. Del Rio
November 15, 2019
8:30 AM
CSR: None
ERM: None
Deputy Sheriff: None
APPEARANCES:
For Petitioner(s): Joseph Jacob Wangler (Telephonic)
For Defendant(s): No Appearances
NATURE OF PROCEEDINGS: Hearing on Petitioner's Ex Parte Application for Order to Show Cause Re: Contempt
The matter is called for hearing.
The Court, after reading and considering all moving party papers, and arguments of counsel, makes the following ruling:
The ex parte application is granted. The Court issues the Order to Show Cause Re Contempt as to Los Angeles Chinatown Business Council.
Hearing on Motion for Order to Show Cause Re Contempt (CCP 1209(a)(5) is scheduled for 12/27/2019 at 09:30 AM in Department 86 at Stanley Mosk Courthouse.
The order to show cause and the affidavit declaration must be personally served on Defendant in the manner of serving summons and complaint.
Defendant Los Angeles Chinatown Business Council must be personally present at the order to show cause re contempt to be arraigned. The Court will then set the matter for trial.
Counsel for moving party is to lodge (not efile) proposed order directly in Department 86 forthwith.
Counsel for moving party is to give notice.


Image of George Yu is ©2019 MichaelKohlhaas.Org.