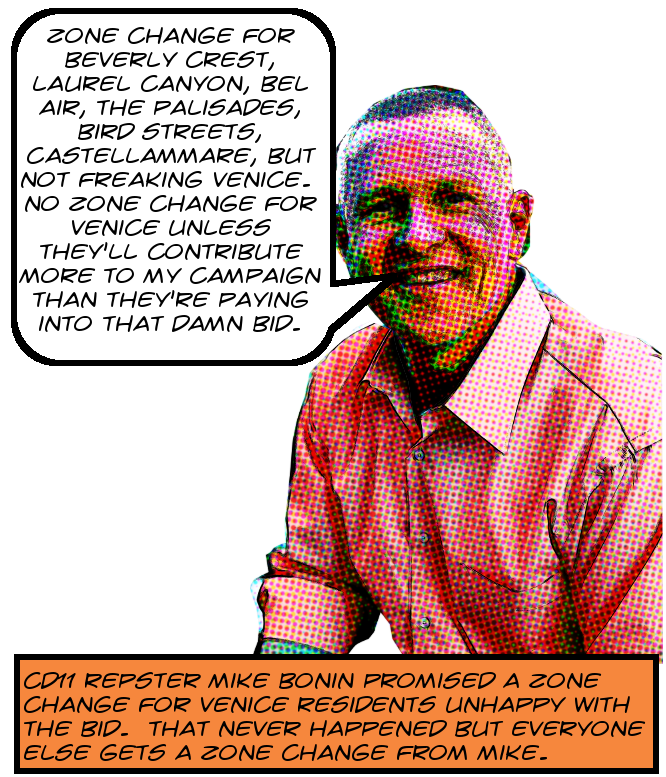 This is just a short note to announce various random records that have come into my possession over the last few days. First of all, due to the brilliant work of an intrepid CPRA warrior,1 at last we have access to the complete set of ballots used in the Venice Beach BID formation process. You can get a PDF spool of all of these right here on Archive.Org.2 It's interesting to see that the City didn't redact these ballots at all, not even the signatures. Compare these with the petitions, which they released in 2016.
Also today I'm announcing NBID reports from 2013 on, obtained by a brave citizen of Los Angeles and subsequently made available to me. We've seen some of this material before, but only through 2016. There is a ton of interesting material here, and I'll be writing on it from time to time in the future. Meanwhile, here's a sample of what these Clerk BIDdies were up to during the week of May 29, 2018:

Processed Venice Beach refund affidavits; Performed ownership and mailing address updates for the three upcoming PBID renewal mail outs of Melrose, BLQ-Pico and Historic Core; Researched and processed returned mail ballots for the 3 PBID renewals currently out to ballot of Arts District, Fashion District and Hollywood Entertainment District and some for the finalized Tarzana PBID election that were recently returned; Compiled BID Application wish list for the meeting with Systems.

And finally, you will recall that after the November 2016 hearing at which the Venice Beach BID was established Mike Bonin promised the world to BID opponents, or at least this:

As I said when I met with you folks recently, I am happy to help those folks get their properties rezoned as residential properties. And I'm happy to meet with those folks and would even be willing to initiate a zone change from my end to make it a little less expensive and more helpful.

It's been almost two years now, and Mike Bonin has broken his promise. No one in Venice is getting rezoned. But it's not because Mike Bonin can't rezone. Just take a look at this motion introduced today in Council by Mike Bonin. In it he directs City staff to rezone some neighborhood in the Palisades because of some zillionaire hillside house voodoo.
And this motion is explicitly inspired by a bunch of similar rezoning in Laurel Canyon and elsewhere so it's just a service that councilpets provide to their zillionaire constituents. So, people of Venice, are you wondering why Mike Bonin couldn't get your properties rezoned like he promised he would? Well, it's not because he can't. It's because he won't. Turn the page for a transcription of this dire little slab of you-know-what.


On January 18, 2017, the Planning and Land Use Management (PLUM) Committee considered a report and draft ordinance to amend the Municipal Code to establish a Hillside Construction Regulation (HCR) Supplemental Use District (SUD), to regulate the construction of single family homes in hillside areas (Council File No. 16-1472-S1).
The report also recommended approval of a proposed Zone Change Ordinance to apply the SUD to the Bel Air-Beverly Crest community to provide tailored and context sensitive regulations or single family dwelling units within the Bel Air-Beverly Crest community.
In addition, on April 11,2018, the City Council voted to approve a Zone Change Ordinance to apply the SUD to the Laurel Canyon neighborhood and the Bird Streets neighborhood (Council File 16-1472-S2).
Similarly, a neighborhood in Council District 11, Castellammare, would benefit from the proposed hillside construction SUD, due to the high incidence of single family home development on substandard lots in the coastal zone. This development is resulting in significant impacts on local infrastructure, as well as causing increased community concerns regarding landslides.
I THEREFORE MOVE that the City Council instruct the City Planning Department, in consultation with the City Attorney, to prepare and present a Zone Change Ordinance to apply the adopted Hillside Construction Regulation (HCR) Supplemental Use District (SUD) to a neighborhood in Council District 11, as was done for the Bel Air-Beverly Crest Community, and the Laurel Canyon and Bird Streets neighborhoods, to regulate the construction of single family homes in hillside areas as follows: the Castellammare neighborhood, generally bounded by Pacific Coast Highway to the South, Tramonto Drive to the North, Porto Marina Way to the West, and the Rl-1 zoned properties fronting Revello Drive to the East.


Image of Mike Bonin is ©2018 MichaelKohlhaas.Org and is more or less sausage ground out of this meat here.

I think it's really interesting to see the care that the City takes with making sure that the ballots in this BID election are completely accounted for, even making sure that they save late ballots and ballots invalidated by being filled out wrong or not signed. The results of this election, and presumably every other BID election in the City, can be checked independently by any interested party. This is in bleak contrast to the shameful fiasco that was the balloting in the Skid Row Neighborhood Council election process, where even now the City is unable to explain or even reproduce its putative final vote count. Of course, rich people's money is at stake in a BID election. There was nothing at stake in the SRNC election beyond poor people's humanity, equality, and dignity. No comparison, evidently, between the two, as far as the City of Los Angeles is concerned.