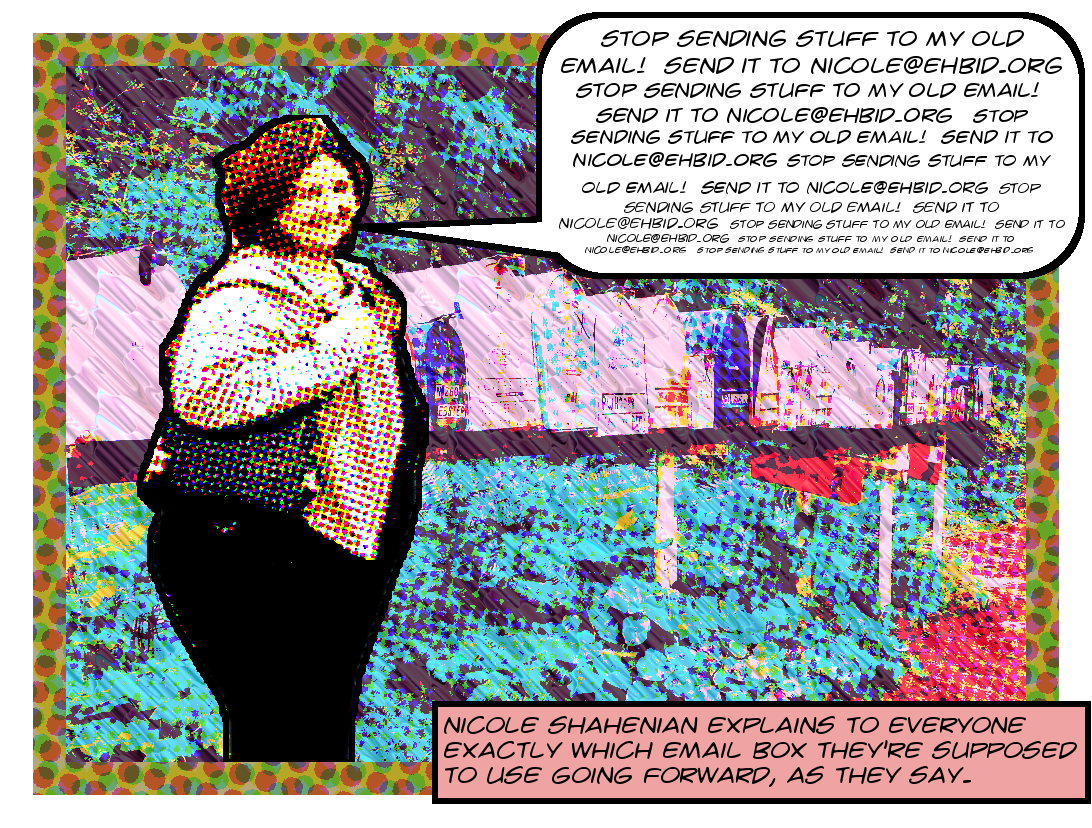 Ah, friends, just another desultory announcement of yet another batch of public records obtained from our friends at the BIDs, the meaning of none of which is yet clear, but we don't let that worry us here in MK-dot-Org-landia. Everything happens for a reason, as they say, and I'm sure all this junk is no exception and some day it will prove to comprise crucially important pieces in puzzles whose very existence is as yet undiscerned. But for now I'm just announcing its existence, and do with it what you will. Anyway, here's what I got:
Emails between the East Hollywood BID and the City of LA — March 2017 through July 2017. There are 110 emails here, attachments are attached to the emails, it's amazing how empty of content this batch is. About 84% of them consist of Nicole Shahenian trying to get people to use her new email at ehbid.org. I don't know for sure but I'd bet money that she made this switch because of my CPRA requests. Also, Aram Taslagyan's replacement as CD13 East Hollywood field deputy introduces himself herein, but I already forgot his name.
And turn the page for the rest of the junk and more random commentary!

East Hollywood BID bylaws — It's essential to collect the bylaws of BIDs. It's especially interesting when their bylaws actually violate the Brown Act, like e.g. the Larchmont Village BID in South Central Hollywood. And amazingly the East Hollywood BID's bylaws have the same freaking problem. In §3.6 they claim the right to take action without meeting, a clear violation of the law. So you know me, everyone's business is my business too. Thus I fired off an email to their lawyer, Jeffrey Charles Briggs, just pointing out the problem. I don't know if this is the kind of thing for which one can seek a declaratory judgment or not. I suppose we'll find out some day.
Response to the Fashion District's RFP — Freaking branding proposals for the Fashion District BID! There are bunches of them in here. They seem to charge about $60,000 to make up a bunch of crapola about how their client can attract customers and position themselves and so-freaking-on. As if paying out $20,000 to learn that lobster rolls confuse Latinos weren't enough for them. One would think the good old FDBID had had its fill. Evidently not. I have been meaning to write on this nonsense since I got it but haven't gotten around to it yet. At first I thought it was essentially self-mocking, but now it just seems tragic and nauseating. So I'm tossing this link up here in case I never get around to making fun of it.1

Image of Nicole Shahenian at the head of the post is ©2017 MichaelKohlhaas.Org and it was spun up out of (a) this picture of Nicole Shahenian posing with her unindicted co-conspirators, (b) this row of mailboxes, and (c) quantum foam, which is evidently not only the fundamental substrate of the universe, but also a substance known to the State of California to cause cancer, birth defects or other reproductive harm. Ingest, therefore, with care.