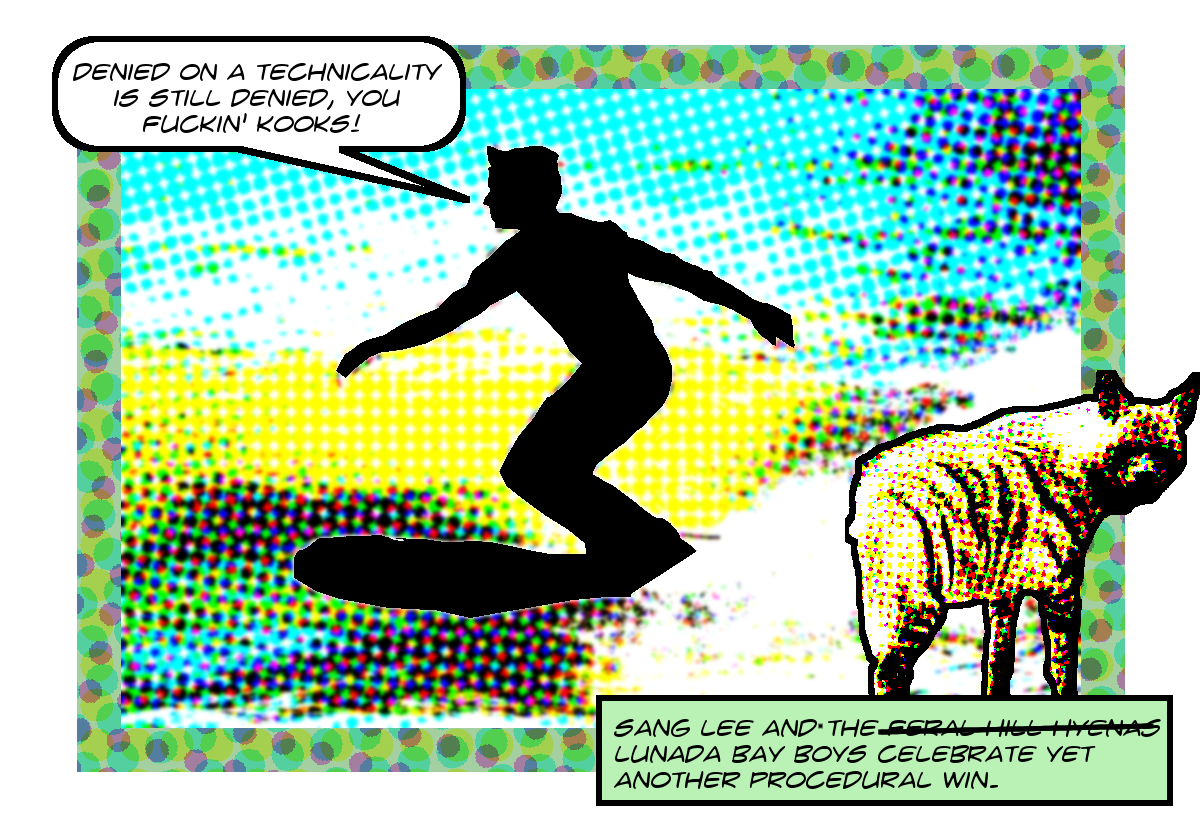 For background take a look at this excellent article from the Times on this lawsuit. Also see here to download all pleadings in this case.
On Tuesday of this week, the Lunada Bay Boys Plaintiffs filed a motion asking magistrate judge Rozella Oliver to compel defendants Sang "Friend N A Pirate" Lee and Jeff "On Admin Leave" Kepley to get busy and comply with their discovery obligations. The very next day, Wednesday, August 9, Oliver issued an order denying the plaintiffs' motions.1 As always, there's a transcription of the order after the break. The reasons for denying the motions are pretty technical2 but seem to hinge on the principle that a decision on them is beyond the authority of the magistrate judge and the plaintiffs have to bring their motions to Judge Otero instead. Not much of a loss, then, it seems.

Transcription of Order denying motions to compel:

Proceedings: (In Chambers) MINUTE ORDER DENYING MOTIONS TO COMPEL
On August 7, 2017, Plaintiffs filed a Motion to Compel Defendant Sang Lee's Production of Documents (Dkt. No. 392) and a Motion to Compel Defendant Chief Kepley to Produce Documents (Dkt. No. 393). Both motions are brought "pursuant to the discussion between counsel and [this Court] at the hearing held on July 26, 2017."
District Judge Otero's Initial Standing Order in this case states that "discovery must be completed by the discovery cut-off set by the Court. Any motion challenging the adequacy of discovery responses must be calendared sufficiently in advance of the cut-off date to permit any compelled responses to be obtained before that date." Dkt. No. 9 at 8-9 (emphasis in original). The discovery cut-off in this case was August 7, 2017. Dkt. No. 120. Although filed on the cut-off date, the two motions to compel are untimely because they were not calendared sufficiently in advance of the cut-off date for the compelled discovery to be obtained before the cut-off date. Accordingly, the motions to compel are DENIED as untimely.
The Court acknowledges that, at the July 26, 2017 telephonic hearing, counsel and the Court discussed the possibility of further discovery motions being brought by Plaintiffs. However, this Court does not have the authority to modify or amend District Judge Otero's initial standing order or scheduling order. The Court notes that Plaintiffs have filed a Motion for Administrative Relief Pursuant to Federal Rule of Civil Procedure 56(d) and have requested that the District Court either deny Defendants' motions for summary judgment or "allow Plaintiffs enough time to resolve all of the discovery disputes, gather the required information, and file supplemental oppositions to the motions for summary judgment." See Dkt. No. 397 at 17. If District Judge Otero grants Plaintiffs' Motion for Administrative Relief and allows Plaintiffs additional time to resolve the discovery disputes, Plaintiffs may raise the issues in the motions to compel before this Court at that time.
Finally, to the extent Plaintiffs' motion against Defendant Lee relates to alleged spoliation of evidence or failure to preserve evidence, the Court believes the motion would be properly brought before District Judge Otero. It appears that Plaintiffs have raised the issue of spoliation with respect to Defendants Charlie Ferrara and Frank Ferrara in their Opposition to Individual Defendants' Motions for Summary Judgment. See Dkt. No. 328 at 19-20; Dkt. No. 329 at 132-33; Dkt. No. 346 ¶¶ 51-53.
IT IS SO ORDERED.
cc: Chambers of Judge S. James Otero


The image at the top of this post is ©2017 MichaelKohlhaas.Org, and the pieces from which it was stitched are this surfer and this hyena.

I apologize for not reporting on this when it happened. Reality and its various obligations intervened in my blogging schedule.