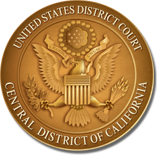 Mitchell v. Los Angeles, the latest in a series of suits filed by homeless people who've had their property illegally confiscated by the City (see Gale Holland's recent article for an excellent summary) took an interesting turn today, when a flurry of filings hit PACER. First of all, the plaintiffs asked the court for a preliminary injunction and a temporary restraining order enjoining the City from confiscating their property while the case is on. They filed a huge number of declarations and other evidence in support of this application, many although not all of which can be found on our page dedicated to the case. The City asked for extra time to respond and the court granted them some.

Now, Carol Sobel and the other attorneys involved in this case argued successfully in Lavan v. City of Los Angeles for exactly such an injunction. The judge in that case, Philip Gutierrez, issued the requested temporary restraining order, but not just for the particular plaintiffs in that case. Justice Kim Wardlaw, writing in an appellate decision upholding the restraining order, explained:

The district court fashioned an order encompassing all unabandoned property on Skid Row, reasoning that "it would likely be impossible for the City to determine whose property is being confiscated — i.e. whether it is one of the named Plaintiffs or another homeless person."

Well, here we are in 2016 and again Carol Sobel and her allies have applied for a restraining order enjoining the City from confiscating the property of some very particular homeless people, the plaintiffs. But history shows that they have a plausible hope of getting an order prohibiting enforcement of LAMC 56.11 (the law that lets the City confiscate the property) for all homeless people.
LAMC 56.11, of course, is the subject of much current discussion since the City Council just amended it in response to tacit threats by the Federal Government to cut off funding for homeless programs to jurisdictions that continue to criminalize homelessness. The current iteration of this abhorrent law was supposed, somehow, to be kinder, gentler, and more in compliance with Federal guidelines although that's doubtful, especially after Carol Schatz and her henchmen had their ways with it. In any case, today's action in Federal Court suggests that LAMC 56.11 may soon be rendered unenforceable for the moment and also that Mike Bonin was prescient when he predicted that if the law (which he voted for for some reason) passed, "We may as well open up the keys to reserve funds to Carol Sobel" (speaking in reference to the more than $1.7 million the City has had to pay in legal fees over these suits).
Postscript: As I predicted, the plaintiffs evidently applied to have the judge in the case switched from James Otero to Philip Gutierrez. One of the papers that hit PACER today is an Order denying this request. For some reason I didn't see the request itself up there, but I could easily have missed it. Downloading every random docket item gets pricey.