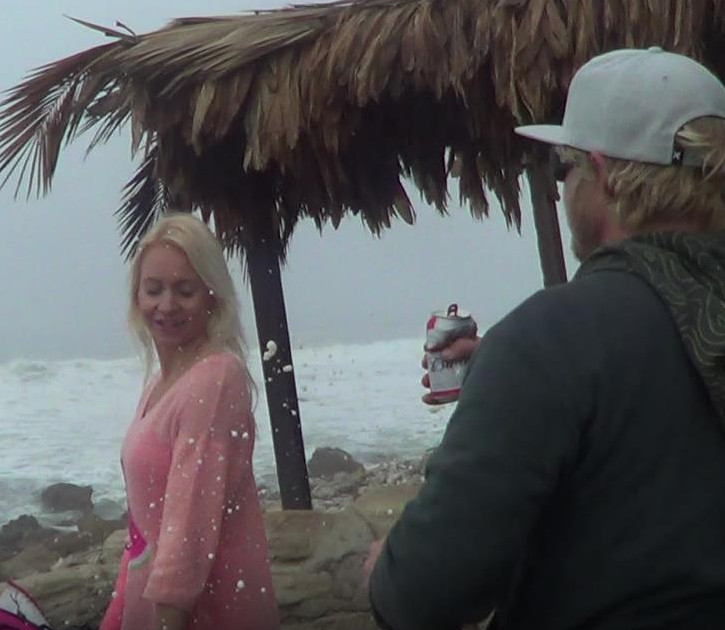 For background take a look at
this excellent article from the Times
on this lawsuit. Also
see here
to download all pleadings in this case.
Earlier today I wrote about a bunch of filings in the Lunada Bay Boys case, but clearly I wrote too soon. Quite soon after I published that post, a bunch more paper hit PACER. This includes motions for summary judgment from defendants Angelo Ferrara, Jalian Johnston, and Brant Blakeman. There's also a request from the plaintiffs for a time extension to respond to all these zillions of defense motions for summary judgment. A major argument therein is, as promised, the fact that Jalian Johnston won't be deposed until July 28 and the unextended deadline for the plaintiffs to respond is July 31.
If there's an award for rapiest pleading filed in federal court, Blakeman's motion is gonna be a strong contender. He actually claims that even though Jalian Johnston did spray beer on Diana Reed, she was smiling the whole time so it can't be assault:

Plaintiffs' case against moving party Brant Blakeman consist solely of Spencer's claim that Blakeman surfed too close to him on one occasion at Lunada Bay and Reed's claim that Blakeman videotaped her at the patio structure at the Bay when defendant Alan Johnston opened a can of beer that sprayed some drops on her arm.
These factual claims fall far short of establishing a violation of the Bane Act by Blakeman, which requires violent acts, physical threats, coercion, or intimidation resulting in fear of injury or harm and, thereby, prevents them from exercising a constitutional right. With respect to the incident in which Blakeman did nothing more than videotape Reed, who, by the way, was photographing Blakeman and others with her own camera and invited a photographer from the LA Times, Reed can be seen throughout the video smiling, smirking, and in no apparent distress. Indeed, she spent over 60 minutes at the bay and made no attempt to leave the patio structure

Anyway, turn the page for links to the new filings. I'm super-busy with another project, to be announced soonest,1 so no time for more than that. Also, don't forget that the hearing for all of these defense motions for summary judgment is scheduled for August 21, 2017, at 10:00 a.m in James Otero's courtroom 10C in the First Street Federal Courthouse.
Continue reading Lunada Bay Boys Defendants Angelo Ferrara, Jalian Johnston, and Brant Blakeman File Motions For Summary Judgment, Blakeman Makes Highly Rapey Argument That Johnston Couldn't Have Assaulted Diana Reed By Spraying Beer On Her Cause She Was Smiling The Whole Time, Plaintiffs Ask For Extra Time To Respond To Barrage Of Motions →