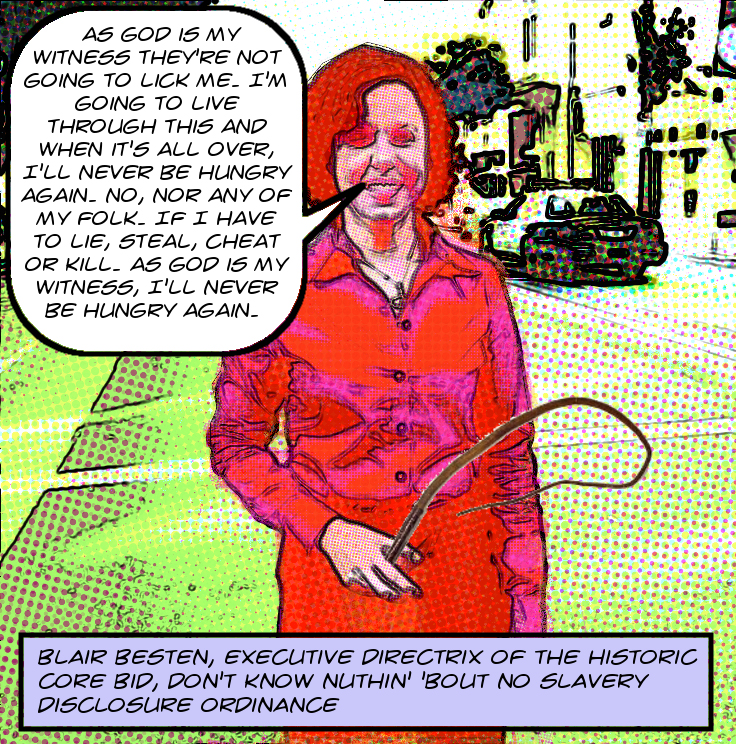 In 2003 the City of Los Angeles passed a Slavery Disclosure Ordinance,1 which, in short, requires most firms that contract with the City to disclose any profits they2 made from American slavery prior to 1865. The L.A. Times published a good contemporaneous summary of the issues, which is worth a read.
This measure was promoted by pro-reparations advocates as a (mostly) symbolic expression of the City's opposition to slavery. It's mostly symbolic in, first, that it only requires disclosure. In fact, the only actual tangible requirement of the law is that contractors complete a disclosure affadavit. No firms that profited from slavery are prevented from doing business with the City. Also, any number of types of firms are exempt from the law. An exhaustive list of exceptions can be found at §10.41.3.
Among these are, most crucially, financial institutions. Since banks, stockbrokers, and other such firms doing business in finance are likely either to have existed prior to the ratification of the Thirteenth Amendment or else to have acquired financial firms that were, and since every major business in the U.S. during slavery times made money from the stolen labor of slaves,3 this is no minor exception.
Another huge exception is that the law only applies to slavery in the United States before 1865.4 Of course, slavery in present-day Los Angeles is not only rampant, it's not only tolerated, but is probably pretty acceptable, at least to elected City officials given the likely level of campaign contributions made by slavers. After all, it's not poor people buying those slaves, and probably not politically uninvolved people, either. Just for instance, between them, modern-day slaveholders Ray and Ghada Irani have given more than $22,000 to various candidates.5 Given the obsessive contribution-seeking behavior of our Councilmembers, this is more than enough explanation for the narrow scope of the law.6
And finally, for whatever reason, §10.41.3(E) exempts 501(c)(3) corporations, and that brings us to this morning's actual subject, which, believe it or not, is the Historic Core Business Improvement District.
Continue reading Why In The World Did City Employees Avak Sarafian And Huizar Staffer Kevin Ocubillo Attempt To Get The Historic Core BID An Illegitimate Waiver From Its Statutory And Contractual Obligation To Disclose The Profits It Made From Slavery?! →