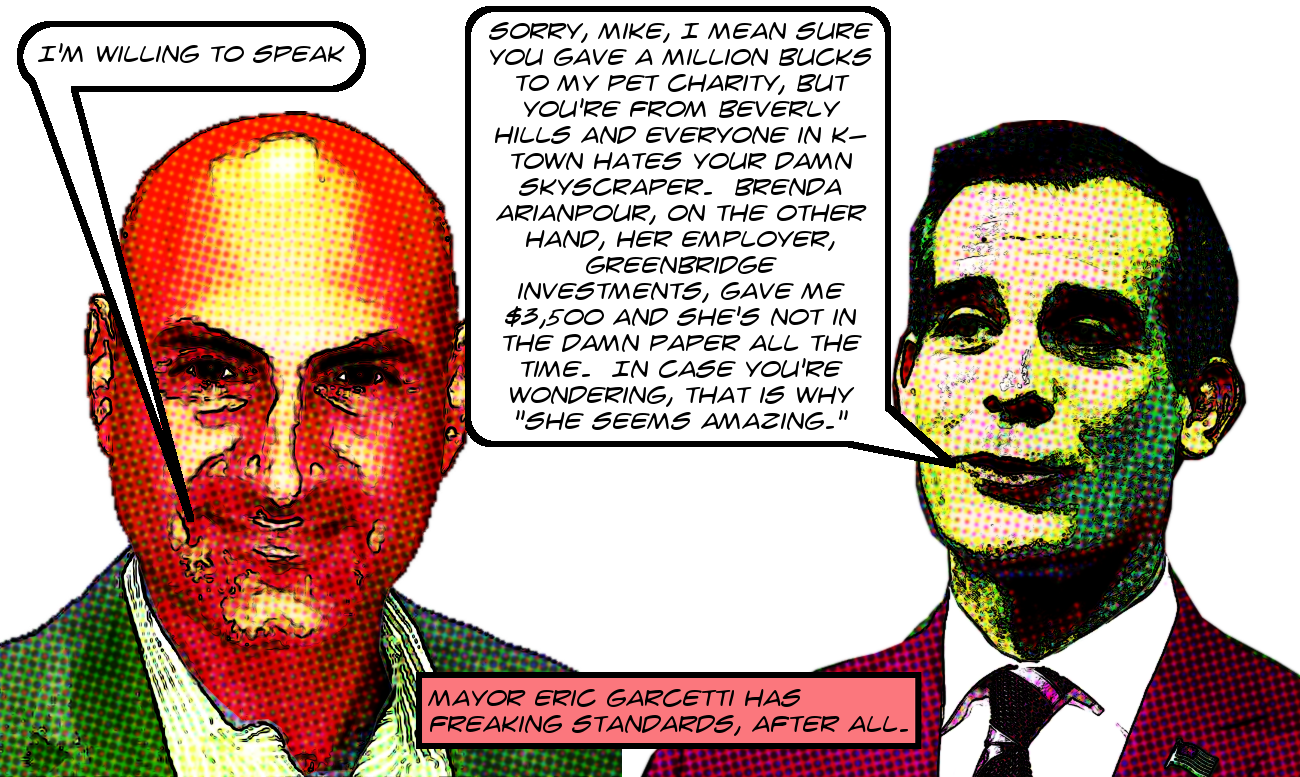 It's been clear for a long time now that one of the uses that the City gets out of BIDs is to encourage them to lobby it, thus creating an appearance of community support for projects that the City intended to do all along. It's easy to see the results of this process at any City Council meeting where a bunch of BIDdies line up to speak in favor of random proposal X that they don't have any organic reason for caring about.
However, it's not so easy to see the lead-up to the lobbying events. Obviously City officials are reluctant to release the evidence, and perhaps the BIDdies are as well.1 That's why today's documents are so very interesting! The emails I'm presenting are part of a larger release from the Wilshire Center BID, and you can get the original MBOX file or PDFs if you prefer here on Archive.Org.
The story is about the by-now famous homeless shelter proposed for Koreatown by CD10 repster Herb Wesson. The world found out about this project on May 2, 2018 at a joint press conference held by Wesson and Eric Garcetti, as Gale Holland explains in this characteristically excellent story in the Times.2
But amazingly, City staffers told the BID about the proposal on April 26, a full week before anyone else knew. BID board members were asked to keep quiet about it and also to propose a businessperson to speak at the May 2 press conference in support of the shelter. Real Estate zillionaire Mike Hakim volunteered himself to speak at BID director Mike Russell's request but was, it seems, ignored by everyone, no doubt due to his shady, universally hated skyscraper project in Koreatown.
Instead, Mike Russell nominated Greenbridge Investments flunky Brenda Arianpour, a real estate zillionaire whom Russell misrepresented as a small business owner. After thorough vetting by Garcetti's communications flacks, Arianpour was chosen to speak in favor of the project. Although not, of course, to speak in her own unscrutinized words. Garcetti's flacks were sure to discuss "talking points" with her in advance.
The emails by which this was arranged are linked to and transcribed below.
Continue reading An Interesting Example From Wilshire Center Showing How Eric Garcetti Used The BID To Supply A Tame Businessperson To Speak For Herb Wesson's Proposed K-Town Homeless Shelter — Revealing At Least One Of The Ways In Which The City Of Los Angeles Relies On BIDs To Manufacture An Appearance Of Community Support For Its Projects — Did I Mention The City Told The BID A Week Before They Told The News Media And Asked The BID To Keep Quiet About It?! →