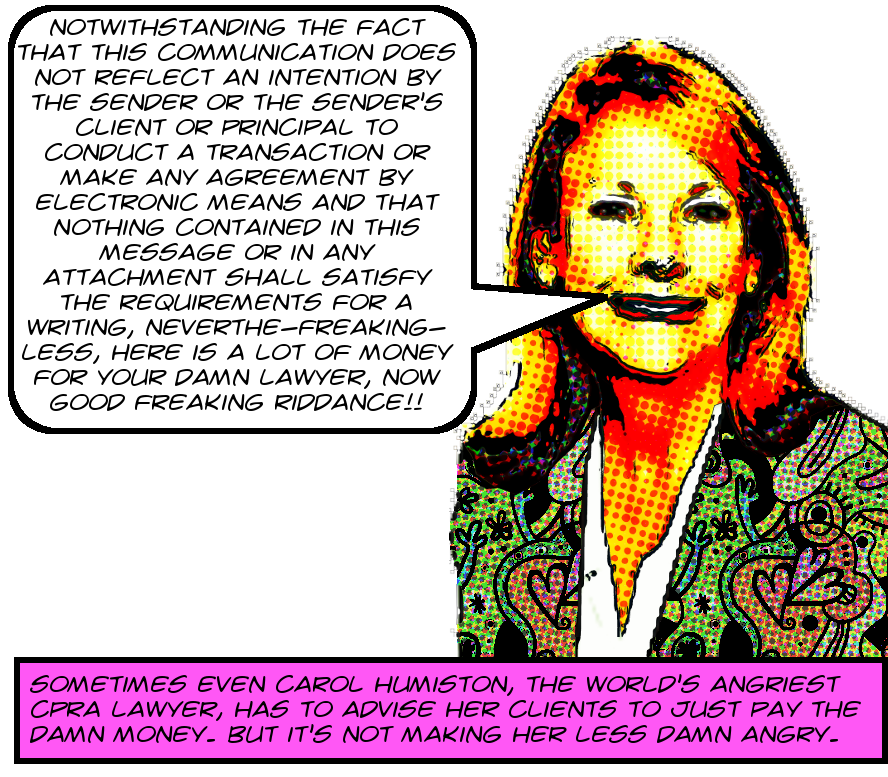 Of course you recall that in June of this year, my hand forced by the bizarro-world intransigence of BIDdological freak show specimen Donald Duckworth, executive director of both the Westchester Town Center BID and the Melrose BID, I had no recourse but to file a couple of writ petitions asking a judge to splain them that it wasn't cool to openly flout the California Public Records Act just because they happen to be a gang of zillionaires and zillionare-associated minions. Soon thereafter El Duckworth suffered a severe attack of conscience and handed over all the disputed records.1
This development was good in at least two senses. First of all and most importantly it was good for the immortal soul of Mr. Duckworth, although as he was pretty clearly motivated by his anticipation of exposure and/or punishment his contrition was imperfect. Second of all it was good for my case because if a previously noncompliant agency, such as a BID, hands over records as a result of a petition being filed, the petitioner, such as me, automatically wins and the judge is required to award attorney's fees.
This nondiscretionary outcome gives the respondent a powerful motive to hurry up and settle once records have been produced. Since they're going to have to pay the petitioner's attorney their best move is to minimize the amount of work done by opposing counsel. El Duckie's two BIDs hired Carol Humiston, the world's angriest CPRA attorney. And those, after a lot of characteristically Humistonian bluster and bullshit, are precisely the lines along which she seems to have advised her clients, which is why they have agreed to hand over a lot of damn money in exchange for settling the case.
This of course is a great victory for the forces of good, the side of the better angels of this City of Angels, and so on. Now let's hope that this development along with the high costs that other BIDs have already paid,2 will convince them that it's cheaper, easier, and more responsible to just hand over the damn records when I ask for them rather than fooling about wasting other people's money in a series of ultimately futile and expensive attempts to keep the goods away from me just because they don't like being called mean names on the Internet.
Also we can hope that this victory along with the others, past and future, will convince the City that if the BIDs can't act responsibly they need to be made to do so. Whatever happens, of course you'll read about it here! And turn the page for a rare and coveted image of MK.Org secret headquarters this very night just after we got the news! And here's the damn soundtrack!
Continue reading VICTORY!! On Advice Of Carol Humiston, The World's Angriest CPRA Lawyer, Melrose And Westchester BIDs Both Agree To Pay My Even-Tempered Attorney, The Incomparable Anna von Herrmann, Beaucoup De Bucks To Settle CPRA Petitions Brought Due To The Weirdo Incompetence Of Donald Freaking Duckworth, Their Hatchet-Faced Goblin Of A Zeck Dreck — Perhaps They Will Be More Compliant In The Future? — Perhaps The City Of Los Angeles Will Intervene And Enforce Compliance To Stop BIDs Bleeding Public Money Out Of Arrogance And Inability? — Probably Not, But I Can Dream →