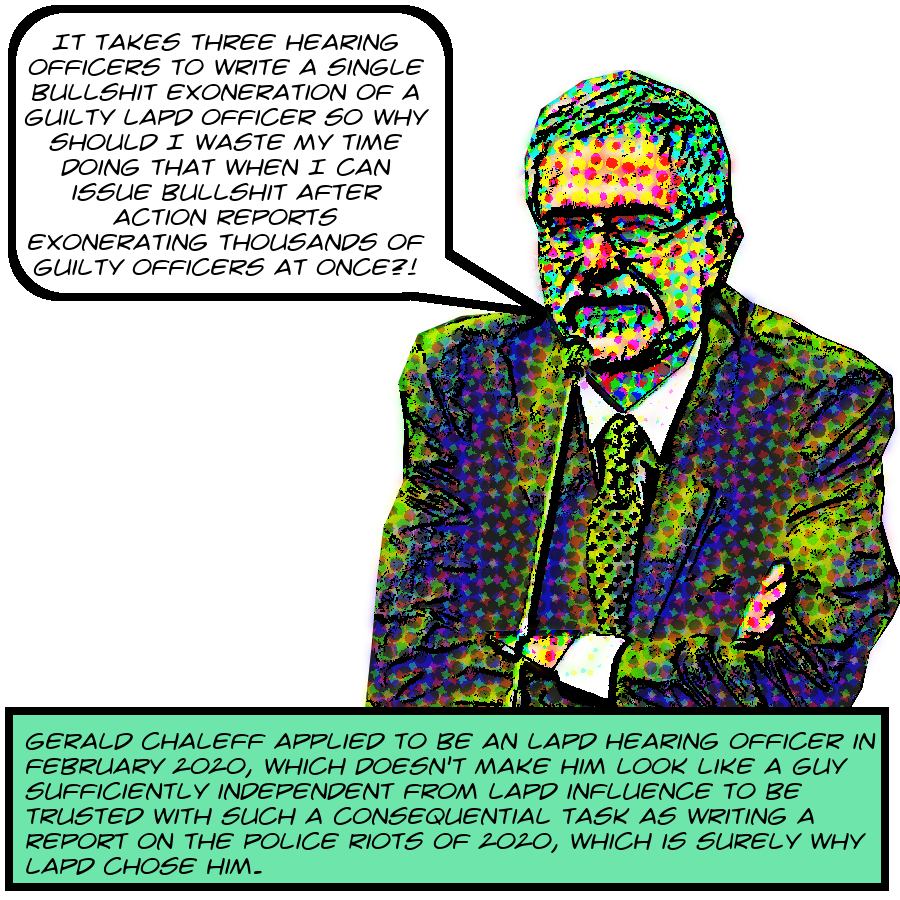 This post is based on three public records pertaining to attorney and long-time police booster Gerald Chaleff, hired by LAPD to report on their misbehavior during the 2020 civil unrest. If you don't want to read through the nonsense to get to the goods, here they are:
⤕ February 4, 2020 email from Cindy So — Establishes that Chaleff applied to be an LAPD hearing officer in early 2020.
⤕ DOJ report on Gerald Chaleff
In 2020 LAPD was in full-on attack mode against the protesters who filled the streets of Los Angeles supporting the Black Lives Matter movement and other progressive causes. They shot, beat, and falsely arrested protesters by the hundreds. As part of their carefully planned media response strategy LAPD engaged former Police Commission president Gerald Chaleff to write a report on their misbehavior.
Given the psychopathically lenient approach the Commission takes with respect to LAPD oversight no one sensible expected Chaleff's report to tell much truth, and we the sensible certainly were neither disappointed in this expectation nor surprised that Chaleff's recommendations boiled down to the usual training, training, and more training.
Chaleff's connections with LAPD, from his time on the Commission to his stint as William Bratton's Special Assistant for Constitutional Policing, whatever that may be, have been widely reported. But I haven't seen any reporting on the fact that in February 2020, before COVID shut down the City and before he was engaged to write his report, Chaleff applied to LAPD to be a civilian hearing officer.
Continue reading Gerald Chaleff — Who Wrote A Report Exonerating LAPD Of Moral Responsibility For Their Appalling Violence Against Protesters During The 2020 Civil Unrest — Applied In February 2020 To Be An LAPD Civilian Hearing Examiner — Which Casts Even More Doubt On His Ethical Independence From LAPD — Hearing Examiner Applicants Have Their Fingerprints Run Against DOJ And FBI Databases — Even Chaleff Had To Do This Although He Was Formerly President Of The Police Commission — No Surprise That He Came Back Clean But What Is Surprising Is That I Have Copies Of The Confidential Reports! — And So Do You If You Want Them!! →