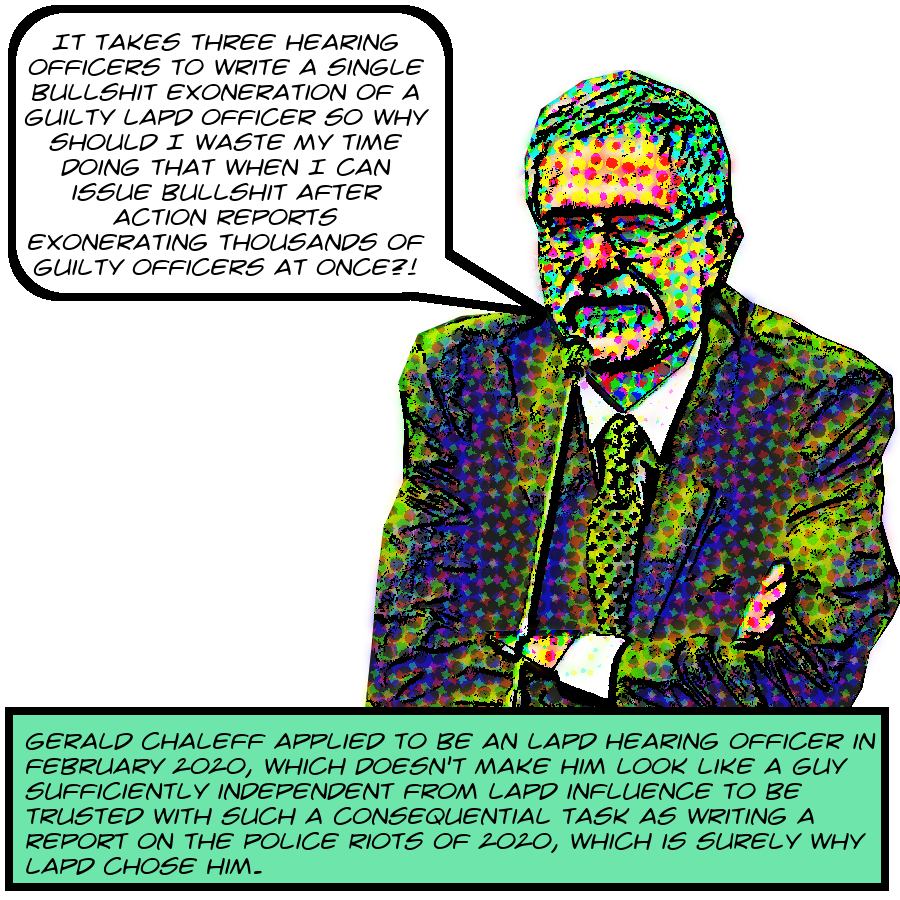 This post is based on three public records pertaining to attorney and long-time police booster Gerald Chaleff, hired by LAPD to report on their misbehavior during the 2020 civil unrest. If you don't want to read through the nonsense to get to the goods, here they are:
⤕ February 4, 2020 email from Cindy So — Establishes that Chaleff applied to be an LAPD hearing officer in early 2020.
⤕ DOJ report on Gerald Chaleff
In 2020 LAPD was in full-on attack mode against the protesters who filled the streets of Los Angeles supporting the Black Lives Matter movement and other progressive causes. They shot, beat, and falsely arrested protesters by the hundreds. As part of their carefully planned media response strategy LAPD engaged former Police Commission president Gerald Chaleff to write a report on their misbehavior.
Given the psychopathically lenient approach the Commission takes with respect to LAPD oversight no one sensible expected Chaleff's report to tell much truth, and we the sensible certainly were neither disappointed in this expectation nor surprised that Chaleff's recommendations boiled down to the usual training, training, and more training.
Chaleff's connections with LAPD, from his time on the Commission to his stint as William Bratton's Special Assistant for Constitutional Policing, whatever that may be, have been widely reported. But I haven't seen any reporting on the fact that in February 2020, before COVID shut down the City and before he was engaged to write his report, Chaleff applied to LAPD to be a civilian hearing officer.

Civilian hearing officers participate in LAPD Board of Rights hearings, which determine whether accused officers are guilty as charged. In the olden days these boards consisted of LAPD officers and one civilian hearing officer. In 2019 Angelenos amended the Charter to allow all-civilian review boards.
These are, as they were widely expected to be, significantly more lenient with accused officers than the already-far-too-lenient traditional boards were, which makes Chaleff's eagerness to participate in the system fairly suspect in the light of his later job exonerating LAPD's violence during the 2020 civil unrest.
And of course, I have records to back up the story! Here's a February 4, 2020 email from Cindy So, an Employee Relations staffer with the Police Commission, stating that they sought to hire more than 50 civilian hearing officers and listing 12 of them who LAPD wanted to be fingerprinted:
Date: Mon, 24 Feb 2020 23:11:18 +0000
Subject: Fingerprinting for Police Commission's Hearing Examiners
From: Cindy So <n1795@lapd.online>
To: Kathy Walker <kathy.walker@lacity.org>, "marisol.lemus@lacity.org" <marisol.lemus@lacity.org>
Cc: "david.lubeley@lacity.org" <david.lubeley@lacity.org>
Hi Kathy and Marisol,
Thank you both for your help in getting the fingerprinting process started for the Hearing Examiners. As of today, here are the names of those whom we would like to have fingerprinted:
Monique Brandon
Gerald Chaleff
Thomas Donovan
Jaime De La Garza
Barry Edwards
Isaac Bryan
Hughie J. Barnes
David P. Beauvais
Debra Dralle
Michael L. Cohen
Joseph Patrick Scully
Thomas Finch
As discussed, approximately each week we will conduct interviews (there may be a week here and there where we may not have interviews scheduled) and I will email you the names of those we would like to have fingerprinted. We are looking to hire approximately 50 plus Hearing Examiners for this current process.
As discussed, the Hearing Examiner candidates will be directed to go to Personnel Dept. during the following times:
Monday through Thursday, from 1:00 p.m. to 3:30 p.m.
Fridays from 7:30 a.m. to 3:00 p.m.
For your information, attached is a copy of the notice we will be sending the candidates. Please email me once the fingerprint results come in.
Thank you,
Cindy
Cindy So, Sr. MA2
Employee Relations Section
Los Angeles Police Commission
100 W. First Street, Suite 134
Los Angeles, CA 90012
Office – (213) 236-1450
N1795@lapd.online
And eventually the fingerprint scan reports came back from the Department of Justice and also the FBI. Here are copies!
⤕ DOJ report on Gerald Chaleff — Our records indicate you have requested, or are statutorily mandated to receive, subsequent arrest notification service from the Department of Justice. Therefore, you will be advised of subsequent arrests for this individual.
⤕ FBI report on Gerald Chaleff — Based upon a fingerprint search of records contained in the Federal Bureau of Investigation files, there is no out-of-state or federal criminal history information on the above named individual that meets dissemination criteria pursuant to California law.