In the City of Los Angeles, private security patrols that operate on the public streets or sidewalks are required by
LAMC 52.34
to register with the
Police Commission
and to satisfy a number of other requirements. I discovered a couple weeks ago that
no BID Patrols are registered
(and they routinely
violate a number of the other requirements
). In that same post I traced the issue back to
Council File 99-0355
. Part of the approved motion that initiated that file was this:

FURTHER MOVE that the City Ccl request the Police Commission to cease their enforcement against the City's Downtown Center BID and its private patrol service, and any other BIDs until this matter has been reviewed by the City Ccl.

This at least seems to explain a temporary pause in enforcement, although not a policy-based reason never to enforce the registration requirement and the other regulations.
Furthermore, even a trip to the City Archives to copy the whole file left me lacking a definitive answer to the question of why no BID security provider was registered with the Police Commission. Also, I reported last week that no one in the City, either at the Police Commission or elsewhere, seemed to have a firm idea about why this was.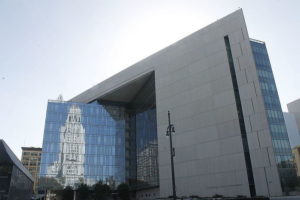 Well, last week the incredibly helpful Richard Tefank pulled a bunch of old Police Commission minutes out of storage for me and last Thursday I went over to 100 W. First Street to take a look at them. Most of the material was also in the Council file, but there were a couple new items that, while they don't explain dispositively what happened, they suggest a likely hypothesis. Also, if this hypothesis is correct, it's pretty clear that BID Patrols really ought to be registered and, furthermore, that the Police Commission has the right to investigate and regulate them.
Continue reading Newly Obtained Documents Suggest A Tentative Hypothesis on Why BID Patrols Aren't Registered with the Los Angeles Police Commission and Why They Ought to Be →