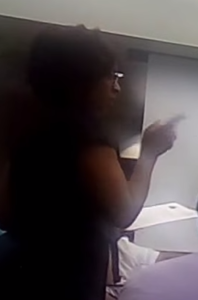 After I spent some time looking into the
Central Avenue Historic BID
in the context of potential political goals for the
post-approval Venice Beach BID
, I thought it would be interesting to learn more about this newborn BID.
1
The meetings are held at CD9's district office at 4301 S. Central,
2
so on a very pleasant evening last Thursday, I took the 210 out of Hollywood to MLK and Crenshaw, where I boarded the 705 to Central and Vernon from whence a couple blocks North on Central to watch the Board of Directors conduct their business.
3
The meeting was scheduled to start at 5:30, but that evidently included some preliminaries, because when I got there at about 10 to 6
4
they hadn't started yet.
Anyway, take a look at the agenda. You can see that they're talking about the kind of things that one would expect BIDs to talk about from, e.g., reading the Wikipedia page on BIDs,5 like branding and marketing, cleaning the streets, having Halloween events, and so on. And watch this short clip of the meeting.6 That's Sherri Franklin of the Urban Design Center, the BID consultant, who also seems to be functioning as executive director, talking about some kind of partnership the BID's working on with Hollywood Community Housing Corporation involving affordable housing at the corner of Central and Jefferson.7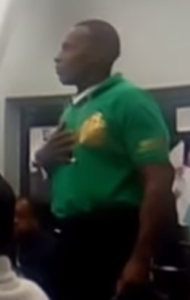 And then you can watch here as BID security director Allan Muhammad introduces his employees, and then they proceed to hand out sample Halloween bags to everyone in the room. They didn't once discuss custodial arrests, handcuffs, social engineering, mass relocations, self-aggrandizing 5150 holds, or any of the other hard-edged tactics of which the City's older and ever so much more dangerous BIDs are so enamored. And even though I only got 15 minutes on tape of the 90 minutes I was there8 they didn't really have anything objectionable to say even during the parts of the meeting I didn't record. They talked about parking, they talked about their phone bills, they talked about how it was hard for the BID to patronize local businesses because they mostly only accepted cash.9
Could this be what a BID looks like as BIDs were intended to look? Well, the very question is based on a false assumption. And there were foreshadowings of bad news to come. And on the way home, and for the last few days, it's got me thinking about what BIDs were meant to be,10how BIDs11 evolve under selective pressure, and how it's probably inevitable that this BID is going to end up like the worst of the Downtown BIDs, the worst of the Hollywood BIDs. The short version is that BIDs probably started out as helpful tools, but as a wise woman once said, "every tool is a weapon if you hold it right." So turn the page if you're still interested…
Continue reading Central Avenue Historic BID May Provide Insight Into The Process By Which BIDs Evolved From Whatever They Were Originally Conceived To Be Into Weaponized Shock Troops Of The Zillionaire Real-Estate Power Elite →