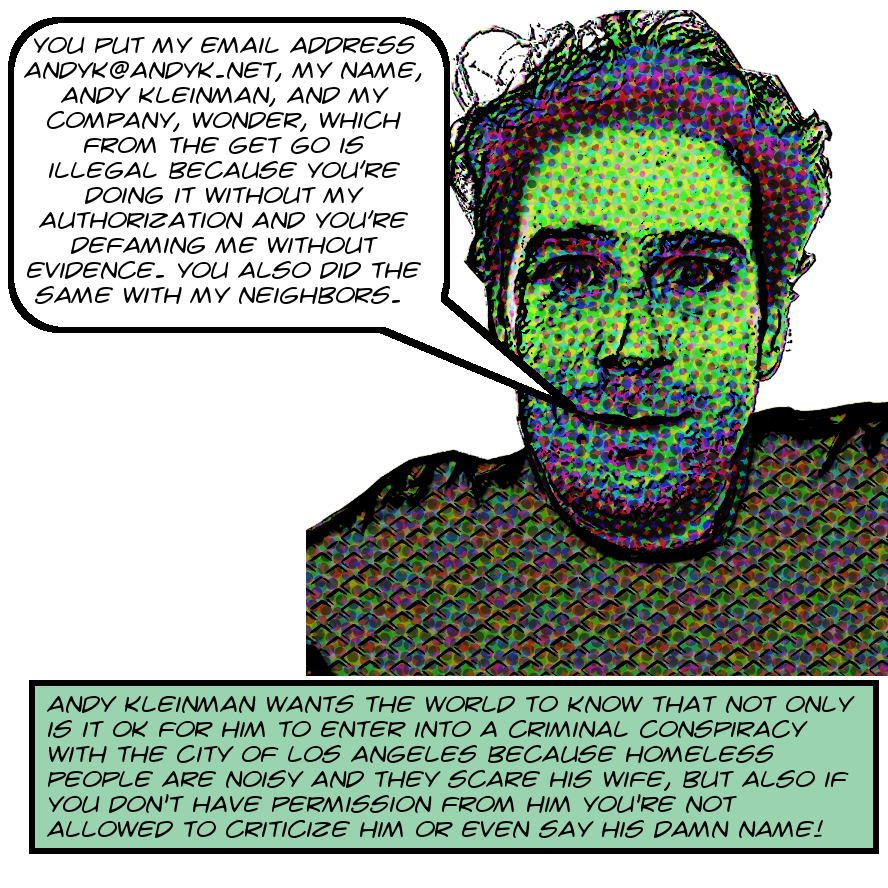 Oh my goodness, well, of course you remember my recent discovery of the identities of a bunch of planter-placing homeless-hating Venice housedwellers and the criminal conspiracy they're engaged in with the Los Angeles Police Department and Mike Bonin's psychopathic staffie Taylor Bazley. And not only that but these sociopathic criminals, supergeniuses that they are, communicate their conspiratorial intentions amongst themselves by email. And those emails are public records.
But when I publish them on the internet they get really mad, it turns out. And they accuse me of all kinds of crazy stuff, like defaming them, or illegally publishing their email addresses, or being in league with drug dealers, or calling them names.1 And, because they haven't learned any kind of lesson at all, it seems, they do all this via email, which obviously I'm going to publish because what the hell else would I do?
First take a look at this little slab of puckey from the marginally more sane than the other guy Andy Kleinman about my "post from a few weeks ago where you're publicly attacking me and other people regarding the issue with the homeless encampments and planters in Venice." What was wrong with it, Andy? Well, says Andy, "You put my email address, my name and my company, which from the get go is illegal because you're doing it without my authorization and you're defaming me without evidence. You also did the same with my neighbors."
I mean, I don't know about you, but if I don't want something known to the world, like my email address (his is andyk@andyk.net if you're interested) I don't put it in a public record. But maybe that's just me? And he blabs on for quite a while about how he's really a good person and he really loves homeless people but these aren't normal homeless people because they shit in his bushes and scare his wife. You can read the whole thing after the break. The worst thing they did? Their very existence prevented him from selling his house.
But then comes human hating housedweller Carlos Torres, president of the super-shady racketeer influenced and corrupt organization known as Venice Neighbors United. He's so mad at me that he sent an email to my domain registrar demanding that they stop hosting my blog because I'm such a damn meanie.2 And, you know, I started writing this post with the best of intentions. I was going to address Carlos Torres's points rationally, one by one, with all due civility.3 But it turns out not to be possible. Got to just quote the guy. Here's a small teaser from his email. See the whole thing after the break along with Andy Kleinman's.

This blog that you are hosting is supported by drug dealers ignorant dwellers that want to continue this nightmare
These people are obviously in business with drug distribution and have been posting residents emails, pictures and putting information about our personal life's on their blog, they are insulting us and calling us names. They have put our very personal information on their blog, we are families, he is putting us in danger !!!!
You are hosting a very dangerous group of individuals that are going way beyond freedom of speech , they are accusing us of being sociopaths, human haters and more horrible accusations. This couldn't be further from the truth, we been working to help the homeless community for over 20 years but this wave of drug addicts have been terrorizing our neighborhood .

Continue reading This blog that you are hosting is supported by drug dealers ignorant dwellers that want to continue this nightmare that are going way beyond freedom of speech they are accusing us of being sociopaths human haters and more horrible accusations they are insulting us and calling us names They need to be shut down until they find a way to be productive and compassionate to society Is not legal is not fair this blog is putting public safety in jeopardy They need to be shut down Hope you can understand the situation and shut them down — In Case You Were Wondering What Human-Hating Sociopathic Venice Housedweller Carlos Torres Thinks Of My Blog — And Then There's Super-Genius Andy Kleinman — Whose Email Address Is andyk@andyk.net If You Care — Another Planter-Placing Venice Housedweller Who's Mad As A Damn Hornet →