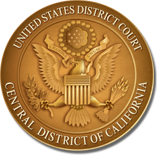 See this article from the LA Times and our previous posts on the subject for the background to this post. All of the filings can be found here.
Tonight two new filings in this case hit PACER. First and most interesting there is this Joint Discovery Plan. It has statements of the case from both the plaintiffs and the defendant:

PLAINTIFFS:
This case involves the detention and arrests of individuals in November, 2014 during several days of protests related to the events in Ferguson, Missouri and the death of Michael Brown. The case is filed as a class action based on two incidents: one occurring at Beverly and Alvarado in which the sub-class was subject to detention, warrantless search and interrogation before being released by Defendants. The second incident involves a mass arrest at 6th and Hope in which Plaintiffs contend that they were not given adequate dispersal notice before being surrounded by the LAPD and arrested. The group at 6 th & Hope also contend that they were held in jail for approximately a day when they should have been cited and released pursuant to California Penal Code § 853.6. Both groups also allege that their privacy rights were violated by the collection of personal information and the storage and dissemination of that information by the LAPD and to other law enforcement entities.



DEFENDANTS:
During the period of time from November 24, 2014 through November 28, 2016, numerous individuals became involved in and continued to protest the failure of a grand jury in the state of Missouri to indict Officer Darren Wilson for shooting Michael Brown in Ferguson, Missouri.
Through the days and evenings numerous people were protesting and conducting marches. Unfortunately, some of the protesters began to demonstrate on the freeways near Downtown LA, including blocking traffic and sitting on the freeways. LAPD declared a tactical alert in an effort to allow the protesting by with as minimal interference as possible with traffic and in a manner to have persons stay out of the roadways and to keep protesters from walking in the streets and blocking traffic.
There were several mass arrests of protestors at various locations. The City contends that there were numerous orders to disperse at several locations and that the Plaintiffs were given adequate time to disperse. The City contends that persons subject to arrest were processed within a reasonable time and evaluated for release on their own recognition (OR) under Penal Code section 853.6.
The City contends that the information gathered was the information necessary to book the individuals. The information was not disseminated other than in the regular manners used by law enforcement.

There are a bunch of other details, and, maybe most importantly, the parties seem to agree that they can more or less get discovery done by Fall 2017. It's amazing to me how long these federal cases take, but it's also heartening. Justice may or may not end up getting done, but at least if there's a failure it's not going to be because anyone was rushed through the process.1
Second, and less interesting at this point, there is this proposed calendar. I don't know how much stock to put in it, since it only has plaintiffs' proposed dates. They seem to have a scheduling conference on Monday, September 12, 2016 at 1:30 p.m., so I suppose they'll hash it all out then.
Finally, in the Joint Discovery Plan it is revealed that there are many other pending lawsuits against the City and the LAPD arising from these protests. They are:
Belay and Ahmed vs. City of Los Angeles CV16-01187 JAK(GJSx)
Amha v. City of Los Angeles CV 16-0216 FMO(AFM)
An as-yet-unfiled case involving Patti Beers
I don't really have time to cover all of these, although I'll look at them on PACER and maybe something will spark and I won't be able to help myself. Anyway, that's all for tonight.