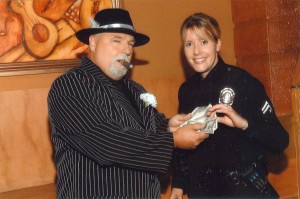 Update April 24, 2015:
The Instagram account discussed and linked to in this post has been made private, breaking the link and embedding. It's a shame we didn't take screenshots, but we just don't usually expect people to reveal stuff that they'll realize they're ashamed of when it's noticed. See
2 Corinthians 4:2
.
Steve Seyler, the big bad cheese of Andrews International Security, and, it seems, on information and belief, a man who will play pimpa claus by paying $4 to a lady cop for one reason or another, is, as long-time readers of this blog know all too well, the high mucky-muck of the BID Patrol. We hope he's getting value for his money and that he was able to expense it. One of our main themes here is the overly cozy relationship between the HPOA and the LAPD, but this is really taking things a little too far, innit? The officer in question seems to be Senior Lead Officer Julie Nony, noted in the LA Times for "root[ing] out … encampment[s] of … transients" and who posts to instagram as nokneej. For instance, look here for her posing with a whole nother lizard.

That's it! There's not really much point to this post other than to showcase the image, which is one of about 5 gigs of 'em which we recently obtained from the HPOA under the California Public Records Act, to mention that we should have another image dump on our hands this week if all goes well, and to link to that patently offensive song by LA's own RHCP. Carry on!

Image of Steve Seyler pimping it with Julie Nony is a public record. Image of Julie Nony with Steve Seyler mini-me is embedded and, as we all know, if we don't host it we don't violate nuthin'!