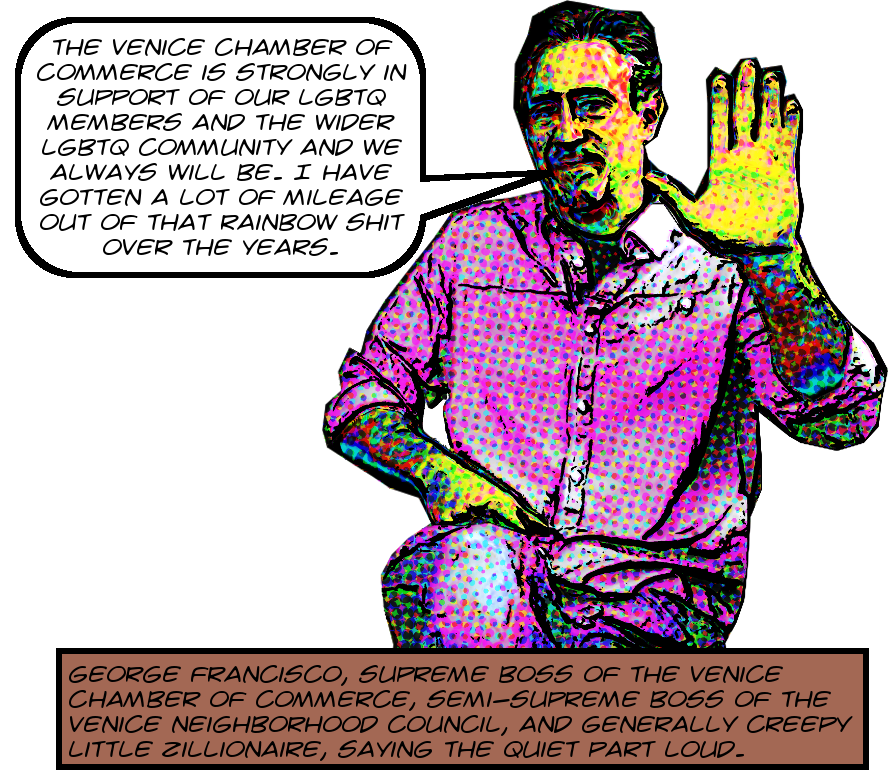 Yoicks, man! This George Francisco fellow is like a Russian nesting doll where the layers get surrealler rather than tinier. The other day I wrote about a complaint filed against the dude for taking money from developers to arrange for supportive comments at public meetings. Evidently inspired by that a source sent me what really appears to be a screenshot of more of Francisco's text messages. These ones are about the famous raising of the world's largest rainbow flag last year by Venice Pride.
As you can imagine, all of the world's Francisco-adjacent organizations, along with every sane person in the whole wide world, are deeply supportive of LGBTQ people. And as you can imagine, they will happily tell the whole world about this, which is as it should be. Why, e.g., just look at this press release from the Venice Chamber of Commerce, in which Francisco is a reasonably powerful figure, and its quite direct, quite laudable, statement that "The Venice Chamber of Commerce is strongly in support of our LGBTQ members and the wider LGBTQ community and we always will be."
Or also this screenshot from the Venice Sign Insta account or the direct link here announcing how the sign will be lit up in rainbow colors for Pride Month, which is June of 2019.1 The text is inspiring:

The historic Venice Sign will be lit up in rainbow hues during the month of June to celebrate diversity and equality for all. This year also marks the 50th anniversary of the Stonewall Riots, and the VCC os [sic] proud to join commemorating a key moment in the struggle for inclusion and LGBTQ rights.

Laudable sentiments indeed, O Iconic Venice Sign! But what does your human controller, George Francisco, have to say about LGBTQ issues when he thinks no one's listening? Well, it appears from this apparent screenshot that apparently it is something more along the lines of:

I have gotten a lot of mileage out of that rainbow shit.

Which is more true? Well, I leave discernment up to you! And turn the page for images of the screenshots.


Image of George Francisco inviting you to talk to the hand is ©2019 MichaelKohlhaas.Org and there's this video over here, although to tell you the truth I was surprised that the guy's image shows up on video given that it doesn't reflect in mirrors and so on.

This, by the way, is the same sign the lighting ceremony for which inspired George Francisco to arrange for the forcible relocation of a homeless human being. Cause priorities, or whatever.