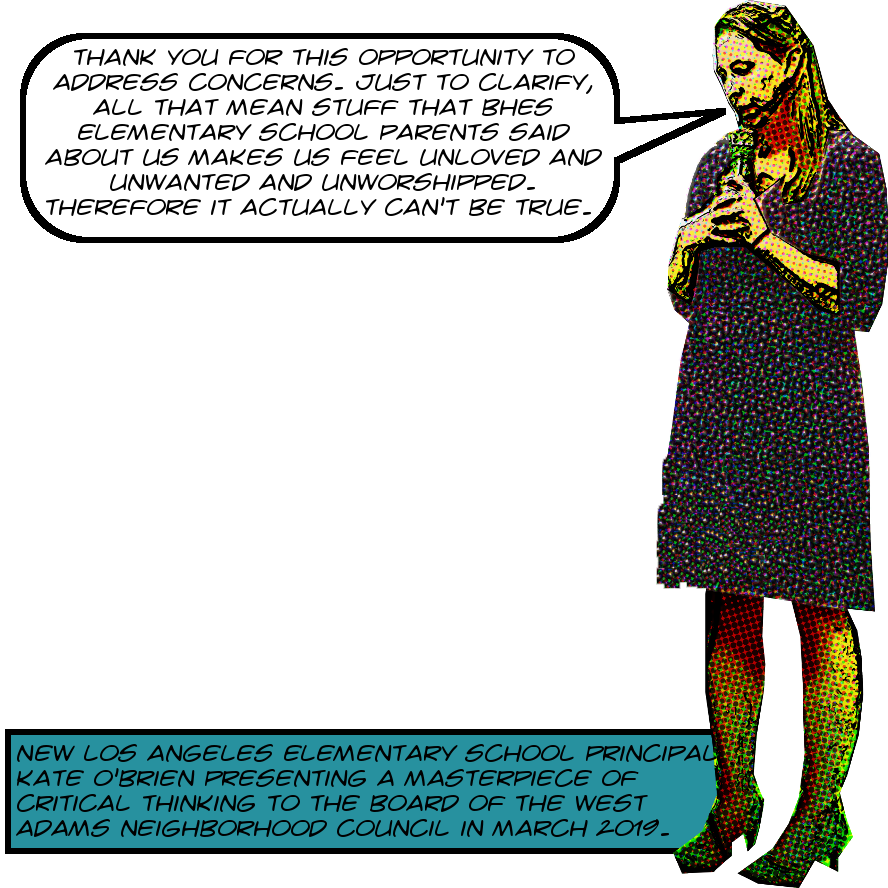 New Los Angeles Charter Elementary School was forcibly co-located on the campus of the public Baldwin Hills Elementary School leading to a great deal of tension which came to a head during the UTLA strike in January and NLA boss Brooke Rios said that her school would try to find somewhere else to have their school but then they couldn't find another place so parents from the public school proposed an anti-charter-school resolution to the West Adams Neighborhood Council which approved it by a vote of 8 to 3 and you can read a copy of the resolution here and watch some video of the whole damn meeting, or at least the part where they're discussing the charter school stuff.1
And at that meeting NLA Elementary School principal Kate O'Brien passed out a document, and you can get a copy of the document here. But that document, NLA's response to the motion opposing their co-location, didn't just pop up out of nowhere. They read the proposed motion before the meeting, read it carefully, marked it up with a highlighter, and drafted detailed responses to the various points made against them.
There is absolutely nothing wrong with that, of course. In fact I find it commendable in a way that very little habitual privatizer behavior is to me. By engaging is really detailed preparation the NLA folks showed that they were taking the process seriously, as a threat to them. Which is was. And is. But regardless of that, not only is the fact that NLA prepared so carefully interesting, but the nature of the preparations is really interesting.
And this is where the Public Records Act comes in. After the meeting, when it became clear that NLA had prepared so carefully, I asked them for copies of their notes and prep documents. And yesterday they gave them to me2 and today I am giving them to you! This is a really important piece of history.
☆ Copy of the WANC resolution highlighted by NLA — This is NLA's advance copy of the resolution presented to the West Adams Neighborhood Council, liberally highlighted and with handwritten numbered references to comments.
☆ NLA annotations for WANC resolution — These are the actual comments referred to in the previous document.
And turn the page for images of all this stuff!


Image of Kate O'Brien is ©2019 MichaelKohlhaas.Org.

That super-short recap is totally self-plagiarized from this post from a couple months ago. Although I think that self-plagiarism cannot actually exist in the presence of an attributive footnote. Unlike, much to the dismay of many a desperate undergraduate, plagiarism from others which can, and often does, exist in the presence of one, even many, attributions.
Along with a letter stating that they weren't going to give me any more emails unless I paid them more than $7,000. That, of course, is illegal under the CPRA and if NLA doesn't change their mind it's going to be changed for them at great expense. And none of this is surprising given that first of all a bunch of my charter school clients are doing it, all using identical language although, strangely, wildly varying amounts of ransom demanded and, second of all, Brooke Rios, head honcho of NLA, is famous for her aggressive attempts to obstruct and deny the public's access to public records.