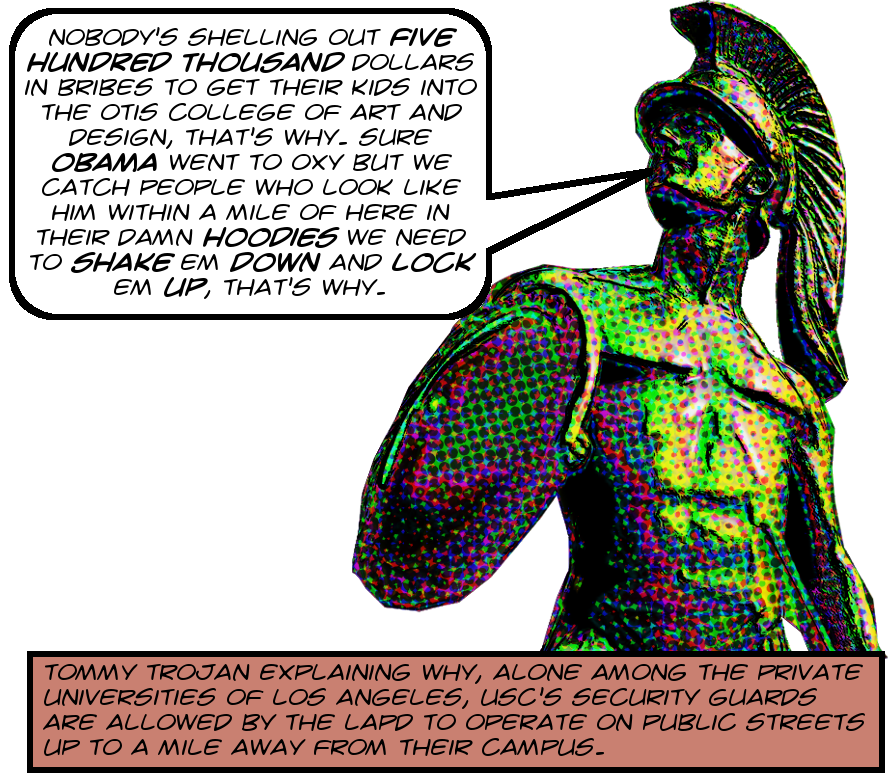 As you may know, the Department of Public Safety of the University of Southern California,1 operating under a memorandum of understanding with the Los Angeles Police Department, is permitted to operate on public streets up to a mile from campus as limited-power peace officers. And as you might well imagine, they're not using this power for socially beneficial purposes.
Their racist policies includes stops, detentions, handcuffs, interrogations of people on public streets without even a pretense that the safety of their students or their campus itself is directly involved. The racism is so blatant, so very on display, that Marqueece Harris-Dawson, an African American member of the Los Angeles City Council, has admitted that DPS even racially profiles him.
The State of California authorizes security guards working for private colleges to act as peace officers, which is legalese for having the power to arrest and probably some other stuff besides, via the Penal Code at §830.75. In order for this possibility to take effect it's necessary for the college and the City to have a memorandum of understanding.
The law states that college security is allowed to operate within a mile of campus, but it's not clear to me at all whether it's mandatory that they be allowed to do so or whether their operational area can be set in the MOU. As part of my attempt to understand this and related questions about USC I've been collecting MOUs between various law enforcement agencies and local colleges.
I recently got a bunch of them, which you can browse here on Archive.org. They prove that USC is the only private college to which LAPD grants off-campus operating authority. Furthermore, it's the only college in Los Angeles, public or private, to which LAPD grants off-campus operating authority voluntarily. Turn the page for links to these MOUs and more detail on what they allow.

The first one I got (after USC) was between BIOLA University and the Los Angeles County Sheriff. That one very clearly states that BIOLA security is meant to operate only on its campus and not in the surrounding community. This fact suggests that it's not mandatory that college security be allowed to operate off-campus, although the Sheriff is not so habitually law-abiding that I'm comfortable concluding that any given action is lawful based solely on the fact that the Sheriff does it, even if I approve of the action.
And recently I obtained a bunch more of these memorandums of understanding from the LAPD. They fall naturally into three groups. First there are agreements with public universities, i.e. Cal State Los Angeles, Cal State Northridge, and UCLA. Second is an MOU with the Los Angeles Community College District. Finally, there are MOUs with non-USC private colleges, which are Occidental, Loyola, and the Otis College of Art and Design. Here are links to all of them:2
Now, of these seven newly obtained agreements, only the three between LAPD and Cal State or UC schools include a clause permitting those security forces to operate off-campus. Furthermore, such a clause is actually not optional for Cal State or UC schools. The California Education Code at §89560 grants Cal State police the authority to operate up to one mile from campus and §92600 does the same for the University of California. LAPD is required by state law to accept that these public university police will operate off-campus.
There does not seem to be an analogous statute for community colleges, and LAPD's MOU with the LACCD does not permit them to operate off-campus at all. Neither do the MOUs with the three non-USC private schools. Thus USC is in a very privileged position with respect to private colleges in Los Angeles. For as-yet-to-be-discovered reasons it is the only private postsecondary institution to which the LAPD grants off-campus operational authority.
This is really upsetting in the light of USC's abuses of these extraordinary powers, but, as always with LAPD it's at least plausible that facilitating the abuses are the actual purpose of the policy. If there's any good news in all this it is that LAPD does not consider grants of off-campus operating authority to be mandatory, which means that it's at least possible if not likely that political pressure of some kind could lead to the revocation of USC's authority.
By the way, I have a bunch of other CPRA requests out on this subject seeking to better understand the operational relationship between LAPD and USC but, as always, things move very slowly. Patience, patience!

Image of Tommy Trojan speaking words of what passes for wisdom at 36th and Vermont these days is ©2019 MichaelKohlhaas.Org and there's this lil Tommy Trojan over here too friends!

Which is what they call their security guards, seemingly oblivious, or perhaps very well aware, of the Robespierrian overtones of the name.
As part of the response to this same request I obtained a bunch of other MOUs between LAPD and various colleges that aren't related to operational matters. They mostly have to do with various educational initiatives. You can see all of them here on Archive.Org.