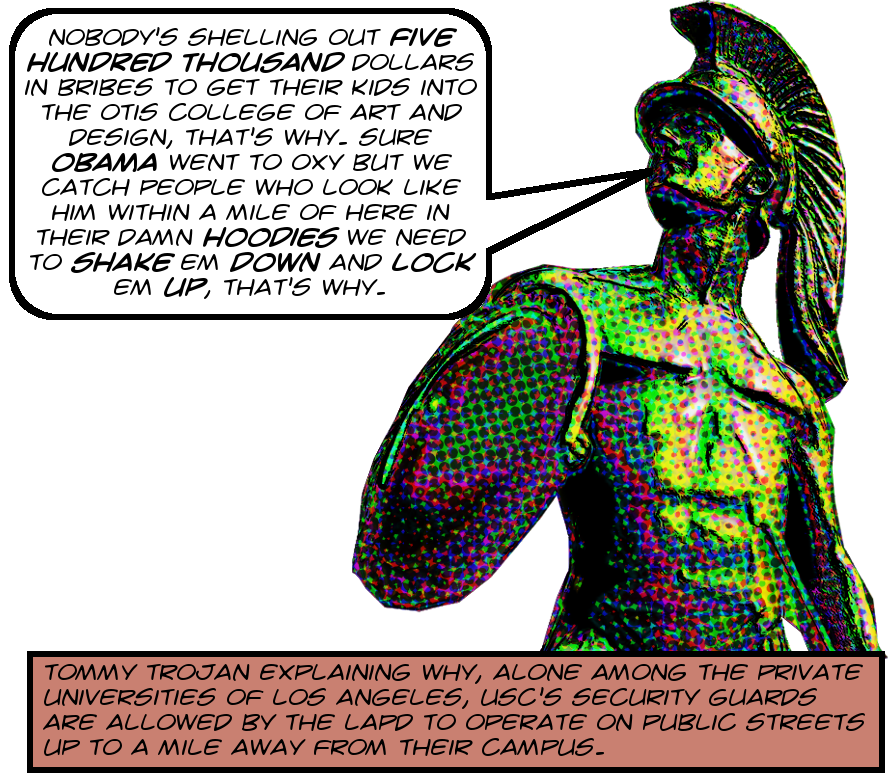 As you may know, the Department of Public Safety of the University of Southern California,1 operating under a memorandum of understanding with the Los Angeles Police Department, is permitted to operate on public streets up to a mile from campus as limited-power peace officers. And as you might well imagine, they're not using this power for socially beneficial purposes.
Their racist policies includes stops, detentions, handcuffs, interrogations of people on public streets without even a pretense that the safety of their students or their campus itself is directly involved. The racism is so blatant, so very on display, that Marqueece Harris-Dawson, an African American member of the Los Angeles City Council, has admitted that DPS even racially profiles him.
The State of California authorizes security guards working for private colleges to act as peace officers, which is legalese for having the power to arrest and probably some other stuff besides, via the Penal Code at §830.75. In order for this possibility to take effect it's necessary for the college and the City to have a memorandum of understanding.
The law states that college security is allowed to operate within a mile of campus, but it's not clear to me at all whether it's mandatory that they be allowed to do so or whether their operational area can be set in the MOU. As part of my attempt to understand this and related questions about USC I've been collecting MOUs between various law enforcement agencies and local colleges.
I recently got a bunch of them, which you can browse here on Archive.org. They prove that USC is the only private college to which LAPD grants off-campus operating authority. Furthermore, it's the only college in Los Angeles, public or private, to which LAPD grants off-campus operating authority voluntarily. Turn the page for links to these MOUs and more detail on what they allow.
Continue reading University Of Southern California Private Police — Are Alone Among Private College Cops In Los Angeles — In Being Allowed By The LAPD To Act As Peace Officers — And To Operate Up To A Mile Off Campus — Not Even Los Angeles Community College Cops Can Operate Off Campus — UCLA And Cal State Cops Can — But That's Required By State Law — So Is Not Due To LAPD's Choice — Why Does The LAPD Allow This — Especially Given The Well-Documented Abuses Of Police Power By USC Cops — Or Perhaps I Have Answered My Own Question There →