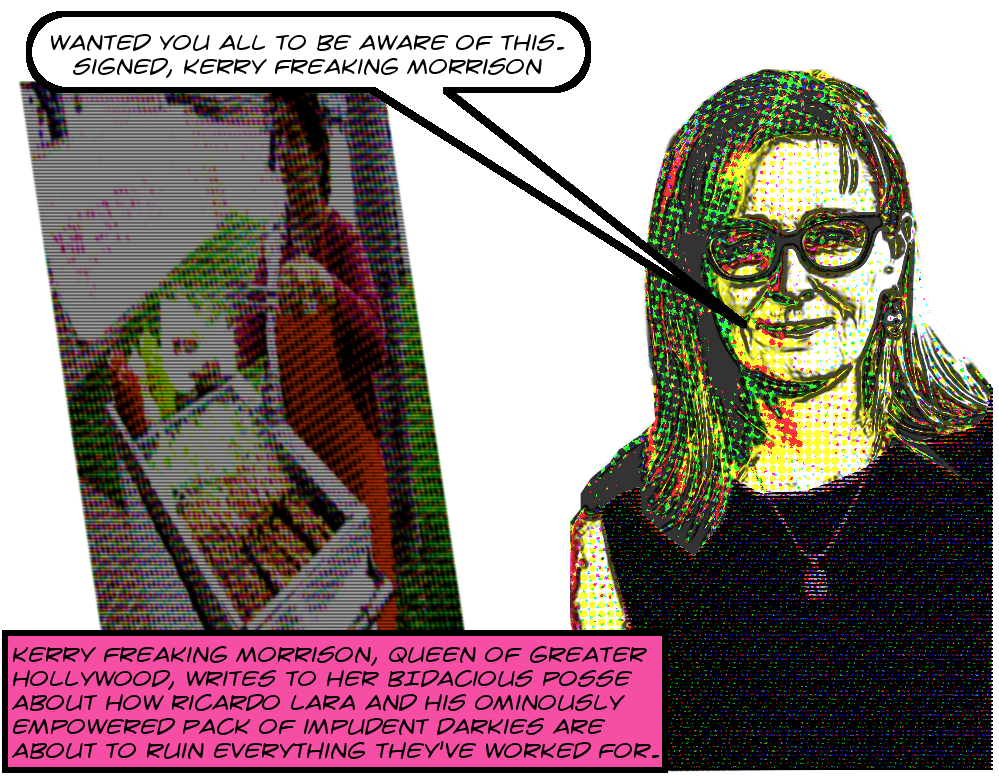 Just another quick note from all them DCBID emails I've been dining out on for weeks now. It's inconsequential in one sense, but on the other hand, it illuminates how information spreads among the zillionaire flunkies who run this City's BIDs. Here is the original email chain, and I'm just going to lay it on you without commentary. Or without much, anyway.
On January 31, 2018, the incomparable Emily Alpert Reyes emailed Kerry Freaking Morrison thusly:

From: Alpert, Emily mailto:Emily.Alpert@latimes.com
Sent: Wednesday, January 31, 2018 9:23 AM
To: Kerry Morrison <Kerry@hollvwoodbid.org>
Subject: State bill on street vending
Hi Kerry — I hope all is well! I was curious for your thoughts on this state bill that would override local regulations on vending:
http://leginfo.legislature.ca.gov/faces/billTextClient.xhtml?bill_id=201720180SB946&search_keywords=vendor
I'm at ■■■-■■■-■■■■. Thanks!
Emily

Did Kerry Morrison answer her? Well, I don't know, but I will say that Emily Alpert Reyes published a fine article on Lara's bill on February 2, and Kerry Morrison is not quoted in it. In any case, we do know that Kerry Morrison read the email because …. turn the page if you want to find out!

Because a couple hours later Kerry Freaking Morrison forwarded the email to a bunch of her creepiest BIDdie-buddies downtown to spread the news of the impending darkie-pocalypse:1
From: Kerry Morrison [ mailto:Kerry@hollywoodbid.org ] Sent: Wednesday, January 31, 2018 11:42 AM
To: Rena Leddy ( rena@fashiondistrict.org ); Suzanne Holley; Marie Rumsey; Blair Besten
Subject: FW: State bill on street vending
Wanted you all to be aware of this,
kerry
KERRY MORRISON
Executive Director
[ Hollywood Property Owners Alliance ] 6562 Hollywood Blvd | Los Angeles, CA 90028
323-463-6767 | kerry@hollywoodbid.org | onlyinhollywood.org

Subsequently, loyal minion Suzanne Holley forwarded Kerry Freaking Morrison's email to Carol Freaking Schatz, who then fired off this little four-exclamation-point hand grenade:

Subject: FW: State bill on street vending
From: Carol Schatz
Date: 01/31/2018 01:30 PM
To: Jessica Lall <jlall@ccala.org>, Marie Rumsey >mrumsey@ccala.org>
Take a look at this!!!! We need to do something about this.
Carol E. Schatz
President & CEO
Downtown Center Business Improvement District
600 Wilshire Blvd., Suite 870 I Los Angeles, CA 90017
Call: 213-416-7534 I Fax: 213-624-0858
Email: cschatz@downtownla.com
Web: DowntownLA.com

And the rest is gonna be history. I'll be keeping up with the story of the Schatzian opposition to Lara's excellent proposal, and this is how it all began!

Image of Ms. Kerry Freaking Morrison engaging in activities and doing what she does is ©2018 MichaelKohlhaas.Org and was manipulated artfully out of this public record image of Kerry Freaking Morrison and this street vendor from Wikimedia, cooking up some mighty yummy looking hot doggies!

They'll never say it out loud. They'll deny it cause they're all so freaking post-racial. But I will bet good money that most of their opposition to street vending is that it's done by non-white people. These BIDdies are still trying to get used to the newfangled idea that non-white people can walk freely around their neighborhoods, even after the sun goes down. The idea that they might have equal economic rights is beyond the pale.