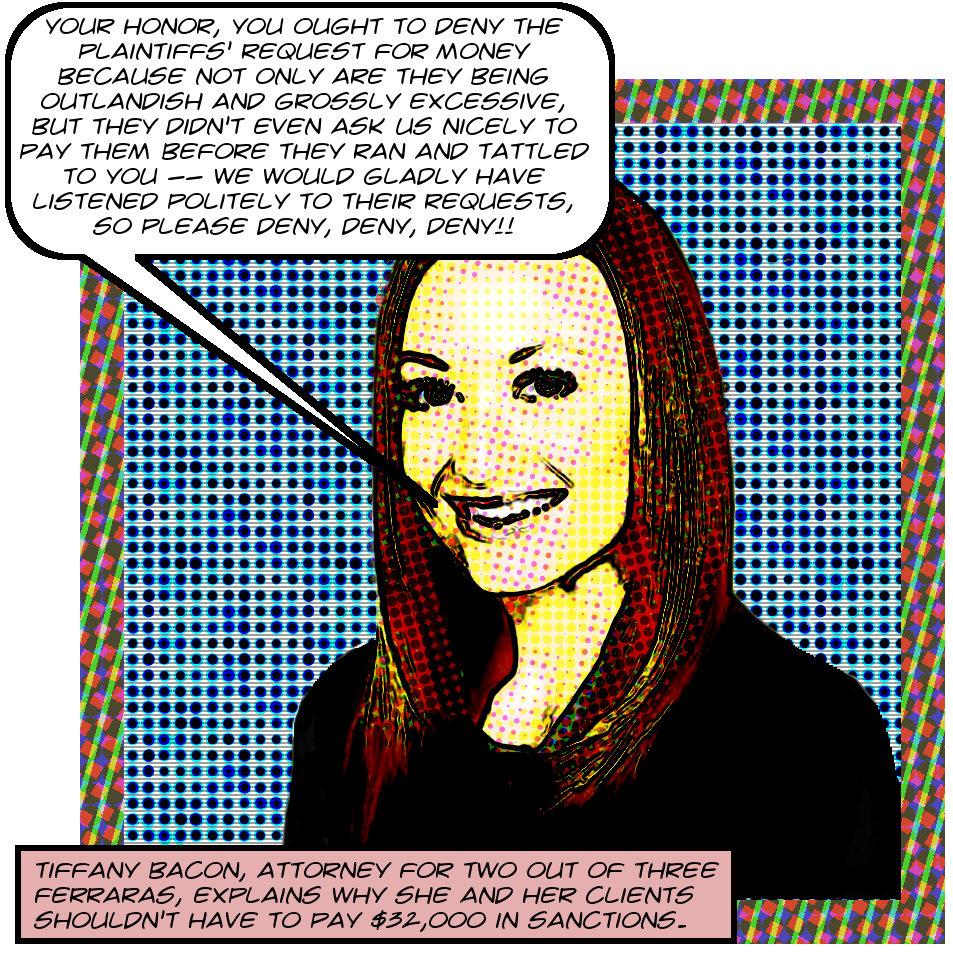 For background take a look at this excellent article from the Times on this lawsuit. Also see here to download all pleadings in this case.
Last week, in yet another thrilling episode in the seemingly neverending saga of discovery disputes in the astonishingly labyrinthine Lunada Bay Boys case, the plaintiffs filed a motion asking magistrate judge Rozella Oliver to make Charlie Ferrara, Frank Ferrara, and their lawyers, Bremer, Whyte, Brown, & O'Meara, represented in the instant matter by Tiffany Bacon, cough up $32,000 in sanctions for failure to abide by the Court's orders regarding discovery.
Well, there's a telephonic hearing on the matter tomorrow at 10 a.m., and yesterday Tiffany Bacon, attorney to the particular Ferraras involved here, filed an Opposition to the Motion as well as a big old declaration in support of the opposition and a little tiny objection to evidence, mostly arguing that the fact that Frank Ferrara was quoted in the Daily Breeze about the case before he was served, being hearsay, isn't adequate evidence that he was aware of the case before he was served.
As the hearing is tomorrow and Rozella Oliver is characteristically quite prompt with orders we should know the outcome within the next few days. Stay tuned, and turn the page for a transcription of some excerpts from the opposition to the motion.


In their Motion for Monetary Sanctions against Charlie Ferrara, Frank Ferrara (collectively "the Ferraras") and their counsel, Bremer Whyte Brown & O'Meara, LLP ("BWBO"), Plaintiffs appear to make the outlandish claim they expended nearly seventy hours of attorney time drafting a few brief emails and attending three conference calls with Magistrate Judge Oliver in efforts to compel the Ferraras to produce cellular phone records requested in discovery. In fact, a review of Plaintiffs' billing records demonstrates that Plaintiffs spent only a fraction of the 66.1 hours actually pursuing any production from the Ferraras (21.7 hours), while more than 2/3, a full 44.4 hours, of the sanctions requested relate solely to time allegedly spent preparing and drafting the instant motion – although that time is in and of itself grossly excessive. As set forth further herein, the amount of fees Plaintiffs claim they expended were neither reasonable nor necessary under the circumstances.
Notably, at no time prior to submitting their Motion for Sanctions did Plaintiffs' counsel attempt to meet and confer with BWBO to request reimbursement for attorney time spent pursuing discovery from the Ferraras. Given the discussions on the record during the most recent hearing, BWBO would have been willing and agreeable to discussing this issue with Plaintiffs had they met and conferred before spending more than a week's worth of attorney time drafting a sanctions motion. With regard to the work Plaintiff actually performed in pursuit of discovery from the Ferraras, BWBO has engaged in the very same meet and confer process since April of 201 7 and expended only 5.5 hours for the very same work, a fraction of the time incurred by Plaintiffs.
From a substantive standpoint, Plaintiffs are forced to admit the voluminous record in this case is devoid of a single document suggesting the Ferraras' cell phone records contain anything relevant to Plaintiffs' claims. Frank Ferrara has testified to texting with Defendant Sang Lee about a car between March and July of 2016, and Defendant Sang Lee testified he has had no communications with the Ferraras about Lunada Bay that would be supportive of Plaintiffs' claims. (Bacon Decl., Exs. A through C.) Moreover, Charlie Ferrara testified that any communications he had with Defendant Lee prior to March of 2016 would have involved discussions pertaining to available work. (Bacon Decl., Ex. C.) This testimony is literally the only evidence of any telephonic or electronic communication between the Ferraras and Defendant Sang Lee. Plaintiffs are thus forced to admit their suspicion that pre-February 2016 cell phone records might contain relevant information is pure speculation. Now that Plaintiffs have all of the cell phone records in the Ferraras possession, custody and control, the absence of incriminating information has been confirmed.
Plaintiffs' entire Motion turns on their pursuit of four years' worth of the Ferraras' cell phone records, as well as Electronically Stored Information ("ESI") from the cell phones requested for the first time just last month. The Ferraras turned over what they were able to locate, and BWBO gathered and delivered the cell phone ESI within days of its extraction. As Plaintiffs have never subpoenaed the Ferraras cell phone service providers to obtain archived information the Ferraras are no longer able to access on their own, it is clear Plaintiffs' intent is not to uncover the truth regarding the timing and content of their communications, but rather to muddy the waters and create enough of an issue to keep the Ferraras in the case despite overwhelming evidence they were never involved in any of the alleged tortious activity.
To characterize four year old text messages as "critical (and likely incriminating) evidence" supporting Plaintiffs' claims without any evidence of the same is unbelievably reckless of Plaintiffs. The record demonstrates a total absence of any factual support for Plaintiffs' claims against the Ferraras. It has also now been conclusively demonstrated that Plaintiffs have in their possession evidence exculpating Charlie Ferrara from any liability to Plaintiffs in this case – evidence capable of supporting an abuse of process claim against Plaintiffs and their counsel once judgment is entered in Charlie Ferrara's favor at the conclusion of this case.
Simply put, Plaintiffs have not and cannot justify an award of more than $30,000.00 in sanctions for 66 hours of work under the circumstances. For this, and all of the reasons above and as set forth herein, Plaintiffs' Motion for Monetary Sanctions must be denied.


Image of Tiffany Bacon is not only ©2017 MichaelKohlhaas.Org, but it is a heavily and transformatively modified version of this image right here.