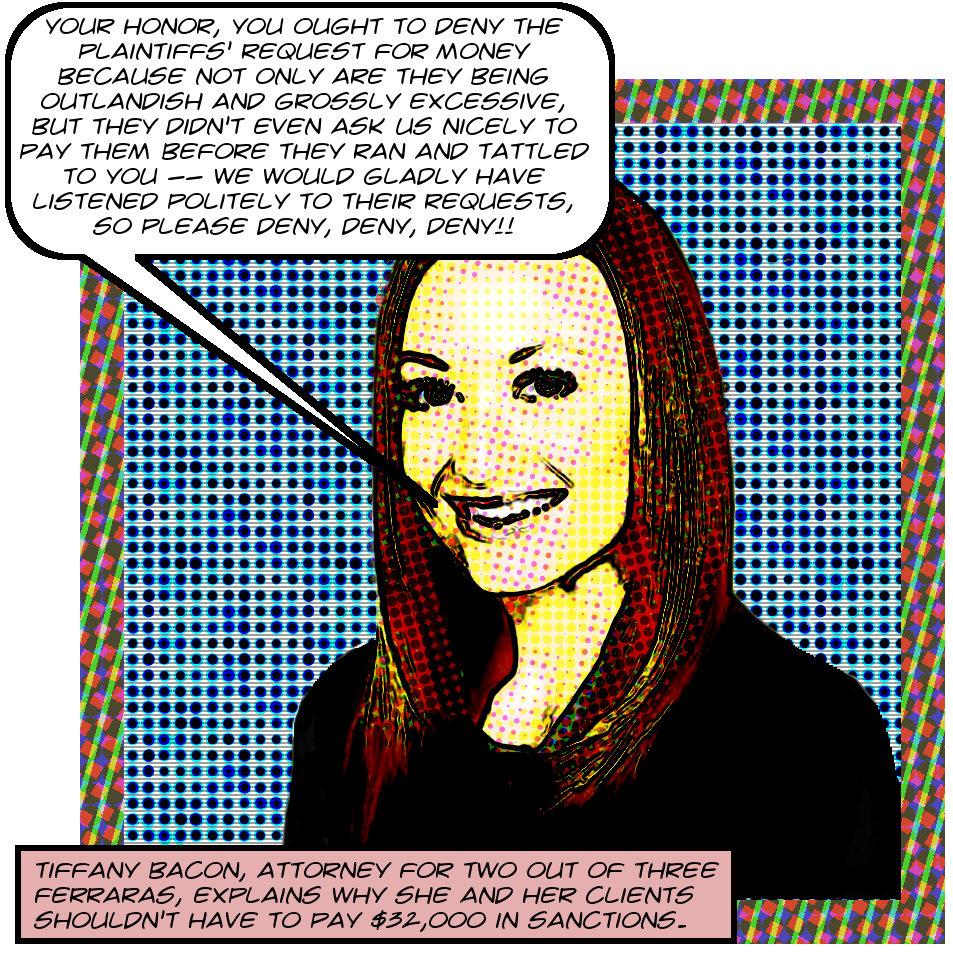 For background take a look at this excellent article from the Times on this lawsuit. Also see here to download all pleadings in this case.
Last week, in yet another thrilling episode in the seemingly neverending saga of discovery disputes in the astonishingly labyrinthine Lunada Bay Boys case, the plaintiffs filed a motion asking magistrate judge Rozella Oliver to make Charlie Ferrara, Frank Ferrara, and their lawyers, Bremer, Whyte, Brown, & O'Meara, represented in the instant matter by Tiffany Bacon, cough up $32,000 in sanctions for failure to abide by the Court's orders regarding discovery.
Well, there's a telephonic hearing on the matter tomorrow at 10 a.m., and yesterday Tiffany Bacon, attorney to the particular Ferraras involved here, filed an Opposition to the Motion as well as a big old declaration in support of the opposition and a little tiny objection to evidence, mostly arguing that the fact that Frank Ferrara was quoted in the Daily Breeze about the case before he was served, being hearsay, isn't adequate evidence that he was aware of the case before he was served.
As the hearing is tomorrow and Rozella Oliver is characteristically quite prompt with orders we should know the outcome within the next few days. Stay tuned, and turn the page for a transcription of some excerpts from the opposition to the motion.
Continue reading Tiffany Bacon, Lunada Bay Boys Defense Attorney For Two Thirds Of The Ferraras In The Case, Files Opposition To Plaintiffs' Motion For $32,000 In Sanctions In Advance Of Tomorrow's Telephonic Hearing On The Matter, Passively Threatens Retaliatory Abuse Of Process Claim Against Plaintiffs On Charlie's (But Not Frank's) Behalf →