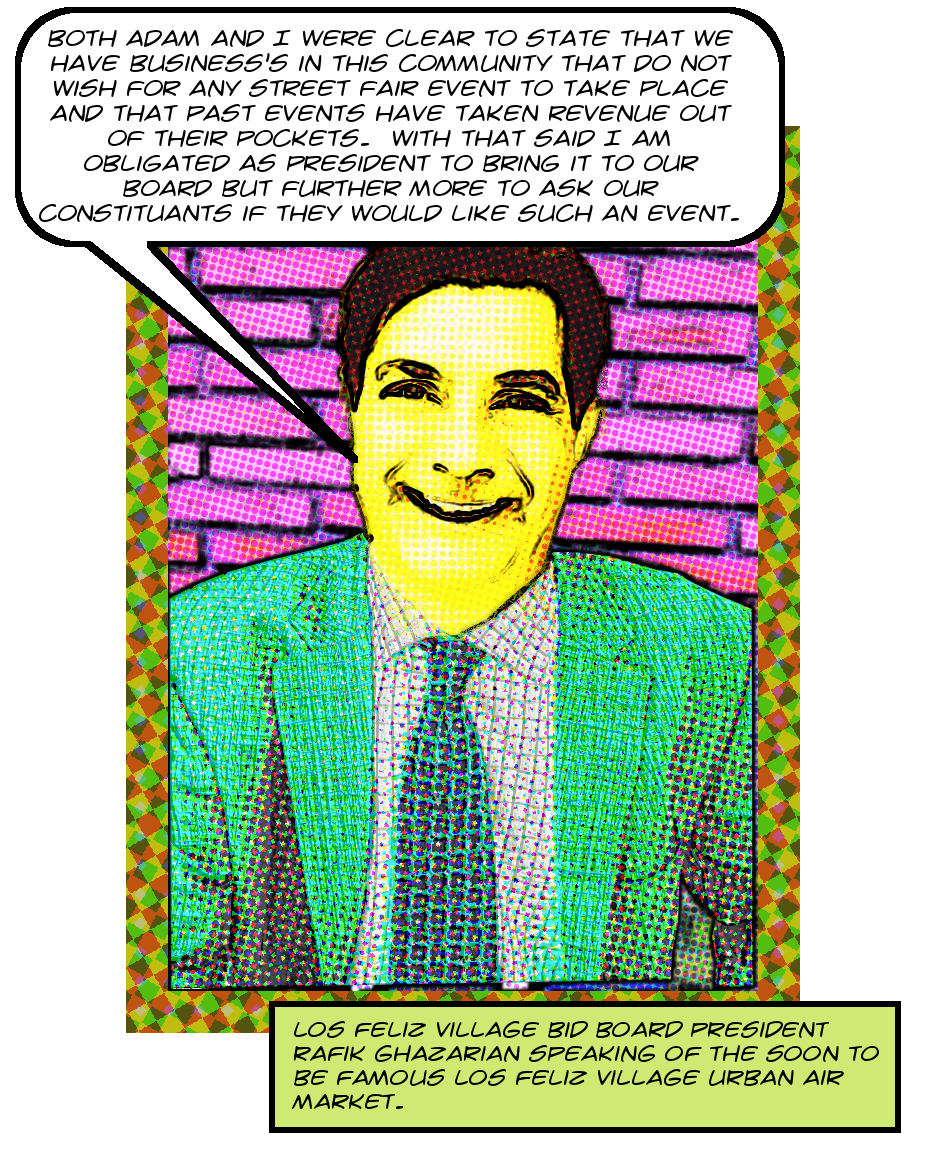 The other day I received a big pile of emails between the Board of the Los Feliz Village BID and people at the City of Los Angeles. They're available here on Archive.Org. Note that the BID produced these by using some kind of bulk forwarding utility for Gmail to send these to their attorney, uniquely repetitive chair of the famed Hollywood Chamber of Commerce, Mr. Jeffrey Charles Briggs Esq.
Attorney Briggs then exported the forwarded emails as MSG files and passed them along to me. Unfortunately this process mangled the metadata and made it more trouble than it seems to be worth to sort and rename the files by date and time. Sr. Briggs seems to be willing at least to consider instructing his clients to provide actual exact copies of emails in the future, but for now we'll work with what we got, especially since the whole process has taken more than six months to get to this point. Anyway, turn the page for discussion of a few highlights.

First, consider these emails between the BID and Rita Moreno, who's their BID analyst in the Clerk's office, in which she advises them that they do in fact have to comply with the California Public Records Act. This is somewhat peculiar given that Rita Moreno's boss, City Clerk Holly Wolcott, has explicitly (albeit mendaciously) stated that the City does not "have the authority to control/direct the records management practices of the various BIDs which are entities wholly separate from the City."
Next, take a look at these emails about bringing Urban Air Market to Los Feliz in May 2017 and what kind of t-shirts the Board wants to order.1 Check out the From/To/CC fields:
Sarah Loveless
R Bella
Allison Cohen
Ziad Richa
Rafik Ghazarian
Aimee Benell
Good Grill
Mardi Kari
"Catherine 'Cat' Martinez"
Chris Serrano
Now check out the BID's board of directors:
Rafik Ghazarian
Sarah Loveless
Chris Serrano
Aimee Benell
Allison Cohen
Mardi Kari
Catherine (Cat) Martinez
Rosa Marie Spinoso
Dino Pantazis, Good Greek Grill
Of course, the two lists have the same people on them with one potential exception2 in each case. Thus it looks to me like this constitutes a meeting of the Board of Directors, conducted via email and therefore illegal under the Brown Act which states unambiguously at §54952.2(b)(1) that:

A majority of the members of a legislative body shall not, outside a meeting authorized by this chapter, use a series of communications of any kind, directly or through intermediaries, to discuss, deliberate, or take action on any item of business that is within the subject matter jurisdiction of the legislative body.

Somewhat poignantly, at one point a board member asks the group "Does this need a vote of the board?" The answer, friends, is not only that it does, but that you all can't be discussing it by email. The way the LA County DA's Public Integrity Unit rolls lately it's doubtful that anything meaningful will happen to these folks, but given that there was a serious attempt in 2016 to disband this BID I have no doubt that the facts are interesting to someone out there.3 Anyway, they handed over more than 300 emails, so this overview is a mere surface-scratch. Please take a look at the rest of them if that's the way your pleasure tends.

Image of Rafik Ghazarian is ©2017 MichaelKohlhaas.Org and is a heavily, artistically, transformatively modified version of this item here.

In case you're not familiar with this jive bullshit Urban Air Market concept, it's "… a curated marketplace for sustainable design." Obviously one can stop reading at the word "curated," an infallible signifier of not just bullshit, but deeply offensive bullshit. I'm not sure how the stratum of zillionaire society which likes to conceive of itself as artsy latched onto the formerly fairly harmless word "curated." I seem to recall that it actually used to mean something at some point, like five years ago, but by now it's hard to be sure.
Potential because maybe Rosa Spinoso is R Bella, or maybe not. The Google is failing me this morning. There's more than enough evidence to make the point, however.
The leader of this 2016 attempted coup was Allison Cohen, publisher of the Los Feliz Ledger. The BID put her on its Board of Directors after she didn't assemble enough protests, so possibly she's no longer gunning for them, but one never knows.