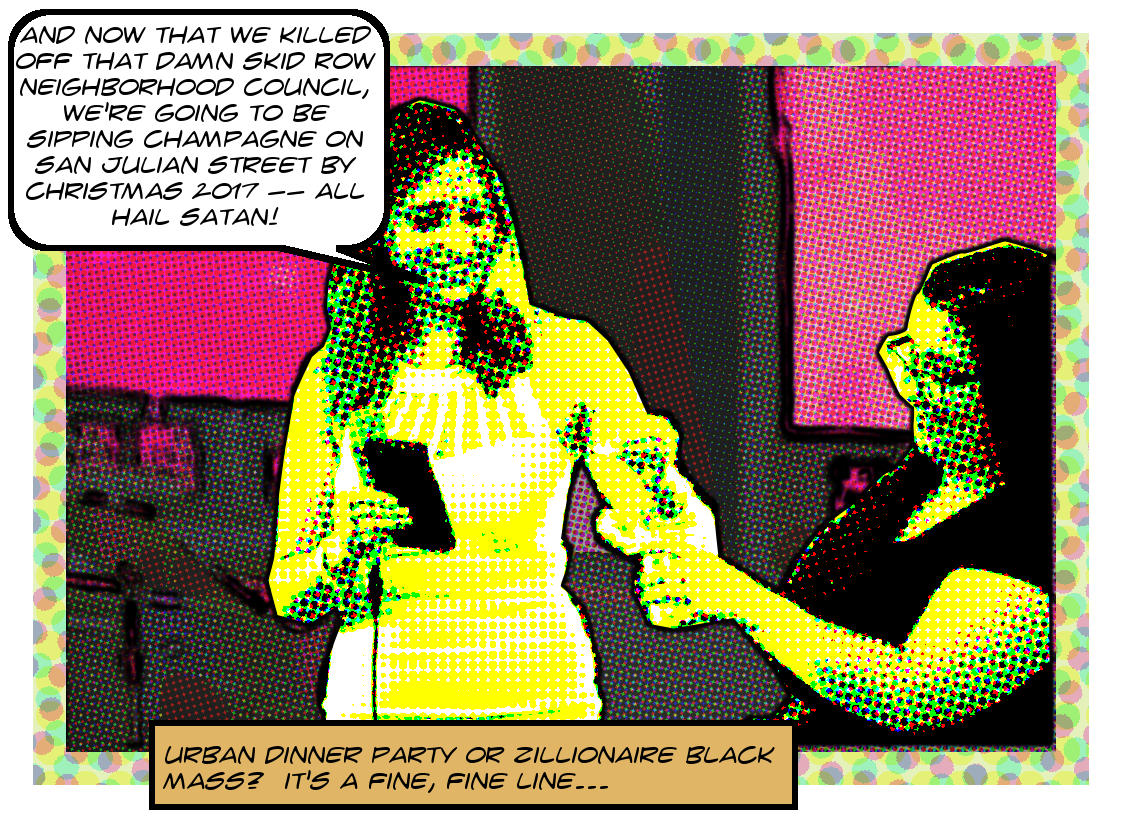 Just when you think it can't get any weirder out there in BIDlandia, well … it does! You may recall last month's revelation that the Fashion District BID paid some Berkeleyites almost $20,000 to study Santee Alley and report that, inter alia, Latinos are confused by lobster rolls. Well, in a similar yet far stranger vein, just the other day, the incomparable Rena Leddy1 sent me a video, paid for and produced by the BID, of a dinner party they had in the street last October.
The whole thing is not only deeply disturbing, it's also embedded below the break for your edification if not your enjoyment.2 I put it below to calm the autoplay, which I can't figure out how to eliminate. If you want to download it it's available at Archive.Org as well.
And really, after you watch it, if you have any freaking idea at all why putatively mature adults would think it was a good idea to make a video like this, please let me know. It's not just pornographic, it's transparently so. I suppose it's OK to be a self-satisfied narcissistic idiot, but why in the world does anyone want to announce to the world that they're a self-satisfied narcissistic idiot? Seriously, this is why the Fashion District needs to get the homeless out of Downtown? So they can hold more zillionaire black masses like this one? Never gonna understand…

I had to replace the embedded video with a link because the autoplay was ruining everyone's life, sorry!
I know I always praise Rena Leddy for her untiring compliance with the CPRA, but it's starting to seem as if she is finally getting a little tired of my incessant demands for information. I'm really sorry, Rena, but you know, you guys could end it all by just dropping the mandatory, forcibly collected, assessments and becoming a voluntary association like God wants you to be. You would no longer be bothered by the likes of me at all. The Chamber of Commerce can pull it off, why not you all? Give it some thought, at least.