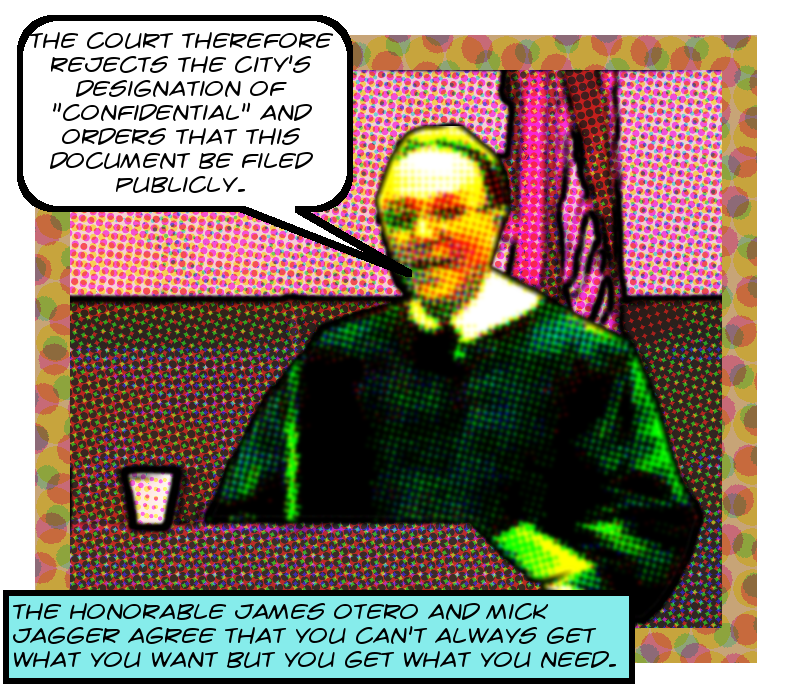 For background take a look at this excellent article from the Times on this lawsuit. Also see here to download all pleadings in this case.
Today there were more items filed in the Lunada Bay Boys case. After yesterday's mass of documents though I hardly have the heart to go through this batch, or even download the ones that appear to be repetitive. But there were a few interesting and new items filed, including an order by Judge James Otero.
A couple months ago the parties were arguing over whether a private investigator's report on who blew a PVEPD undercover operation was discoverable. The magistrate judge ordered everyone to brief the issue but then the City just handed it over. Then there was some kind of effort by the City to keep it secret, and yesterday it came out with all the other pleadings but the entire thing was redacted, that is, it's filed under seal.
This is evidently at the behest of the City of PVE, which claims it's top secret. This led to the plaintiffs today petitioning the court to file documents under seal and at the same time filing a proposed order asking Judge Otero to deny their application. Thus, they're asking for the documents to be filed publicly. Oh, I forgot to say that in addition to this investigator's report, Jalian Johnston's text messages were partly sealed, mostly as to third parties' phone numbers, it seems.
Anyway, the big news is that this evening James Otero did file an order stating that the investigator's report was not secret and must be filed publicly, but that the text messages were properly filed under seal. As always, there's a transcription of the order after the break. Thus I'm guessing we will soon get to read the actual investigator's report, which ought to be quite interesting.

Transcription of James Otero's order on filing stuff under seal:

This matter is before the Court on Plaintiffs' Application for Leave to File Documents Under Seal. (See ECF No. 311.) After full consideration of the matter, this Court finds as follows: Exhibit 21 (Bates Nos. CITY 7087-7096) to the Declaration of Kurt Franklin filed in support of Plaintiffs' Opposition to the City of Palos Verdes Estates (the "City") and Chief Kepley's Motion for Summary Judgment ("Franklin Declaration") does not contain confidential information that cannot be publicly filed. The Court therefore rejects the City's designation of "Confidential" and ORDERS that this document be filed publicly. By contrast, Exhibit 15 to the Franklin Declaration (Defendant Alan Johnston's Cell Phone Record Detail) contains private information relating both to Defendant Johnston and to third parties and therefore should be sealed from public view. The Court therefore ORDERS that this document be filed under seal.


Image of James Otero is based on a screenshot from here and is presently ©2017 MichaelKohlhaas.Org.