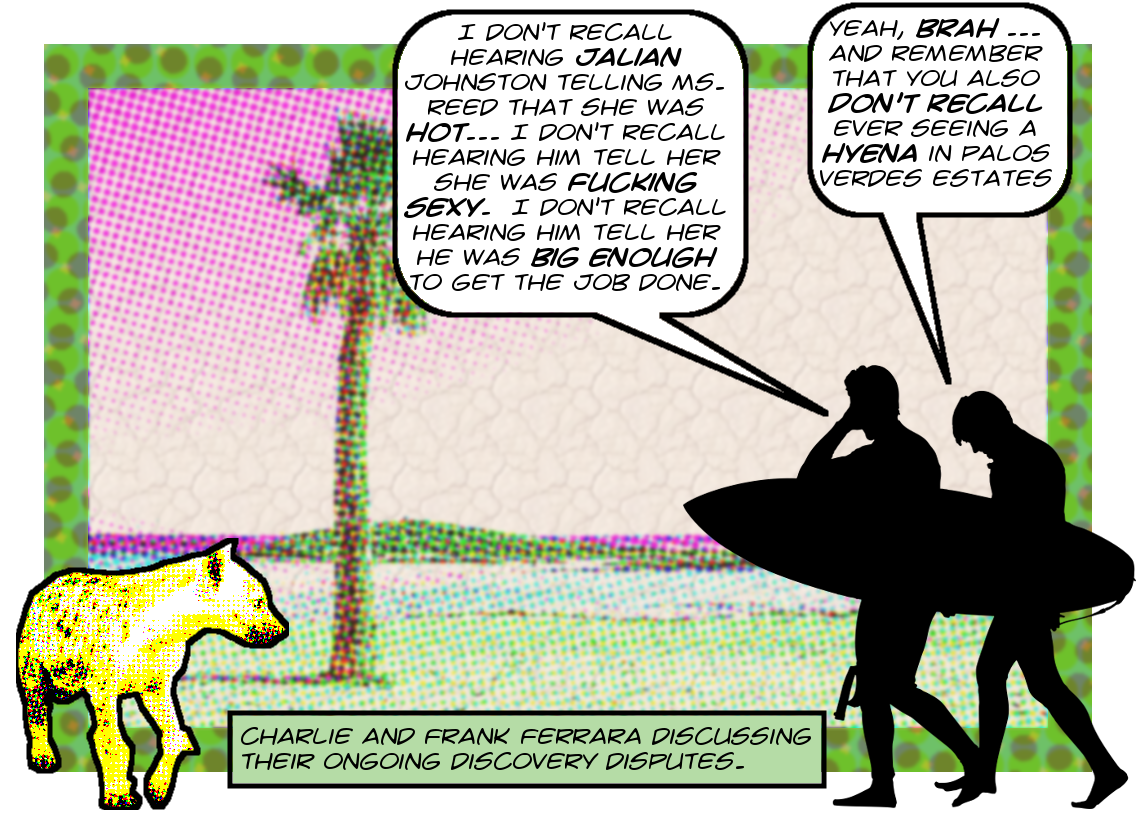 For background take a look at this excellent article from the Times on this lawsuit. Also see here to download all pleadings in this case.
A few days ago the parties to the Lunada Bay Boys zillionaire surf-thuggery case, in a rare showing of unanimity, concord, and like-mindedness, jointly asked Judge James Otero to release the anonymous minor defendant NF from the case, while leaving him responsible for some discovery obligations. Well, just this afternoon Otero issued an order doing just that. No big surprise.
But, as usual, on the discovery front everybody's still getting fussy, and soon Mom's gonna have to put their mittens on lest they scratch up their lil faces and so on. In particular, Magistrate Judge the honorable Rozella Oliver issued a post telephonic conference minute order requiring the parties to submit briefs on the ongoing discovery dispute between the plaintiffs and defendants Frank and Charlie Ferrara. I'm not sure what the substance of this dispute is, but I suppose we'll find out on August 14, when the plaintiffs' brief is due. As always, turn the page for a transcription of the order.

Transcription of Rozella Oliver's order:

Proceedings: MINUTE ORDER RE: TELEPHONIC HEARING AND SETTING BRIEFING SCHEDULE FOR MOTION FOR SANCTIONS
The case was called and counsel for the parties entered their appearances. The parties and the Court discussed the pending discovery dispute between Plaintiffs and Defendants Frank Ferrara and Charlie Ferrara.
As stated on the record, a telephonic hearing has been set for August 23, 2017 at 10:00 a.m. The Court sets the following briefing schedule for Plaintiffs' motion for sanctions in elation to the discovery dispute between Plaintiffs and Defendants Frank Ferrara and Charlie Ferrara:
Plaintiffs' brief shall be due by August 14, 2017.
Defendants' response brief shall be due by August 21, 2017.
IT IS SO ORDERED.


The image that adorns the top of this post is ©2017 MichaelKohlhaas.Org. It was cobbled together out of these surfers and this beach and this lil hyena puppie (aww!). The words in the mouth of Charlie Ferrara, at least those I didn't flat out just make up, were fairly closely inspired by some stuff that dude said in a deposition excerpted in this declaration of Tiffany Bacon, one of his lawyers.