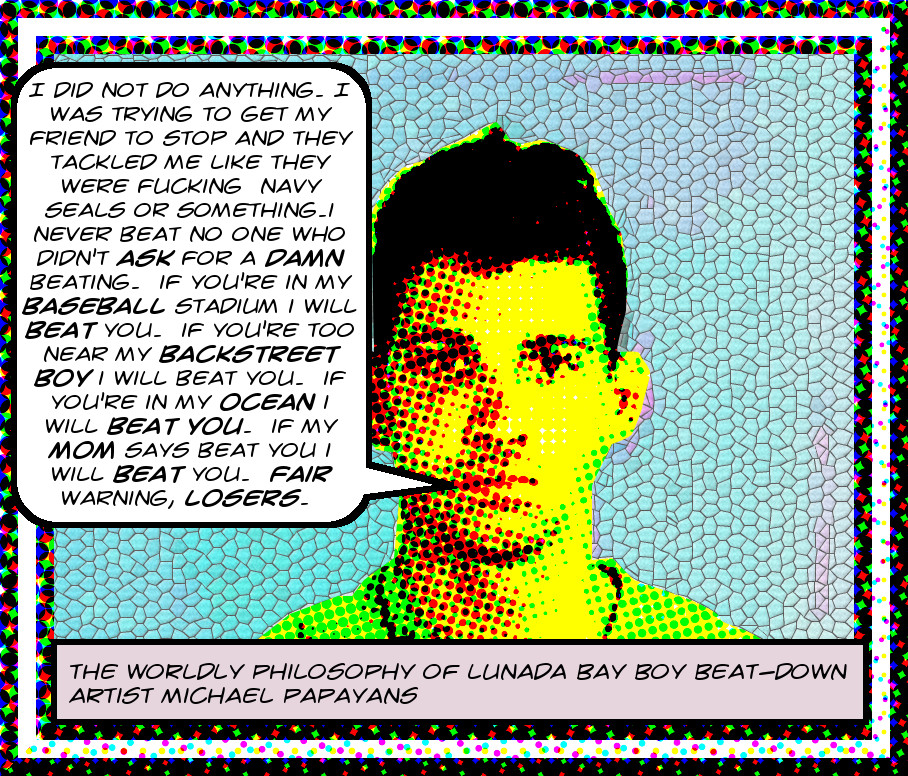 For background take a look at this excellent article from the Times on this lawsuit. Also see here to download all pleadings in this case.
Ah, goodness, how can this case get any weirder? Well, here's today's episode. The parties filed this joint stipulation asking the Honorable Rozella Oliver to order the LAPD to lend them defendant Michael Papayans' cell phone so that the plaintiffs can carry out a forensic analysis as part of the discovery process. And the request is uncontroversial from all sides, since the LAPD told the parties that they'd be happy to hand it over in response to an order from the court. So I'm expecting an actual order soonest.
But the rest of the story is pretty interesting. It seems that Michael Papayans isn't just a localist surf-thug, he's a multitalented all-round generic thug as well. You see, the LAPD has the phone because Michael Papayans was arrested in 2016 for helping his mom beat up a Mets fan in the parking lot of Dodger Stadium.1 And evidently even this isn't the limit of the guy's thuggery…

Michael Papayans, it seems, was also arrested in January 2016 along with Backstreet Boy Nick Carter for beating up a bunch of people in the Hog's Breath Saloon in, of all the cliched places in which to engage in such nonsense, Key West. According to the Daily Breeze:

The January arrests of Carter and Papayans in Key West, Florida, stemmed from a fight that erupted at the Hog's Breath Saloon. A police report said Papayans had blood on his hands, face and knees.
According to the report, the two men entered the bar heavily intoxicated and a bartender refused to serve them. Carter and Papayans became agitated and aggressive toward the bartender, prompting bouncers to tell them to leave. Carter allegedly tried to choke a bouncer and Papayans struck a bouncer on the chin with his head, the police report said.
Papayans was captured on a police bodycam video saying, "I did not do anything. I was trying to get my friend to stop and they tackled me like they were f—ing Navy SEALs or something." The video was posted on celebrity website TMZ.

As a result of the Dodger Stadium incident, he has to take an anger management class. Here's hoping the class covers surfing etiquette as well…

Original image of Michael Papayans is a public record, being a mug shot. The modified version that appears here is ©2017 MichaelKohlhaas.Org.