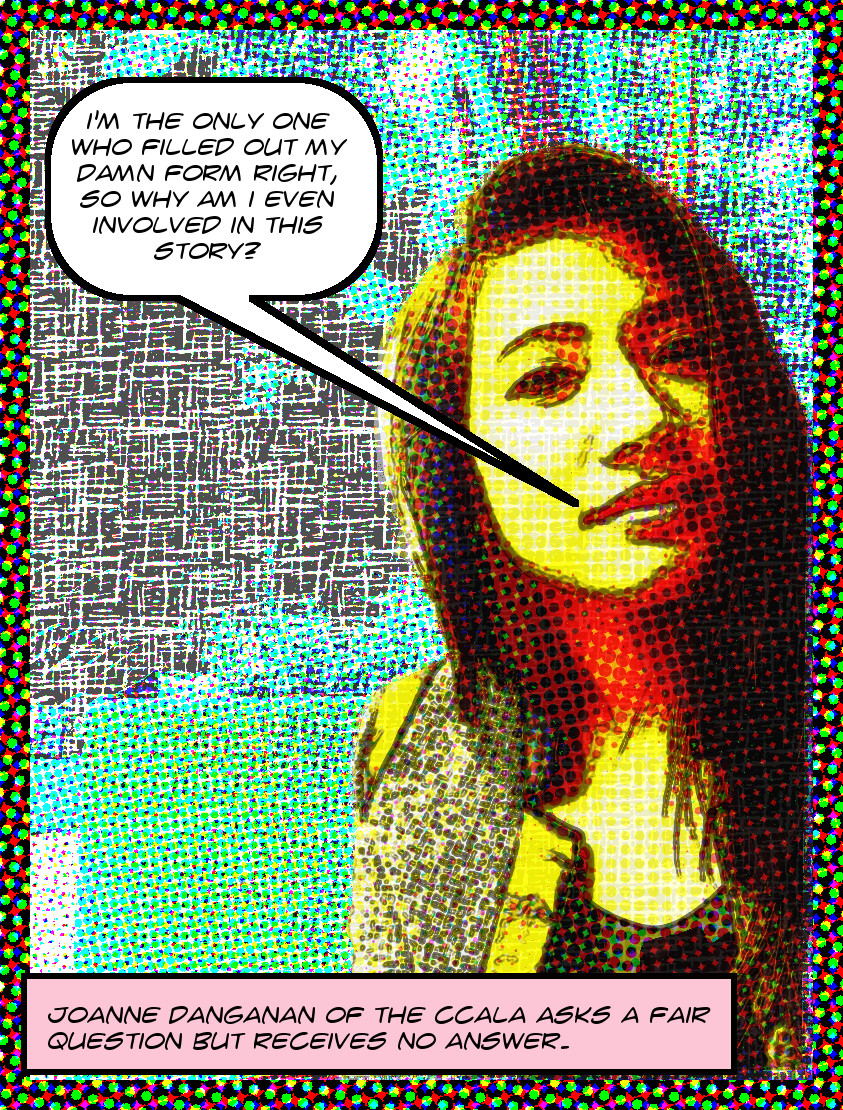 Background: You can read my previous stories on the Skid Row Neighborhood Council formation effort and also see Jason McGahan's article in the Weekly and Gale Holland's article in the Times for more mainstream perspectives.
A few days ago I wrote a post about the fact that the Central City Association was involved in the lobbying effort against the Skid Row Neighborhood Council and briefly noted a few violations of the Municipal Lobbying Ordinance I'd noticed with respect to CCA's disclosure of this fact. Today I completed and submitted a report on this matter to the City Ethics Commission. Here's a copy:
There are two main issues: First, the MLO requires lobbying firms1 to (a) register every year, (b) disclose the issues they're lobbying for on their registration forms, and (c) amend their registrations within 10 days of a change in the information. The CCA began lobbying against the SRNC no later than March 20, 2017, when John Howland appeared before the Board of Neighborhood Commissioners and spoke on the issue. Thus they should have amended their registration form no later than March 30. But they did not do so until April 28.

This may seem like nothing more than a minuscule technical violation, but I don't think that it is. The actual SRNC formation election took place on April 6, 2017, and the formation failed by only 60 votes out of more than 1,500. If the fact that CCA was lobbying against it had been disclosed on time the proponents would have had a week to use the information in their campaign. Perhaps that would have been enough to encourage 61 pro voters to register or to convince 31 actual no voters to have changed their votes. Either would have been enough to change the outcome of the election.
And CCA's failure to disclose its work on the SRNC issue wasn't the only violation involved. Individual lobbyists themselves are required by LAMC §48.08(B)(12) to file quarterly reports disclosing each City agency that they attempted to influence. As we've seen, John Howland attempted to influence the BONC on March 20, 2017. However, he failed to disclose this in his quarterly report for Q1 2017.
I just happened to notice this problem because I was paying attention to BONC meetings. What's crucial, though, is that someone who approached the question from the other direction, that is, trying to discover what the CCA was lobbying against, wouldn't have known about the BONC event. This is why disclosure of even tiny matters, if it's required by the MLO, is absolutely essential to good government in Los Angeles. As the MLO states in LAMC §48.01(B)(4):

Complete public disclosure of the full range of activities by and financing of lobbyists and those who employ their services is essential to the maintenance of citizen confidence in the integrity of local government.

Part of making sure that complete public disclosure happens is punishing those who fail to disclose the fact that the law requires them to disclose in the manner that the law requires them to disclose on the schedule that the law requires them to disclose. This, of course, is why the Ethics Commission is empowered to investigate and punish violations of the MLO. Let's see what they do in this case.

Image of Joanne Danganan is from an original to be found here and the modified version is ©2017 MichaelKohlhaas.Org.

The CCA is a lobbyist employer rather than a lobbying firm. The difference is that a lobbyist employer employs lobbyists who lobby in support of the employer's interests, whereas a lobbying firm employs lobbyists who lobby in support of the interests of third parties who pay for this service. They're treated slightly differently in the MLO. It's not exactly clear to me where lobbyist employers are even required to register or to amend their registrations, but they do both, so I'm assuming they are required to do so. For the sake of the report discussed in this post I'm assuming they're subject to the same requirements vis-a-vis registration amendments as lobbyists and lobbying firms.