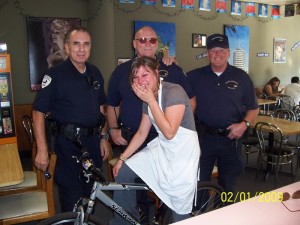 We've been writing for 6 months now about how the HPOA put up phony signs in Selma Park in Hollywood (illegally) declaring it off-limits to adults unaccompanied by children and how the BID Patrol spent the next eight years falsely arresting people and ejecting them from the park, until
we got the signs taken down by the City in September 2015
. Kerry Morrison
told our faithful correspondent
that
"A/I says that after looking into this, it is unlikely that any arrests ever were made by A/I in Selma Park with specific regard to the signs and penal code section you recite (as opposed to public urination, drinking, and other reasons)…"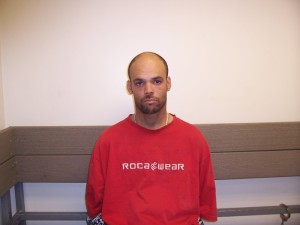 Well, we've been receiving
the BID Patrol's arrest reports and daily activity logs
for a while now, and recently we obtained the complete 2008 set (
arrests here
and
daily logs here
). We've known that Kerry's claim was wrong for a while now (e.g.
see here
) and the 2008 materials provide even more evidence that she was misled by Andrews International
1
regarding their course of conduct in illegally arresting multiple people in the park over the years.
Note that none, not one, of the following people appears on the list of cases originating at Selma Park that our correspondent obtained from the City Attorney's office. Keep that in mind while you read the arrest reports. They didn't even have enough of a case to be referred for prosecution. Read on for specifics.

First, we have Mr. Hernandez, falsely arrested on April 24, 2008 by BID Patrol officers Robert E. Reyes (badge #117) and R. Melvin (badge #110). Next, Mr. Gipson, falsely arrested on July 24, 2008 by BID Patrol officers Dennis Pelch (badge #105) and Leonard Sterling (badge #103).
Next, and most interesting, we have Mr. Evans, falsely arrested on February 9, 2008 by BID Patrol officers S. Patton (badge #114) and G. Baker (badge #128). Here's the story:

WE STOPPED OUR PATROL VEHICLE ON THE EAST SIDE OF THE PARK AND SAW SEVERAL MALES AND FEMALES ADULTS IN THE PARK WITHOUT CHILDREN. WHILE STOPPED, A MALE BLACK (LATER IDENTIFED AS DEFT. EVANS) YELLED OUT FROM THE PARK, "WHAT THE FUCK. WHAT DO YOU ASSHOLE WANT?" WE INFORMED THE MALE BLACK TO READ THE SIGNS POSTED INSIDE AND OUTSIDE OF THE PARK INDICATING THAT THE PARK IS A CHILDREN ONLY PARK.
THE MALE BLACK YELLED SAYING," WE GOT KIDS; THEY WENT TO THE STORE, SO GET THE FUCK ON." WE PARKED OUR VEHICLE AND EXITED TO CONTACT THE GROUP OF ADULTS TO ADVISED THEM THEY WERE IN VIOLATION OF THE LAMC SECTION OF 653 (B) LAMC.
ONCE OUT OF OUR VEHICLE, ALL OF THE ADULTS PICKED UP THEIR BELONGING'S AND EXITED THE PARK. THE MALE BLACK WHO WAS YELLING, STAYED IN THE PARK SAYING, "I DON'T HAVE TO GO ANYWHERE. YOU GUYS ARE FAKE ASS-COPS AND IF YOU TRY ANYTHING I'LL KICK YOUR ASS."
AT THIS POINT WE REQUESTED BACK-UP, FOR ADDITIONAL FOOT BEAT UNITS. AS WE CONTINUED TO CONVERSE WITH THE MALE BLACK, HE TOOK A COMBATIVE STANCE WITH BOTH FISTS RAISED TO SHOULDER LEVEL YELLING, "COME ON, GET ME YOU MOTHER FUCKERS."
WE CONTINUED TO TALK TO THE MALE BLACK. ONCE ADDITIONAL UNITS ARRIVED, WE ADVISED THE MALE BLACK THAT HE WAS UNDER PRIVATE PERSON ARREST FOR SECTION 653 (b) LAMC. PER THE POWERS GRANTED UNDER 836, P.C.
UPON HEARING THE ABOVE STATEMENT, THE MALE BLACK CONFRONTED OFFICER BAKER. FEARING THAT THE MALE BLACK WAS GOING TO ASSAULT OFFICER BAKER, I, OFFICER PATTON APPLIED AN UPPER BODY CONTROL HOLD AND TOOK HIM DOWN TO THE GRASSY AREA. ONCE ON THE GRASS, THE MALE BLACK WAS HANDCUFFED WITHOUT FURTHER INCIDENT.
AFTER BEING HANDCUFFED, THE DEFT. SAID, "I SORRY, I'M ON MEDICATION TO CONTROL MY TEMPER. THE NEXT TIME I WON'T TALK ANY SHIT."
WE ADVISED THE DEFT. THAT HE WOULD BE TRANSPORTED TO THE H.B.I.D. OFFICE FOR COMPLETION OF PAPER WORK, THEN TRANSPORTED TO HOLLYWOOD STATION FOR BOOKING.
AFTER SECURING THE LOCATION, I (OFFICER PATTON) WAS CONTACTED BY GERG MAHON RESIDING AT 1611 SCHRADER STREET #316, HOLLYWOOD CA. (3100 409-8421) INFORMED ME THAT HE WITNESSED THE ENTIRE INCIDENT AND INFORMED ME THAT HE TALK TO ANYONE ABOUT THE USE OF FORCE TO CONTROL THE DEFT.
ADDITIONAL: REQUEST AN ADDITIONAL CHARGE OF 415(1) P.C. CHALLENGING TO FIGHT ANOTHER PERSON IN A PUBLIC PLACE.

To sum up, they confronted a man who was in the park legally, telling him on the basis of their bullshit made-up signs that he was not allowed to be in the park. He, understandably, flipped out to some extent and committed the ultimate sin, which is contempt of cop, or, in this case, contempt of fake-ass cops, and made the mistake of saying something true out loud. So not only did they physically assault him and arrest him even though they were the ones breaking the law, they asked someone to add a charge of violating 415(1) PC. Now, it's always worth looking at the elements when accused of a crime, especially when it's the infinitely unprofessional BID Patrol doing the accusing. This particular statute says:

415. Any of the following persons shall be punished by imprisonment
in the county jail for a period of not more than 90 days, a fine of
not more than four hundred dollars ($400), or both such imprisonment
and fine:
(1) Any person who unlawfully fights in a public place or
challenges another person in a public place to fight.

Now, what the man said was "if you try anything I'll kick your ass." And they claim that while they "continued to converse" with him he said "come on, get me motherfuckers." In other words, they were detaining him by threats when he wasn't doing anything illegal. He told them in the conditional mood that if they tried anything he'd kick their ass. But their arrest was completely illegal. He hadn't broken any laws at all. That means that their laying their hands on him was assault, their handcuffing him and putting him in their car was kidnapping, and he would have been completely within his legal rights to fight them in self-defense. That's what the "unlawfully" limitation is in the statute for. There are some circumstances, notably self-defense, when it's perfectly lawful to fight. It must, in those cases, also be legal to announce to people who are threatening to do things to you that would render your fighting them legal if they carry out their threats. Since the fighting would be legal, announcing one's intention to fight must also be legal. Anyway, that's how it would be in a sane world. Who knows how it is in this one. It's also worth noting that they wrote LAMC 653b(a) in the report, when the law they wrongly charged him with violating is part of the California Penal Code rather than the Los Angeles Municipal Code.
Finally, we found two cases (here and another one here) of two men arrested in Selma Park for marijuana possession who were originally approached by the BID Patrol for the non-crime of being in the park without a kid. According to the officers they both admitted that they had marijuana, which is secret cop code for finding marijuana after an illegal search, and then were arrested. They don't appear in the spreadsheet either, so we can only surmise that they weren't charged either. And well they shouldn't have been. Since they weren't breaking any laws by being in the park, the BID Patrol had no reason to approach them, mess with them, intimidate them into being searched,2 and so on. There's no way the evidence was admissible, and what we have here is another two examples of BID Patrol incompetence.3 So far we've received arrest reports for two of the eight years (2008 and 2013) during which the HPOA was illegally barring adults from the park, and in each of those years the BID Patrol falsely arrested people for nothing more than being in the park, contrary to the law, to human decency, and to what AI told Kerry Morrison about their practices. So not only is the BID Patrol a bunch of outlaws, they're liars too, or at least their leadership is. How long, Hollywood, how long?
Obviously it's possible that she herself was lying, but as a matter of both common sense and editorial policy we don't think that that's likely at all.
If this is what happened, but in our experience, people don't just voluntarily tell the cops that they have more marijuana in their possession.